What is Bluetooth bone conduction headphones and Are They Harmful to Your health?
Feb 23,2023 | David
When the mighty Marines are training or performing tasks, in addition to the necessary individual equipment, they will wear a communication device on the pinna, which is a professional-grade military bone conduction headphones. This equipment plays a very important role in the battlefield environment. They help soldiers to maintain awareness of the sound of the battlefield environment at all times, without missing the command of the commander or the information of comrades in arms. Military bone conduction headphones are generally more expensive, but the same technology is gradually being used in the civilian field. Engineers designed everyday bone conduction headphones that quickly became popular in just 2 years.
So what is Bluetooth bone conduction headphones?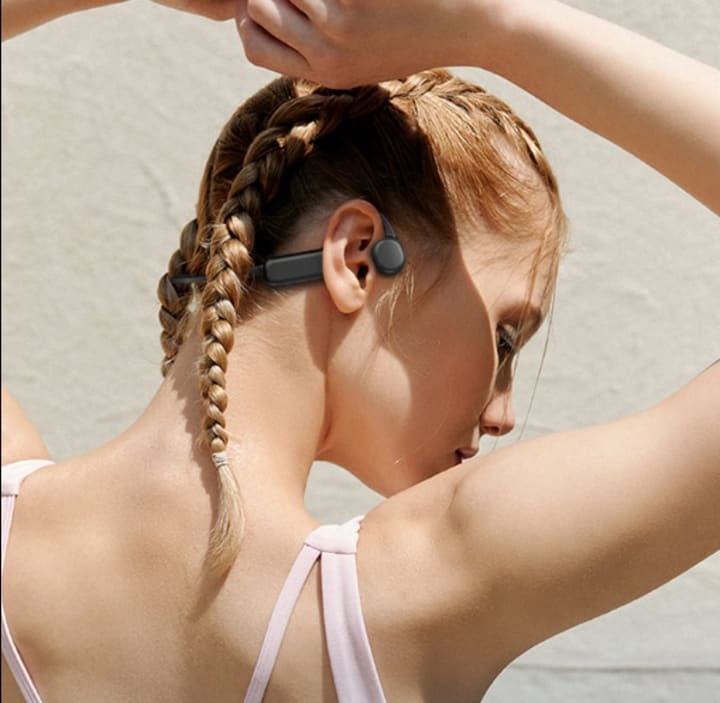 Bone conduction headphone is headphones that use human bones to transmit sound. The sound transmission method of this headphone is very special. It no longer needs to transmit sound through air and eardrum, but directly transmits sound to the auditory nerve of the inner ear through human bones, so that the auditory nerve can perceive the sound.
The way bone conduction headphones transmit sound eliminates the need for the headphones to be plugged into the ear, or to completely cover the entire ear. Therefore, there can be a new attempt in the way of wearing them, that is, the wearing method of the ear-hanging type that does not need to be in the ear.
Some people may worry that bone conduction headphones are harmful to health.What is the fact?
Are Bluetooth bone conduction headphones harmful to health
The worry about harm of bone conduction headphones is unnecessary, and there is no evidence that this kind of headphones are bad for health. We can analyze this problem from several perspectives on the effects of them on the ears, nervous system, bones, and skin.
1. The effect of Bluetooth bone conduction headphones on the ear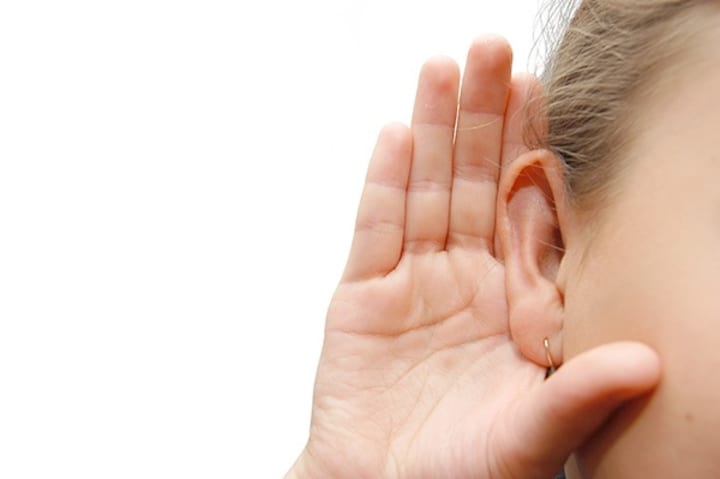 They do not need to be tucked into the ear canal when worn, which avoids damage to the ear canal caused by headphone plugging in and out. They also do not need to transmit sound through the ear canal and eardrum, which makes them have no harm to the eardrum. The oscillation of bone conduction headphones is relatively gentle and stable, and will not cause damage to the cochlea.
2. The effect of Bluetooth bone conduction headphones on the nervous system
Any electronic product has electromagnetic waves, and strong electromagnetic waves can damage the auditory nerve and brain nerves. The electromagnetic waves of them are very weak, and the intensity is close to that of the electromagnetic waves present in nature, so they do not harm the auditory nerve and brain nerve.
3. The effect of Bluetooth bone conduction headphones on bones
The sound unit of them vibrates and drives the bone vibrate to achieve sound transmission. Excessive vibration may theoretically lead to bone damage, but this theoretical vibration rarely happens. There are currently no records of bone conduction headphones causing bone damage.
4. The effect of Bluetooth bone conduction headphones on the skin
They are worn against the temple, do not over-squeeze the skin, and therefore does not cause damage to the skin. And many bone conduction headphones are made of skin-friendly materials, and are also more friendly to skin.
Therefore, bone conduction headphones are not harmful to health, but one kind of healthiest headphones. They are safer and more hygienic when used, and are a kind of excellent headphones.
Why they have so many advantages?This is determined by their working principle.
How do Bluetooth bone conduction headphones work
Before explaining how Bluetooth bone conduction headphones work, let me briefly explain how humans hear sound.
The most common way we hear sound in our daily life is that sound reaches our ears in the form of vibrations in the air. This vibration travels through the ear canal, vibrates the eardrum, and reaches the cochlea to help us to perceive sound. The cochlea is shaped like a snail and is responsible for transmitting sound information to the brain. But humans can also hear the sound without using the ear canal. For example, when we chew nuts, we can hear the sound without passing through the air, that is, the sound is transmitted through bone conduction.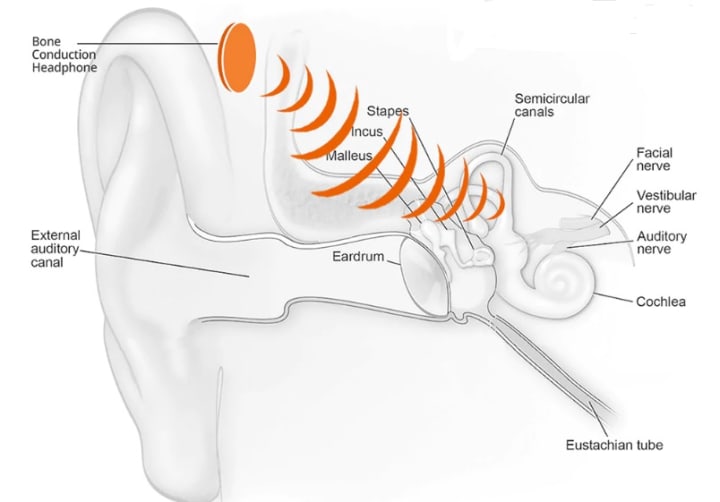 Bone conduction technology is a mechanism that transmits sound without passing through the ear canal or eardrum, instead the bone around the ear vibrates to transmit the sound signal to the cochlea. It should be noted that we hear sound with the cochlea instead of the eardrum, which is just an intermediate step in the process of air-conducting sound. When people hear sound, whether it is air conduction or bone conduction, if the appropriate vibration reaches the cochlea, they can hear the sound.
Bluetooth bone conduction headphones are sound-receiving devices made of bone conduction technology. During the sound transmission process, they directly bypass the ear canal and eardrum and reach the cochlea. Compared with air-conduction headphones, there are fewer steps for sound transmission when using them. Just because they take a shortcut, they also reduce the damage to the ear canal and eardrum, making them the healthiest headphones.
From the introduction above, you may be interested in Bluetooth bone conduction headphones. However, how to choose the headphones still needs careful consideration. Sound quality, sound leakage reduction and security are the three main issues you must consider. Next, I will recommend several mature bone conduction brands, hoping to help you select suitable headphones.
1. Wissonly Hi Runner Bluetooth bone conduction headphones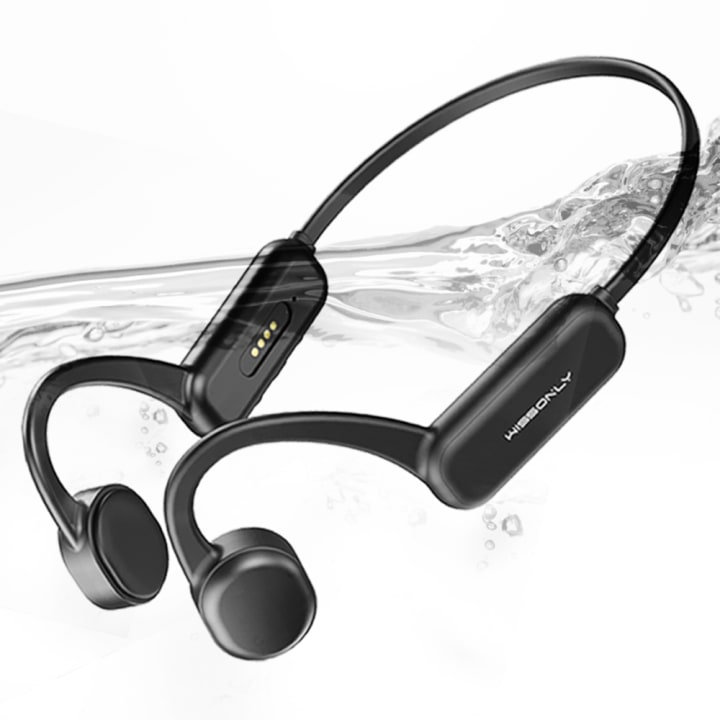 Recommended reason:
Wissonly bone conduction vibration unit optimization technology is one of the best technical solutions in the industry, because their team has accumulated in the field of bone conduction for 10 years, which is highly respected by people in the industry in terms of product quality and hearing protection.
Once, there was a saying that the sound quality of Bluetooth bone conduction headphones was average. However, Wissonly Hi Runner refreshes this knowledge. It is excellent in sound quality. It uses a 360-degree bone conduction vibration unit, which can increase the vibration area by 35% compared with traditional bone conduction headphones. Moreover, its loss of bone conduction sound transmission is lower, making the sound more shocking and powerful.
Wissonly Hi Runner has added a number of innovative features to make bone conduction headphones better integrated into many scenes in life. It supports IPX8 diving waterproof, which is very good for me who loves swimming. What's crazy is that it can still work normally under 20 meters of water! It also has 32GB of memory, so it can play music even if it is not connected to a mobile phone. I basically use it as an MP3 player, and I don't take my mobile phone for running at night. It uses the Bluetooth 5.0 chip, and outdoor activities can make the connection more stable.
In terms of appearance, Wissonly Hi Runner adopts classic black color, and its simple appearance involves matching whatever clothes you wear in any scene.
2. Philips A6606 Bluetooth bone conduction headphones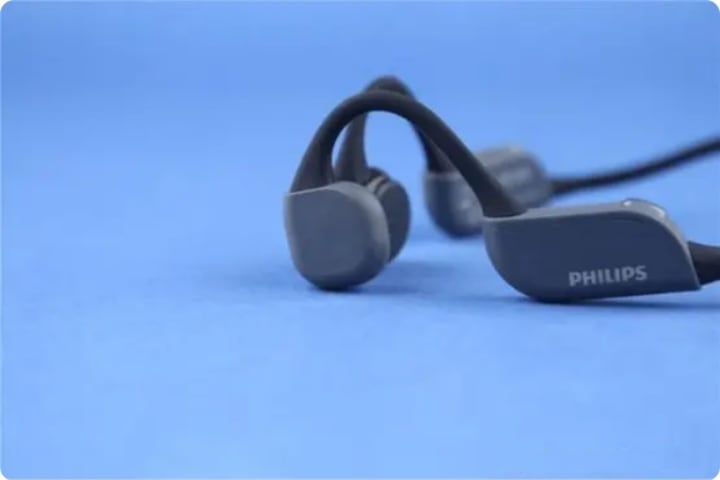 Recommended reason:
Philips A6606 has a good appearance, and its strange dark gray shape has a special sense of technology. The novel rear-hanging design is sporty. Its surface is made of silica gel, which is delicate and smooth to the touch, and its interface is also very flat. There is no doubt about Philips' manufacturing process. The headphones' body is made of waterproof silica gel and titanium alloy, so its weight is only 36g, and it feels very light to use. Its frame is made of memory titanium alloy, which can be stretched and bent repeatedly. It is specially designed for fun run mode and equipped with LED fun run warning lights.
Philips' products are still trustworthy, but the price is a little expensive and the cost performance is average.
3.AfterShokz OPENRUN PRO Bluetooth bone conduction headphones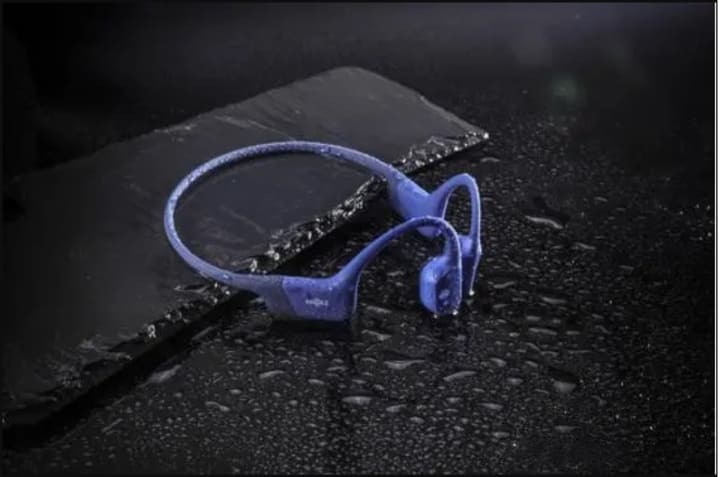 Recommended reason:
The body of the Openrun Pro weighs only 26g, and it adopts Qualcomm QCC3024 low-energy chip +PremiumPitch 2.0 improved double suspension vibration transmission system and suspension damping technology, CVC call noise reduction algorithm and double silicon microphone. The battery life lasts for 8 hours, and the charging method is magnetic charging. The charging interface has a liquid residue detection function to ensure that it has a good waterproof performance. Its waterproof grade is IP67, and there is no problem with normal sweat. A short period of rain can be used, but it can't be used for swimming.
4.Earsopen peace tw-1 Bluetooth bone conduction headphones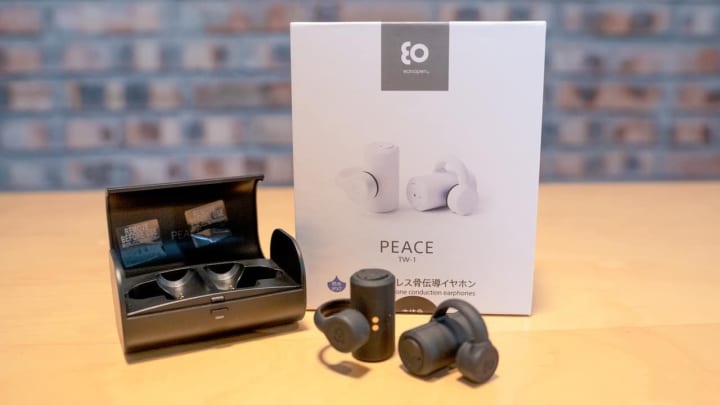 Recommended reason:
PEACE TW-1 bone conduction headphones have a small and exquisite appearance. The surface is made of high-grade soft silicone material, and the weight is only 9g. You only need to hang them on the ear like earrings, they are more comfortable to wear and will not cause allergies. At the same time, they also have IP67 waterproof grade, and direct rinsing after exercise is not a problem, but they are not suitable for swimming. The sound quality and anti-sound-leakage performance are not bad, and the daily sports use can be satisfied.
The disadvantage is the clip-on wearing method, and wearing it for a long time may cause discomfort.
5. Moing DG08 Bluetooth bone conduction headphones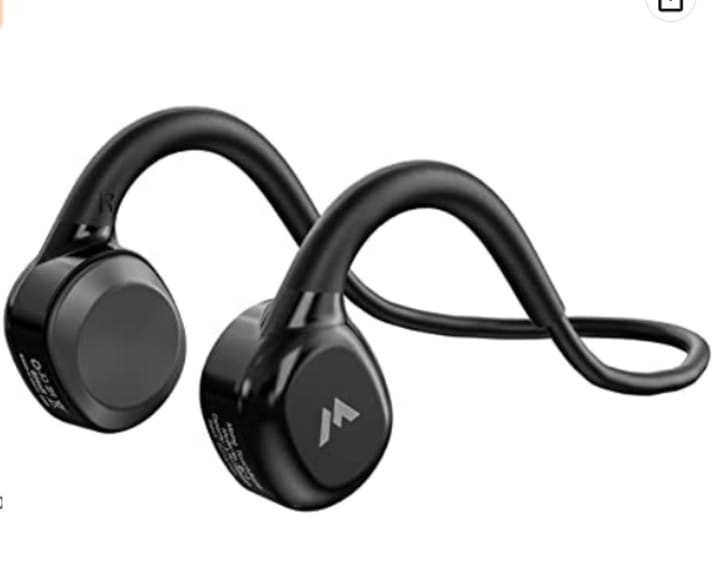 Recommended reason:
The DG08 bone conduction headphones come with 8GB of memory, which can independently store about 2,000 songs. The battery life reaches 10 hours, and you don't have to worry about battery problems for a full day of outdoor sports. Their non-in-ear design makes them more comfortable for the ears. They support life-grade waterproofing and are not afraid of sweat. It's just that there are still some problems in sound quality and sound leakage, and if the budget is not sufficient, you can consider this one.
Comment