What Are Wireless Bone Conduction Earphones and How Do They Work?
Mar 08,2023 | David
In daily life, the sound of teeth colliding can be clearly heard by us, but people around us cannot hear it. This is probably the nearest case of bone conduction technology around us. When you collide your teeth, you may hardly imagine that this sound transmission method will be applied by talented engineers to create the latest popular product-bone conduction earphones.
What are wireless bone conduction earphones?
Bone conduction earphone is a type of headphone using bone conduction technology. Its biggest feature is that it uses bone conduction to transmit sound, uses human bones as the medium for transmitting sound, and directly transmits sound to the auditory nerve to form hearing.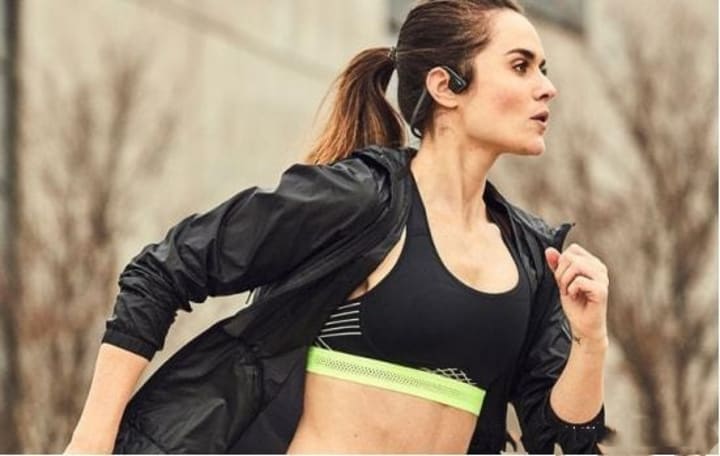 This distinctive technical feature has also revolutionized the way it is worn. The wearing method of bone conduction earphones has changed from traditional in-ear wearing to hanging ear wearing. When wearing it, you only need to hang the earphone on the auricle and put the vibration unit close to the temple, and the whole ear is completely open. The change in the way of sound transmission and wearing has made bone conduction earphones another type of earphone, which is a huge upgrade compared to traditional earphones. Many ear doctors also highly recommend them, because they are better and healthier for ears.
How do wireless bone conduction earphones work?
First of all, let us understand the principle of bone conduction technology. Bone conduction is a method of sound conduction, that is, by converting sound into mechanical vibrations of different frequencies. It transmits the sound to the cochlea through the human skull, bony labyrinth, and inner ear lymph fluid. After the auditory signal is sensed by the spiral organ in the cochlea, the auditory signal is converted into a nerve impulse. The auditory nerve continues to transmit the nerve impulse to the auditory center, and finally to the auditory cortex, where sound is perceived.Compared with the classic sound conduction method of generating sound waves through the diaphragm, bone conduction saves many steps of sound wave transmission, and can achieve clear sound reproduction in a noisy environment, and the sound waves will not affect others due to diffusion in the air.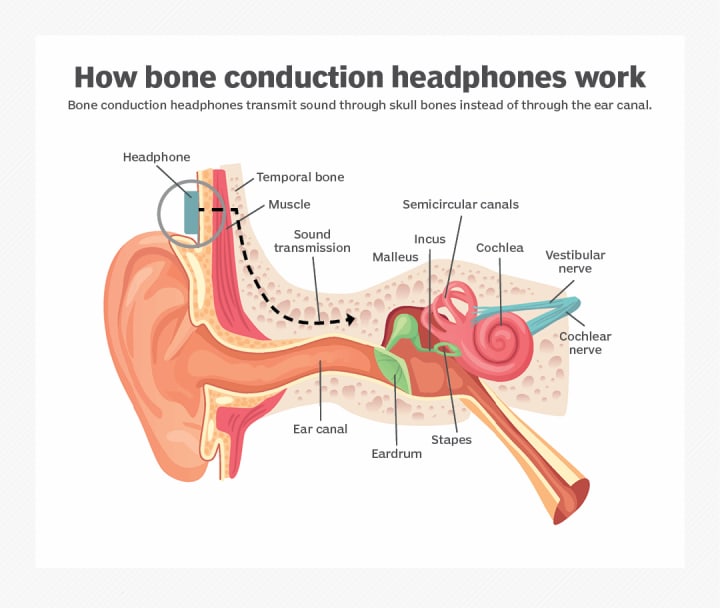 Bone conduction technology is a mature technology, and its practicability and safety have long been verified. As early as the 18th century, Beethoven, who was deaf in both ears, could continue to create music by biting a wooden stick connected to the piano and hearing the sound of the piano. This is probably the earliest example of the application of bone conduction.
Bone conduction earphones are a new type of earphones based on bone conduction technology. You only need to put the sound unit close to your ears to hear music. Because of this, they do not need to be plugged into or wrapped around the ear, so they will not cover the ear canal, making the ear canal more hygienic and the eardrum healthier.
In addition to very health, bone conduction earphones are also very safe. They allow you to listen to music when you can also hear the surrounding environment sounds, which avoids outdoor sports encounters danger. And they are also very comfortable to wear. It is with these advantages that they are becoming more and more popular.
From the introduction above, you may be interested in bone conduction earphones. However, how to choose the earphones still needs careful consideration. Sound quality, sound leakage reduction and security are the three main issues you must consider. Next, I will recommend several mature bone conduction brands, hoping to help you select suitable headphones.
1. Wissonly Hi Runner wireless bone conduction earphones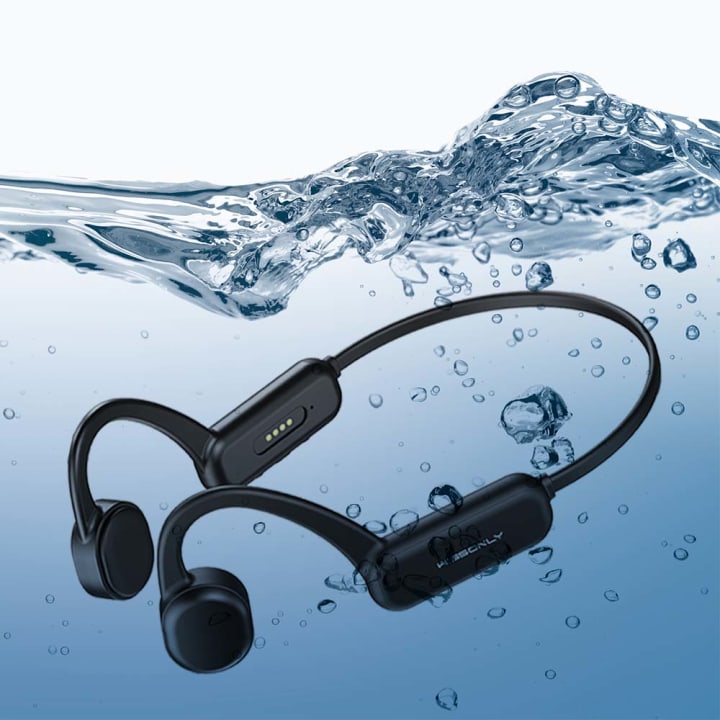 Reason for recommendation:
Wissonly bone conduction earphones are the first brand I started to contact. When they recommended it on the online crowdfunding platform, I noticed it, after saw that many people were recommending, and I bought it. This Hi runner I used for a few months, and the overall performance was better than I expected.
Some bone conduction earphones leak sound, and you know that I take privacy very seriously, so I'm very concerned about anti-sound-leakage technology. Wissonly Hi Runner does a very good job in the field. Its body is sealed, and through structural optimization and algorithm adjustment, its sound leakage is minimized. The official claim they can eliminate 90% of sound leakage. I do not have professional equipment to test, but I have tried and found that at 60%-70% volume, the sound is completely inaudible at a distance of 1.5 meters, which makes me very satisfied. I have actually compared it with other bone conduction earphones, and the Wissonly Hi Runner has currently the best sound leakage reduction solution in bone conduction earphones.
The Wissonly Hi Runner is also particularly comfortable in the wearing experience. Because the material of the whole machine is high-tech hypoallergenic silicone, and it is coupled with the ergonomic design that conforms to the structure of the human ear, so that users will not bring any burden to the ear under long-term wear.
Sound quality as the core performance is undoubtedly worth mentioning. Wissonly Hi Runner uses a large-sized vibration unit, the sound range is wider, the sound is more three-dimensional and deeper, so the sound quality is undoubtedly very good. And it is also equipped with a Bluetooth 5.0 chip, the connection is more stable. And it will not be disconnected when used, which is a good experience. The Wissonly Hi Runner also comes with 32GB of built-in storage that can store 5,000 songs, so you can use it completely as an MP3 player to enjoy music without your phone when you go out for a run.
2. Philips A6606 wireless bone conduction earphones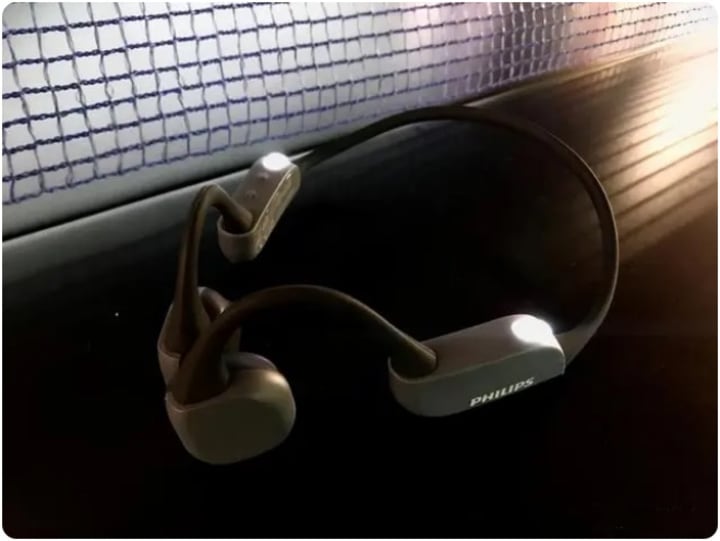 Reason for recommendation:
Philips A6606 adopts the rear hanging design of titanium alloy frame, which can be stable no matter jumping or running. Its surface is made of soft and skin-friendly silicone material, which makes it comfortable to wear, and the body of it is relatively light, so there is no sense of weight to wear. The biggest feature of A6606 is that its headphones are equipped with LED night lights, which is a thoughtful design for people who like fun runs, and can remind pedestrians, cyclists and drivers behind them to avoid it at night. Very suitable for night running.
3.AfterShokz OpenSwim wireless bone conduction earphones
Reason for recommendation:
This OpenSwim bone conduction earphones, the whole body is made of titanium alloy, which is tough, durable, and can be firmly worn to fit the ears. The whole body has an integrated design, no opening design, and the waterproof performance of the body reaches IP68 grade, so it is suitable for swimming. Its sound source part adopts a long strip structure design, so that the loudspeaker has a larger surface area and higher sound transmission efficiency. With its own 4G memory, it can store thousands of songs, and its battery life can last up to 8 hours, which can meet the daily exercise demand. However, this headphone does not support Bluetooth and calling functions.
4 Earsopen BT5 wireless bone conduction earphones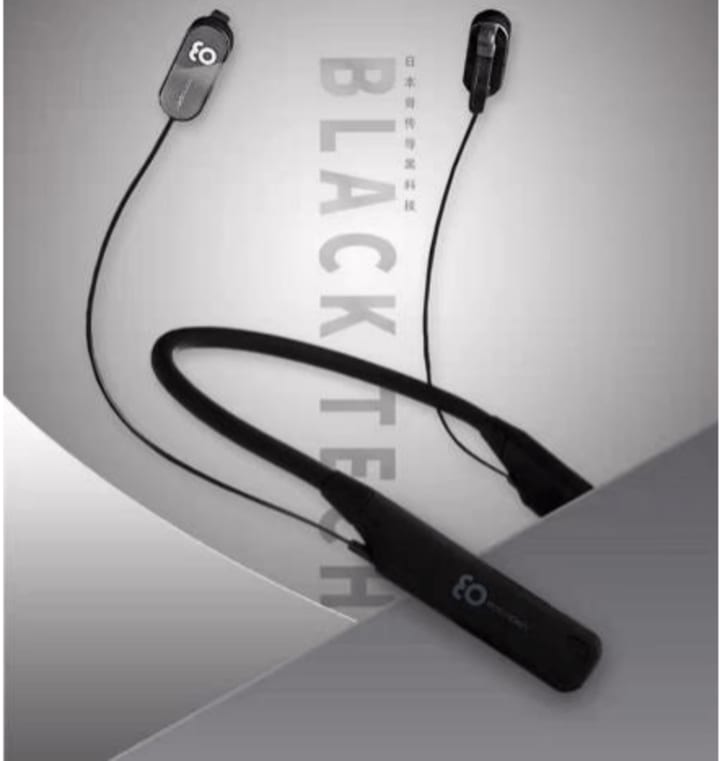 Reason for recommendation:
earsopen BT5 bone conduction earphones are originated in Japan and can play music continuously for up to 6 hours. They adopt IPX7 waterproof design, are not afraid of sweat in sports, and are very suitable for use in sports scenes. Their unique audio equalization technology and high-performance vibration unit support sound of different frequencies. BT5 have an echo reduction function to minimize echo.
5. Moing DG08 wireless bone conduction earphones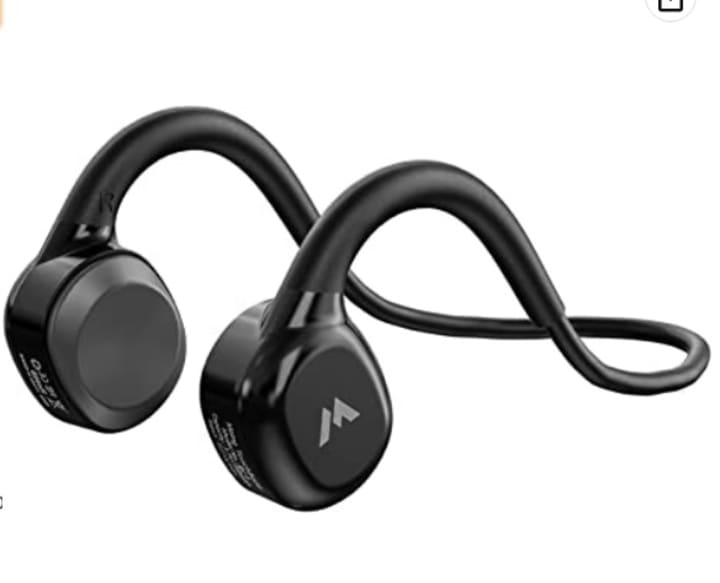 Reason for recommendation:
The DG08 bone conduction earphones come with 8GB of memory, which can independently store about 2,000 songs. The battery life reaches 10 hours, and you don't have to worry about battery problems for a full day of outdoor sports. Their non-in-ear design makes them more comfortable for the ears. They support life-grade waterproofing and are not afraid of sweat. It's just that there are still some problems in sound quality and sound leakage, and if the budget is not sufficient, you can consider this one.
So, do you have your favorite bone conduction earphones? If you are still confused, I suggest you choose between Wissonly and Aftershokz. The sound quality and sound leak reduction performance of their products are good. The difference is that Wissonly hi Runner has better parameters and higher cost performance,it's more worth buying.
Comment