What Are The Work Principle of Bone Conduction Headphones and The Advantages of Them?
Jan 07,2023 | Sylvia
In recent years, you may find that more and more people around you are wearing a kind of earphone clipped to the edge of the temple. Most of these headphones are bone conduction headphones.
So, what are bone conduction headphones?
They are sound transmission devices that transmits sound through the vibration of the skull so that people can perceive speech.
In physics, sound can be transmitted through solids, air, and liquids as media. Traditional earphones transmit sound through the air, while bone conduction headphones transmit sound through the solid of the skull.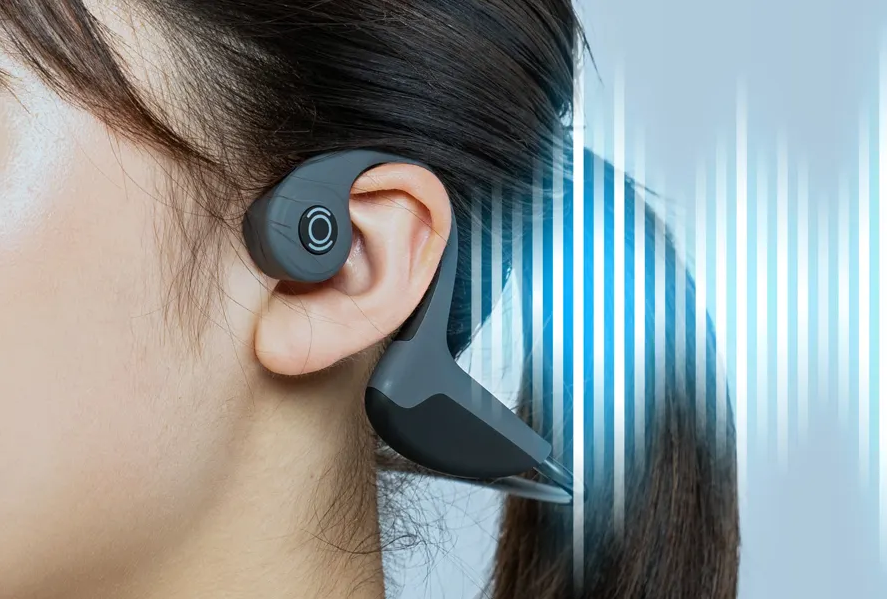 Bone conduction device include conduction speaker and bone conduction microphone:
(1) Bone conduction speakers are used to listen to the sound. It converts the electromagnetic signal into sound waves (also called vibration signals) directly through the bone to the auditory nerve and makes the brain center feel the sound.
(2) The bone conduction microphone is used to collect sound. It uses the slight vibration of the head and neck bones caused by human speech to collect sound signals and convert them into electromagnetic signals.
Bone conduction technology is very mature and widely used. In the early days, it was mainly used in hearing aids, emergency rescue, military, and other professional fields. In recent years, it has gradually been applied in the field of consumer electronics.
The work principle of bone conduction headphones
Bone conduction headphones are headphones based on bone conduction technology. Bone conduction is a sound conduction method with bones as the medium. It converts sound into mechanical vibrations of different frequencies, and transmits sound waves through the human skull, bone labyrinth, inner ear lymph fluid, spiral organ, and auditory center.
Compared with the classic sound conduction method of transmitting sound waves through the eardrum, bone conduction saves many steps of sound wave transmission, and it can achieve clear sound reproduction in noisy environments, and sound waves will not affect others due to diffusion in the air.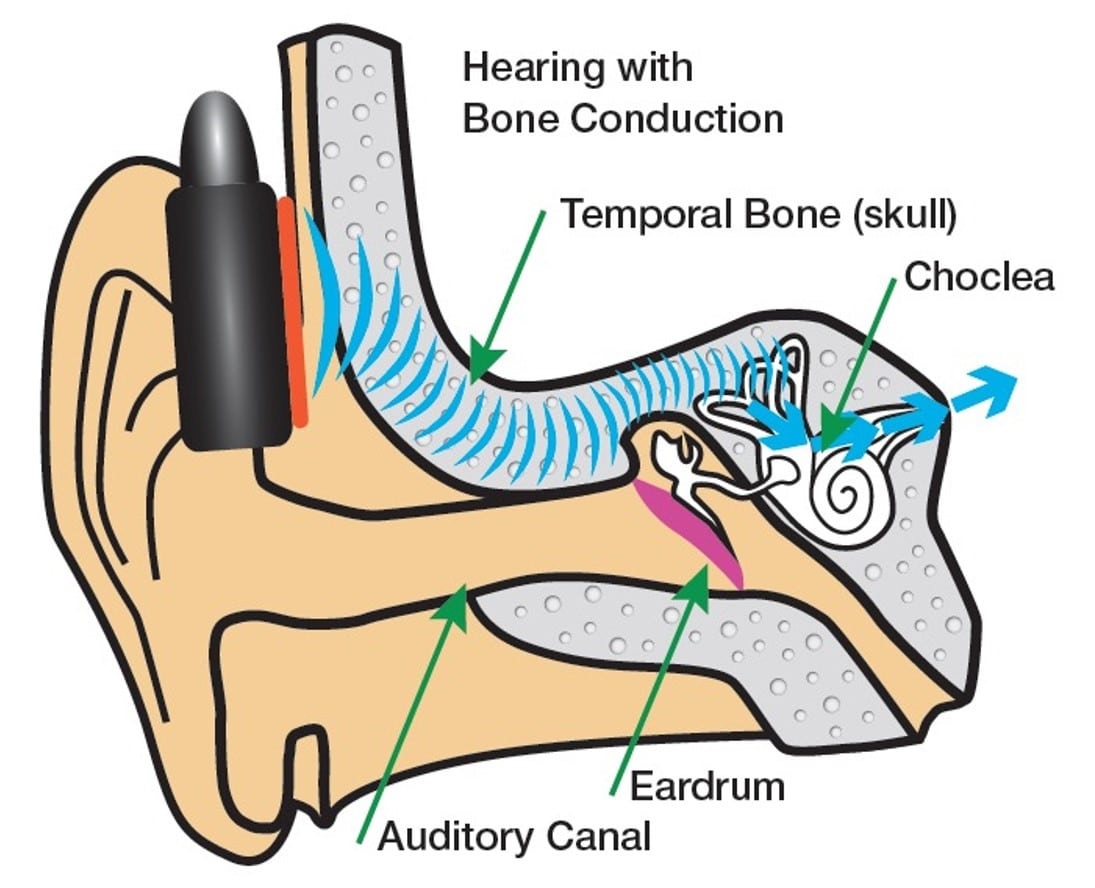 In fact, the work principle of bone conduction is not mysterious. Each of us has experienced it in our daily life. When you eat, you hear the sound of the food being bitten off, but others cannot hear this sound, because the vibration of the food is transmitted to your auditory central nerve through the teeth and bones, and finally the sound is produced. This is an example of classic bone conduction. You can also knock your teeth now. Did you hear the sound? This is the sound passing through your skull to the auditory nerve, which also uses the principle of bone conduction.
Advantages and disadvantages of bone conduction headphones
It does not occupy the ear canal when in use. In addition to hearing the sound in the headphone, it can also hear the sound of the outside world, so that you are not isolated from the outside world, which can ensure your safety. For example, if you wear headphones when crossing the road, you won't be in danger because you can't hear the horn. That means if you often exercise outdoors, you can avoid dangerous situations. It allows you to listen to all directions while listening to music, protecting yourself without hindering others. Safety is the most prominent advantage of them. Because of this advantage, bone conduction headphones are very popular among sports fans.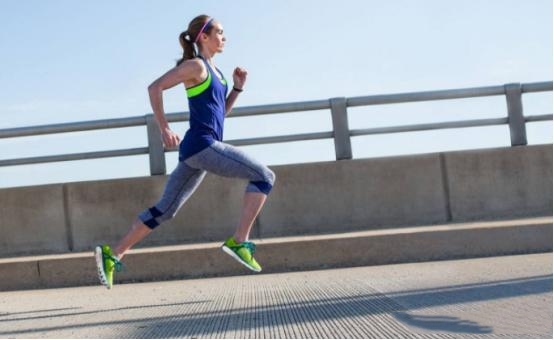 Bone conduction headphones do not need to be tightly plugged into the ears, they are very comfortable to wear. It perfectly avoids ear pain caused by wearing in-ear earphones for a long time. The comfort of wearing is a near-perfect advantage for sports fans who need to wear it for a long time. To further improve wearing comfort, mainstream brands of bone conduction headphones also make the fuselage very light and use soft and skin-friendly materials for the fuselage surface. Companies like wissonly and Aftershokz have made great efforts in this regard.
Bone conduction headphones have another advantage: Since the headphones do not need to be plugged into the ear when worn, it is very helpful to maintain the internal hygiene of the ear. It will not cause a lot of bacteria to accumulate in the ear canal due to sweating for a long time during exercise. Compared with traditional earphones, it is more hygienic and healthy.
Of course, bone conduction headphones also have some disadvantages. For example, the sound quality may not be as good as traditional noise-canceling headphones, such as more or less sound leakage problems. These two problems are mainly caused by the sound generation principle of bone conduction headphones, and they are difficult to solve to a 100% extent. However, some excellent bone conduction headphones have made a lot of efforts to solve these two problems and they achieved good results. The sound quality of these headphones is generally very good, and the sound leakage problem has almost been solved.
In general, bone conduction headphone has obvious advantages, their disadvantages have been gradually improved. It is a headphones worth buying.Next, I will recommend some excellent headphones.
1. Wisonly Hi Runner bone conduction headphones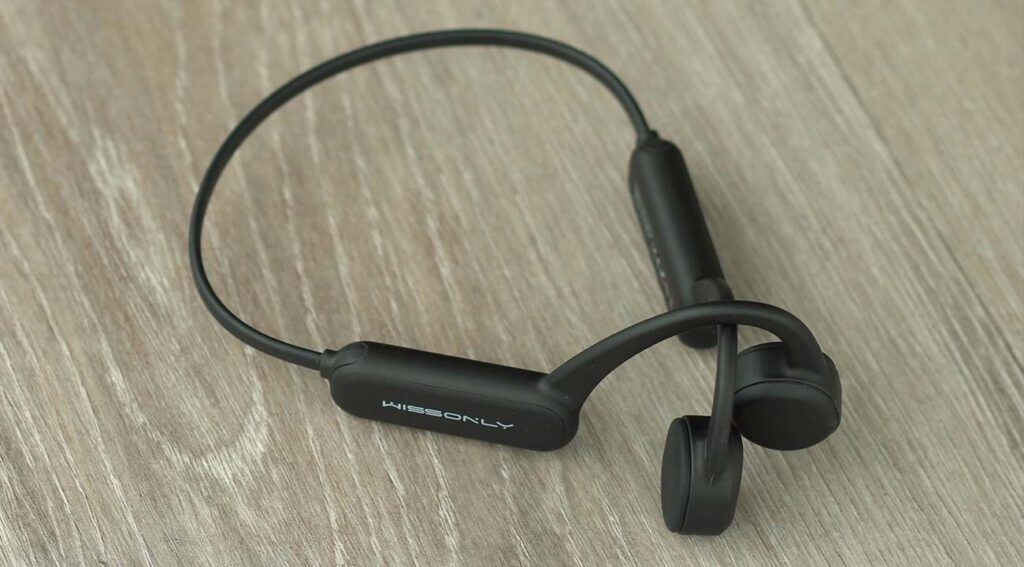 Recommended reason:
Wissonly bone conduction headphones is the first brand I came into contact with. I first found it on the crowdfunding website. Later, I bought it after seeing many people's recommendations in some online running forums. After my long-term comparative test, the overall function of this Hi Runner model product is very powerful, which greatly exceeds my expectations.
Their team is one of the best talents in the field of bone conduction. The product director was once the core engineer of a first-line brand, and has accumulated 10 years' experience in the field of bone conduction technology. Wisonly Hi Runner increases the vibration area of the sound source vibrator by 35% through excellent structural design, which makes the music feel more spatial and immersive. It is also excellent in sound leakage reduction. The fully wrapped design reduces the vibration of the shell, and the structural optimization makes the sound leakage wave be offset, thus avoiding 90% sound leakage, which is much better than the bone conduction headphones of the same price on the market.
The fully-enclosed design of Wisonly Hirunner bone conduction headphones makes its waterproof grade to IPX8, which means that you can wear it for bathing, swimming and even diving within 20 meters. Even better, the Hi Runner headphones has a built-in storage of 32GB, which can store 5,000 songs. It can still be used without the mobile phone. It supports both MP3 mode and Bluetooth mode. It is equipped with Bluetooth 5.0 chip, which makes it superior to most bone conduction headphones in transmission distance, connection stability and power consumption.
2. Philips A6606 bone conduction headphones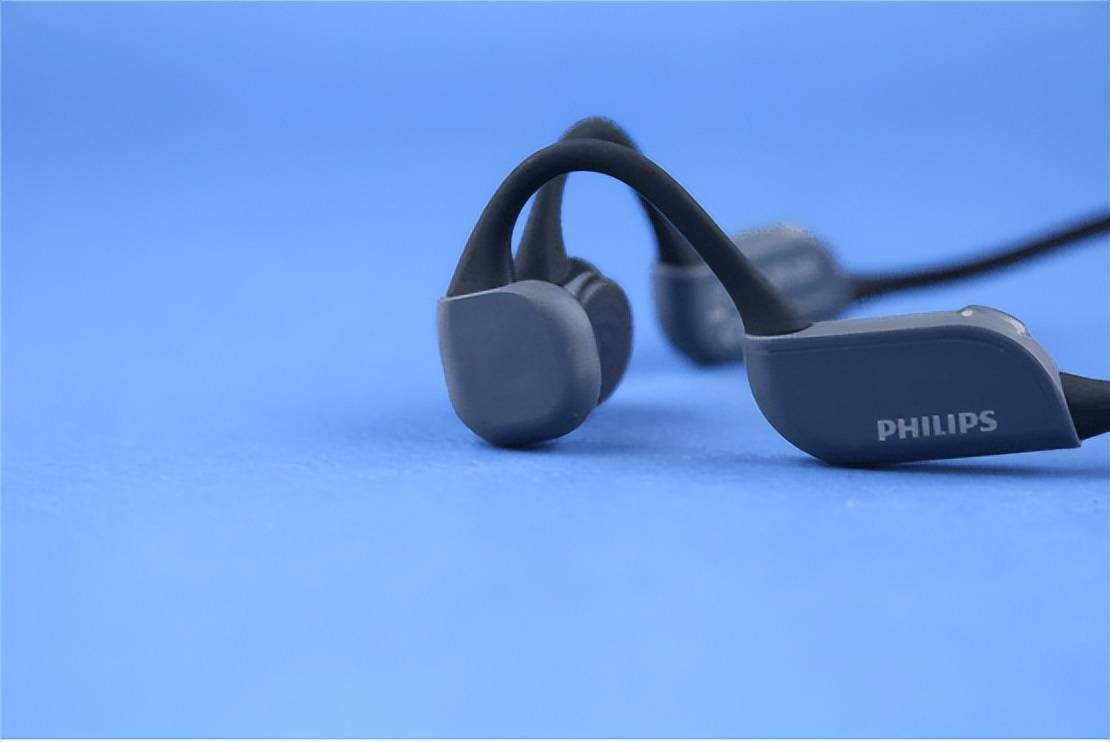 Recommended reason:
In terms of appearance, A6606 adopt a simple and solid color design. Except for the logo at the end of the ear hook, there is no unnecessary decoration. The overall sense is very strong, and they visually give people a simple sense of technology. They feel quite good to wear, neither compressing the head and cervical vertebrae nor messing up the hair. A6606 do not need to be worn into the ears. They do not hurt the eardrum during long-term wearing ,and they will not cause you sweat during exercise, and are comfortable and breathable. In addition, their IP67 dustproof and waterproof rating, 9-hour battery life, Bluetooth 5.2 and other features make the bone conduction headphones a good choice.
3.AfterShokz OPENRUN PRO bone conduction headphones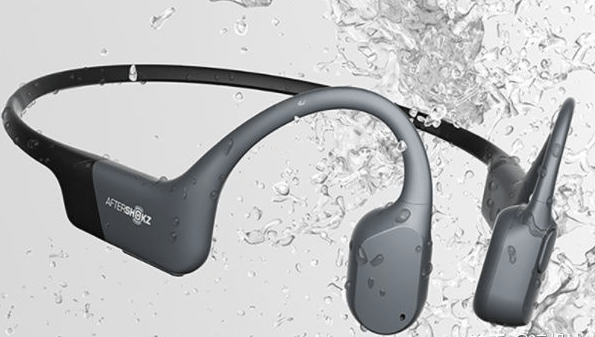 Recommended reason:
Openrun Pro bone conduction headphones have IP67 waterproof rating, they are waterproof, sweatproof, and dustproof. They are no problem to get caught in the rain or splashed with water. Even in outdoor sports, when encounter bad weather, you will be not afraid at all, they let you enjoy the fun of sports all the time.
In addition, the headphones do not need to be plugged into the ears. Their comfort is just amazing. Their is no need to poke the ear like a drill any more. And you do not have to worry about that after you wear them for a long time, your ear canal will itch and be uncomfortable, and as well as breed bacteria. The whole body surface is silicone material, their net weight is 28g, and they are comfortable and lightweight.
4.earsopen FIT BT-1 bone conduction headphones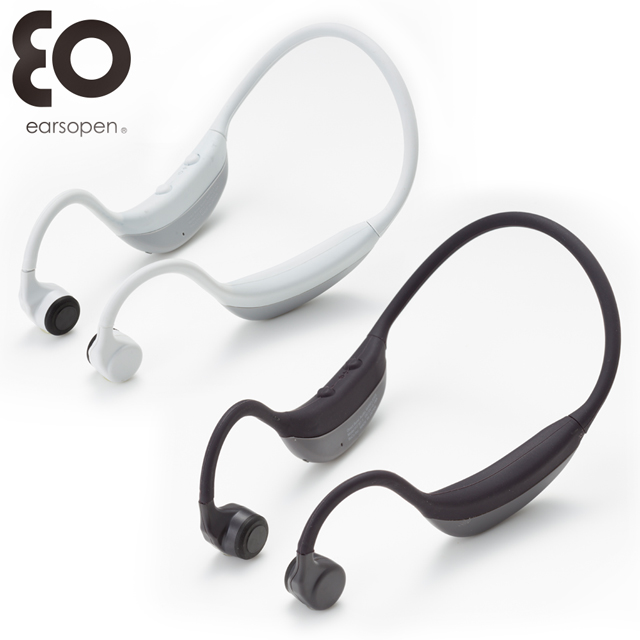 Recommended reason:
Earsopen FIT BT-1 bone conduction headphone, the new favorite of Japanese headphone industry, has an open listening experience and can also accept external sound. It has the BONE AUDIO feature with super telepresence, which has better listening effect.It adopts the exclusive latest AVV technology, with its correct vibration earsopen device, and improves the bone conduction ability by leaps and bounds.It also has fashionable and high-quality streamline design,it use light body material and weight of only 34g. Its waterproof, dustproof and anti-skid performance is also good.
It can be safely used indoors and outdoors, and it is comfortable to wear and moves freely.
5. Nank Runner CC3 bone conduction headphones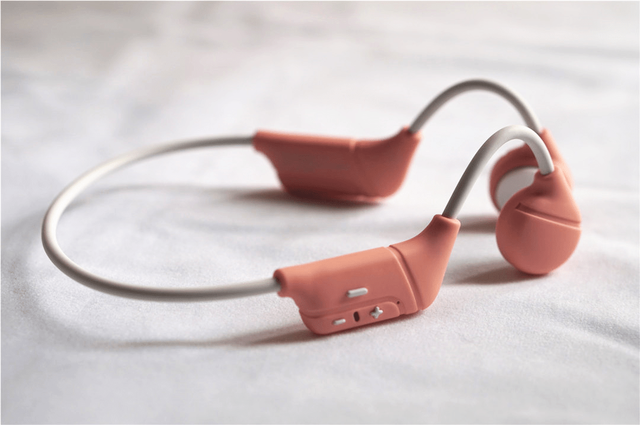 Recommended reason:
The Runner cc2 headphone's body is fully enclosed design. The waterproof ability is greatly improved, reaches the level of LPX6, it can easily resist daily rain and sweat. It has a built-in low-energy Bluetooth 5.0 chip that has fast connection and stable signal. In terms of reducing sound leakage, the Runner CC 2 is still relatively small in sound leakage. The sound quality is also OK, and it is a good entry-level bone conduction headphone.
So, do you have your favorite bone conduction headphone? If you are still confused, I suggest you choose between Wissonly and Aftershokz. The sound quality and sound leak reduction performance of their products are good. The difference is that Wissonly hi Runner has better configuration and higher cost performance,it's more worth buying.
Comment