What Are The Benefits of Wireless Bluetooth Bone Conduction Headsets
Apr 11,2023 | David
In the last 2 years, wireless Bluetooth bone conduction headsets are becoming more and more popular. Whether you go out for running, cycling, or going to the gym, you can see someone wearing them. As a star technology product, they are very different from common headphones. Undoubtedly they are not another headphones, but another kind of headphones.
What is the difference between wireless Bluetooth bone conduction headsets and common headphones
Their biggest difference is the way to transmit sound. wireless Bluetooth bone conduction headsets use bones to transmit sound, while common headphones are air conduction headphones that use air to transmit sound. To understand this difference, I did a test. First put on wireless Bluetooth bone conduction headsets, and then plugged my ears with my fingers, at this time I found that the sound became louder rather, which is amazing! But when I wear the common headphones, when I do the same action, I find the sound becomes smaller.This is the secret of bone conduction transmitting sound!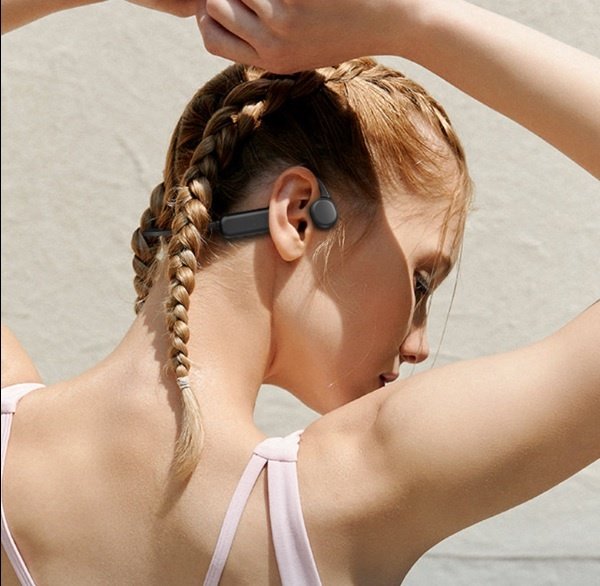 The difference in sound transmission mode makes that you do not need to stuff the wireless Bluetooth bone conduction headsets into the ear and only need to attach the vibrating unit to the temple to allow the ear to hear the sound. This feature also gives more design space for the headphones, and designers design them as hanging-ear type or clip-on-ear type so that they are more comfortable to wear. And because wireless Bluetooth bone conduction headsets do not need to transmit sound through the air, their body do not need to leave holes for sound waves to enter and exit, which also allows them to have a better waterproof level.
What are the benefits of wireless Bluetooth bone conduction headsets
Since wireless Bluetooth bone conduction headsets do not require the use of both ears, they also bring some health benefits. They do not need to be stuffed into the ear when worn, they can keep the inside of the ear canal clean and hygienic. And the surface of them is smooth, easy to clean, and its body can keep clean. Traditional air conduction headphones are worn either into the ear or covering throughout the ear, which will cause bacteria to deposit inside the ear. So wireless Bluetooth bone conduction headsets are of great help to the ear health. They use the principle of bone conduction to transmit sound that does not need to pass through the eardrum. So unless the volume is turned up too much, normal volume will not affect hearing when the headphones are used.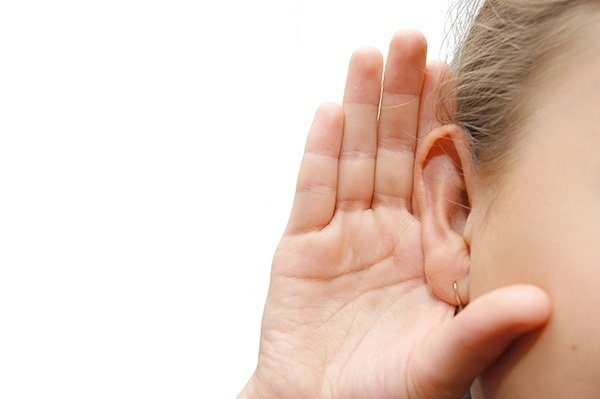 Wireless Bluetooth bone conduction headsets are also very friendly to be used in sports scenes. Wireless headphones themselves are sport-friendly, and the non-in-ear characteristics make them more suitable for sports scenes than other headphones. They are also much more stable in wearing than traditional wireless Bluetooth headphones. Their integrated body structure is tightly fastened to the temples on both sides,and no matter how you move, they will firmly stick to the ears, following the rhythm of your body. So you do not worry about their falling off.
At the same time, wireless Bluetooth bone conduction headsets can provide higher safety compared to common headphones. They are placed on the cheekbones in front of the ears when used. They directly conduct sound through the skull to the inner ear. Both ears are always open, so the phones will not affect any external environmental sounds into the ears. Users can even listen to music while chatting with friends around them. Therefore, in outdoor occasions, on the bus and subway, and when walking on the road, you can hear the sound of outside world, so as to avoid accidents.
Of course, wireless Bluetooth bone conduction headsets are not 100% perfect, and they also have some disadvantages. For example, their sound quality is not as good as that of traditional noise-canceling headphones. For example they have problems of sound leakage. Fortunately, the entire industry is working hard to solve these problems. And some excellent brands, such as Wissonly and Aftershokz, have improved the sound quality and sound leakage perfectly.
In general, wireless bone conduction headsets have more advantages than disadvantages, which is why they are becoming more and more popular. Now, I will recommend some excellent headphones.
1, Wissonly Hi Runner wireless Bluetooth bone conduction headsets
Reason for recommendation:
Wissonly wireless Bluetooth bone conduction headsets are the first brand I started to contact. When they recommended it on the online crowdfunding platform, I noticed it, after saw that many people were recommending, and I bought it. This Hi runner I used for a few months, and the overall performance was better than I expected.
Some wireless Bluetooth bone conduction headsets leak sound, and you know that I take privacy very seriously, so I'm very concerned about anti-sound-leakage technology. Wissonly Hi Runner does a very good job in the field. Its body is sealed, and through structural optimization and algorithm adjustment, its sound leakage is minimized. The official claim they can eliminate 90% of sound leakage. I do not have professional equipment to test, but I have tried and found that at 60%-70% volume, the sound is completely inaudible at a distance of 1.5 meters, which makes me very satisfied. I have actually compared it with other wireless Bluetooth bone conduction headsets, and the Wissonly Hi Runner has currently the best sound leakage reduction solution in wireless Bluetooth bone conduction headsets.
The Wissonly Hi Runner is also particularly comfortable in the wearing experience. Because the material of the whole machine is high-tech hypoallergenic silicone, and it is coupled with the ergonomic design that conforms to the structure of the human ear, so that users will not bring any burden to the ear under long-term wear.
Sound quality as the core performance is undoubtedly worth mentioning. Wissonly Hi Runner uses a large-sized vibration unit, the sound range is wider, the sound is more three-dimensional and deeper, so the sound quality is undoubtedly very good. And it is also equipped with a Bluetooth 5.0 chip, the connection is more stable. And it will not be disconnected when used, which is a good experience. The Wissonly Hi Runner also comes with 32GB of built-in storage that can store 5,000 songs, so you can use it completely as an MP3 player to enjoy music without your phone when you go out for a run.
2. Philips A6606 wireless Bluetooth bone conduction headsets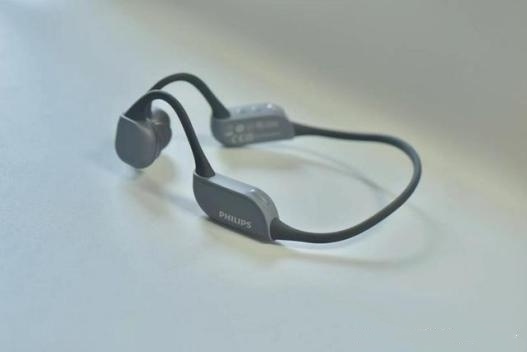 Reason for recommendation:
Philips A6606 bone conduction sports headphones has a unique night light design, which can help the wearer solve the problem of sports safety in dim environment. It is equipped with Bluetooth 5.2 technology, with an effective distance of up to 10 meters. It has low power consumption, faster connection speed, higher security and stability. A6606 can last for 9 hours on one time charge, which can fully meet the daily needs of users. That is, its waterproof level is not high, it can't be used in swimming, it doesn't have built-in memory, and it can't be used without Bluetooth.
3.AfterShokz OPENmove wireless Bluetooth bone conduction headsets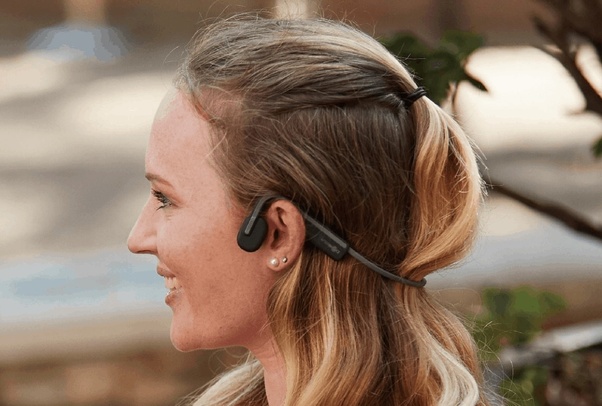 Reason for recommendation:
The surface of the AfterShokz OPENmove wireless Bluetooth bone conduction headsets is made of warm and skin-friendly silicone material, and with open ears wearing style, it is very comfortable. With the help of CVC noise reduction algorithm, its voice is relatively clear in calling, and it is basically not affected by the external ambient sound. It also adopts Bluetooth version 5.0, which has high stability of Bluetooth connection and brings lower power consumption. Openmove specializes in "sports use", and music quality is not its core, which may be slightly worse.
4.Earsopen PEACE wireless Bluetooth Bone Conduction Headset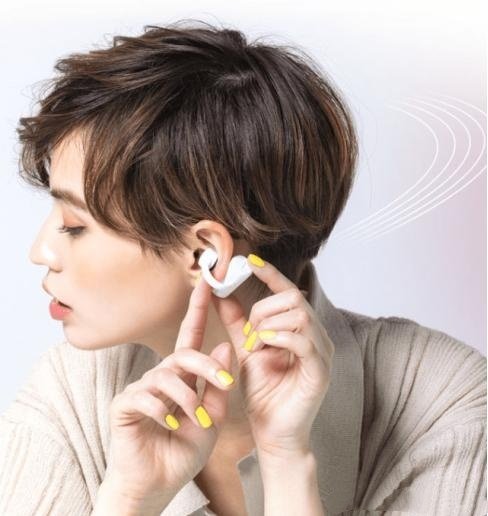 Reason for recommendation:
Earsopen PEACE is a wireless Bluetooth bone conduction headset with a novel wearing method. It adopts a clip-on design, which has a certain stability in wearing. It can be worn only by clipping it in the ear canal, and it also supports single ear wearing. IPX7 waterproof performance can also be easily competent for waterproof and sweat-proof work. With the charging case, it can complete the daily wear and use of electricity for nearly a week. The only disadvantage is that the price is slightly higher and the charging case area is a bit bulky. If you carry it in a sports field, you will feel a certain weight, and you will feel uncomfortable if you wear it for a long time.
5.Haylou PurFree wireless Bluetooth bone conduction headsets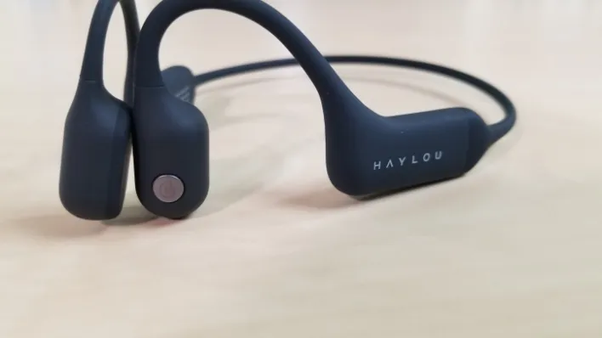 Reason for recommendation:
Good experience, its weight is very light, weighing only 28g, and its open ear design is very safe and hygienic, which can protect the health of the ear canal . The silica gel material of its body is very comfortable, and it can be bent at will. The frame of aviation grade memory titanium wire will not be deformed, and make its service life very long.
Its IP67 waterproof grade, except when you sweat during exercise, you are not afraid of damage when you rush with water. And the charging interface adopts water-proof magnetic charging, so there's no need to worry about water coming into the charging interface. It should be noted that it can't be used in swimming.
There will be a little sound leakage, which may be one of its shortcomings.
Among the several bone conduction headsets recommended above, Wissonly and Aftershokz are the two products with the best overall performance, both in terms of sound quality, safety, comfort and sound leakage reduction.Considering the cost performance ratio, wissonly will be better and worth recommending.
Comment