What Are Bone Conduction headset Phones and How Do They work?
Jan 10,2023 | Sylvia
In recent years, you may find that more and more people around you are wearing a kind of earphone clipped to the edge of the temple. Most of these headphones are bone conduction headset phones.
So, what are bone conduction headset phones?
They are sound transmission devices that transmits sound through the vibration of the skull so that people can perceive speech.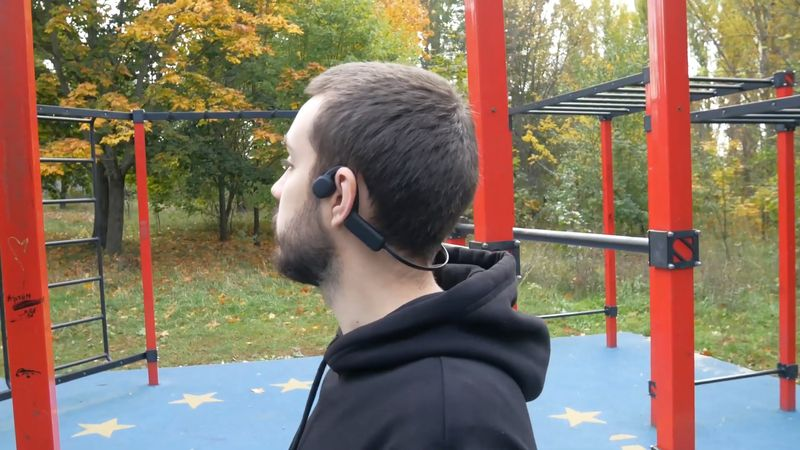 In physics, sound can be transmitted through solids, air, and liquids as media. Traditional earphones transmit sound through the air, while bone conduction headset phones transmit sound through the solid of the skull.
Bone conduction device include conduction speaker and bone conduction microphone:
(1) Bone conduction speakers are used to listen to the sound. It converts the electromagnetic signal into sound waves (also called vibration signals) directly through the bone to the auditory nerve and makes the brain center feel the sound.
(2) The bone conduction microphone is used to collect sound. It uses the slight vibration of the head and neck bones caused by human speech to collect sound signals and convert them into electromagnetic signals.
Bone conduction technology is very mature and widely used. In the early days, it was mainly used in hearing aids, emergency rescue, military, and other professional fields. In recent years, it has gradually been applied in the field of consumer electronics.
How do bone conduction headset phones work?
Bone conduction headset phones are an application of bone conduction technology in the field of headphones. It transmits sound through the skull, without going through the external auditory canal and eardrum, which is very good for the ear.
The sound transmission path of bone conduction headset phones is "sound wave-skull-bone labyrinth-inner ear lymph fluid-spiral organ-auditory nerve-cerebral cortex auditory center".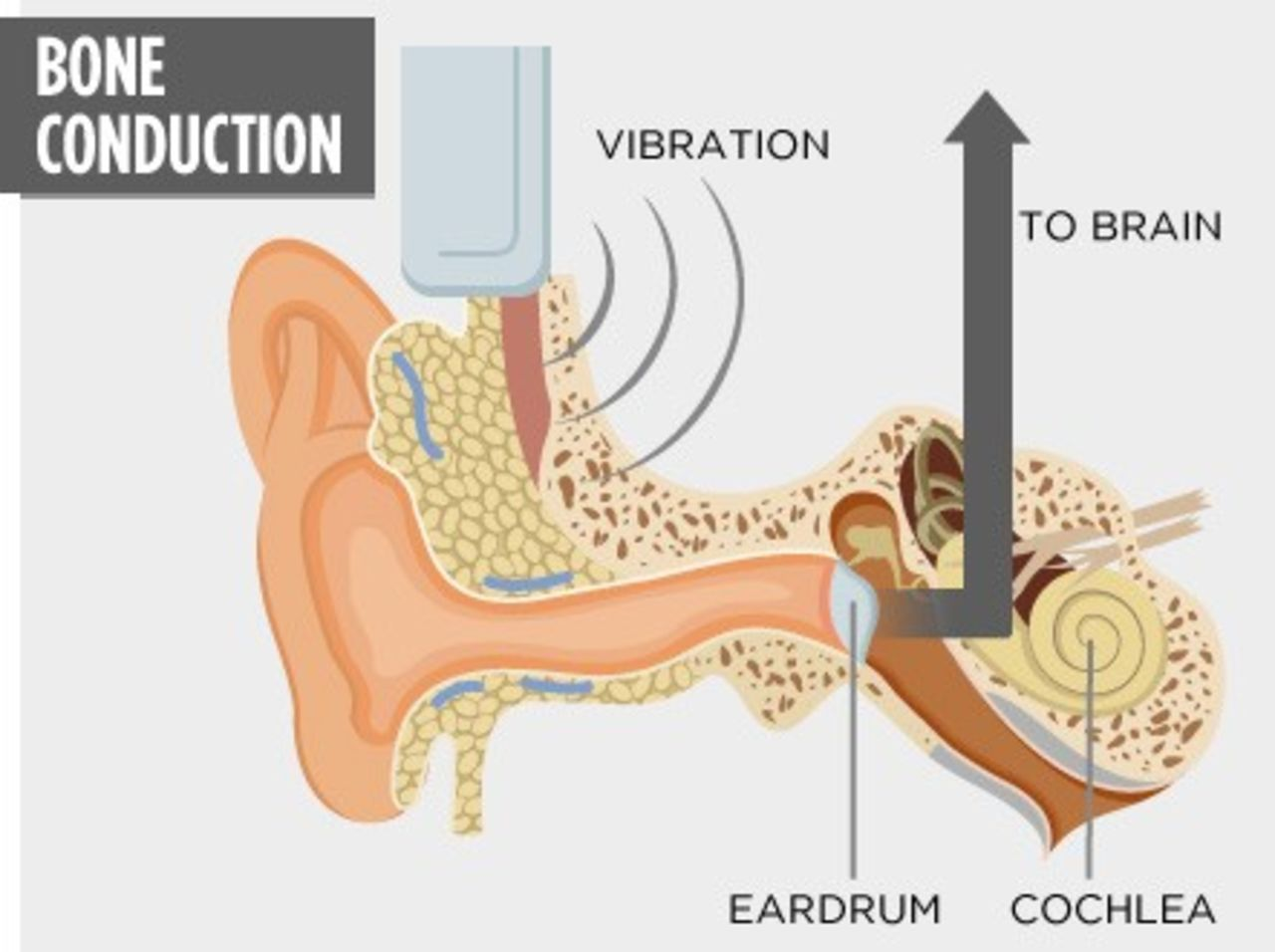 Common headphones are air-conduction headphones, which need to conduct sound through the air in the ear canal. Its sound transmission path is "air-external auditory canal-tympanic membrane-ear ossicles-internal auditory canal-cochlea-auditory nerve".
There is a little experiment to better understand how bone conduction works. First, plug the ears with two cotton balls, take a tuning fork, and tap it several times with a rubber hammer to make the tuning fork vibrate. It vibrates so softly that your ears can't hear it at this time. But pressing the end of the tuning fork handle against your frontal bone, skull bone, and cheekbone can make you hear the vibration of the tuning fork. Once the tuning fork handle is out of contact, the sound disappears immediately. This is because the sound of the tuning fork is transmitted through the bones of the human body.
What are the disadvantages and advantages of bone conduction headset phones?
While bone conduction headset phones are popular, they're not perfect. They also have some disadvantages, summed up in three:
Disadvantage 1 : sound quality
Because of the design characteristics of bone conduction headset phones, their anti-interference effect is not ideal when wearing them for shopping, subway, car and other noisy environments. And the sound quality is not as good as traditional headphones, because they transmit sound through the skin, skull and then to the ear ossicles, so the degree of music reproduction is not as good as traditional in-ear headphones.
Disadvantage 2 : sound leakage
The sound is transmitted through the vibration of the vibrator, so part of the sound is also transmitted through the vibration of the air, and sound leakage cannot be completely avoided. It's just that some headphones invest more research and design in reducing sound leakage, and solve most of the sound leakage problems. For example, the Wissonly Hi runner bone conduction headset I own are excellent representatives among them.
Disadvantage 3 the price is slightly higher
The technology of bone conduction headset phones is more complicated than that of traditional headphones, the materials are better than traditional headphones, and the manufacturing process is more complicated, which ultimately makes the price of them a little higher. But this year, with the rapid popularity of them, their prices have dropped significantly after the production has increased significantly.
Although bone conduction headsets have the above disadvantages, compared with these disadvantages, they have more prominent advantages, such as being safer, healthier, more hygienic, and more comfortable to wear. These advantages make it popular among young people.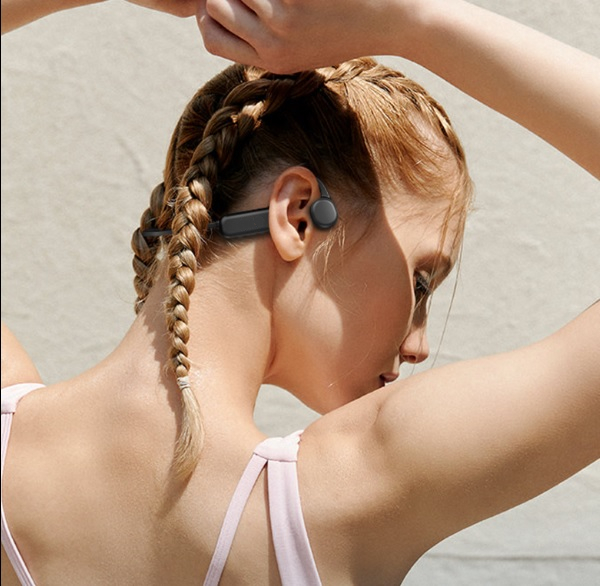 Nowadays, more and more bone conduction headset appear on the market, which may make you feel confused when selecting them. In my opinion, select brands with mature technology, such as Wissonly and Philips. Next, I will recommend some good products for you.
1. Wissonly Hi Runner bone conduction headset phones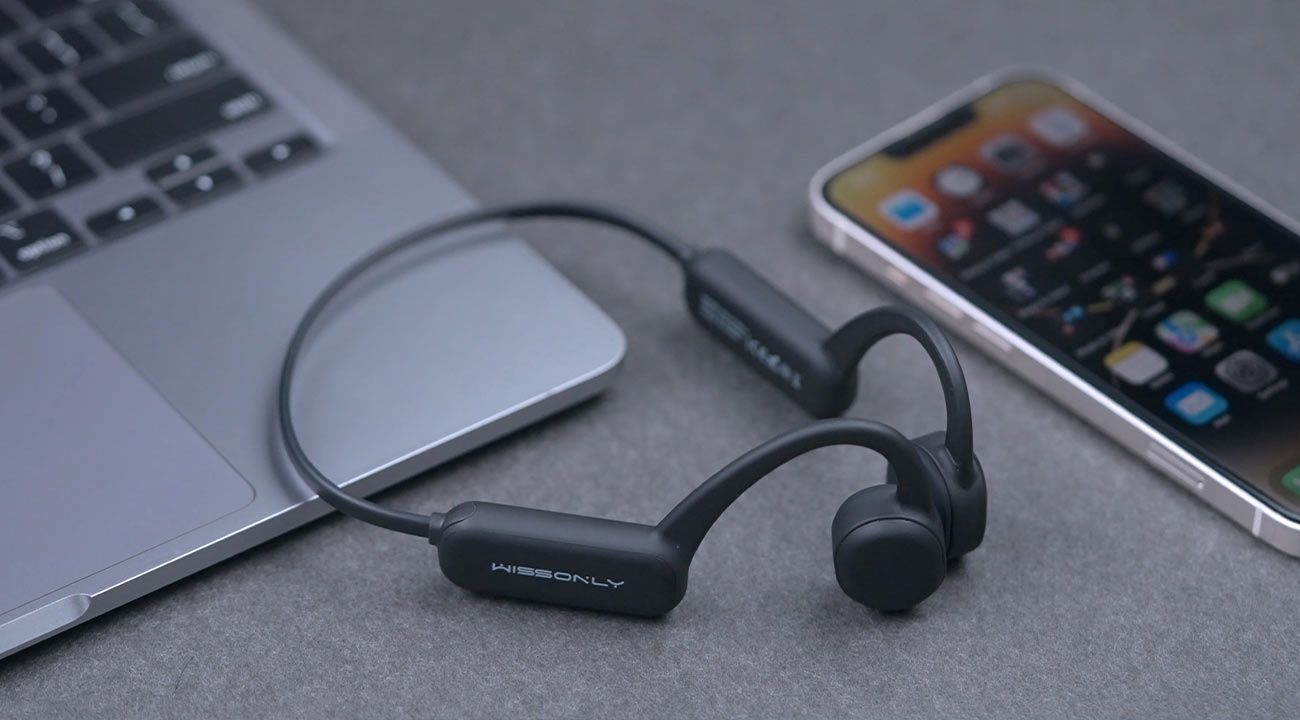 Recommended reason:
Wissonly bone conduction headset is the first brand I came into contact with. I first found it on the crowdfunding website. Later, I bought it after seeing many people's recommendations in some online running forums. After my long-term comparative test, the overall function of this Hi Runner model product is very powerful, which greatly exceeds my expectations.
Their team is one of the best talents in the field of bone conduction. The product director was once the core engineer of a first-line brand, and has accumulated 10 years' experience in the field of bone conduction technology. Wissonly Hi Runner increases the vibration area of the sound source vibrator by 35% through excellent structural design, which makes the music feel more spatial and immersive. It is also excellent in sound leakage reduction. The fully wrapped design reduces the vibration of the shell, and the structural optimization makes the sound leakage wave be offset, thus avoiding 90% sound leakage, which is much better than the bone conduction headsets of the same price on the market.
The fully-enclosed design of Wissonly Hi Runner bone conduction headsets makes its waterproof grade to IPX8, which means that you can wear it for bathing, swimming and even diving within 20 meters. Even better, the Hi Runner headphones has a built-in storage of 32GB, which can store 5,000 songs. It can still be used without the mobile phone. It supports both MP3 mode and Bluetooth mode. It is equipped with Bluetooth 5.0 chip, which makes it superior to most bone conduction headphones in transmission distance, connection stability and power consumption.
2. Philips A8606 bone conduction headset phones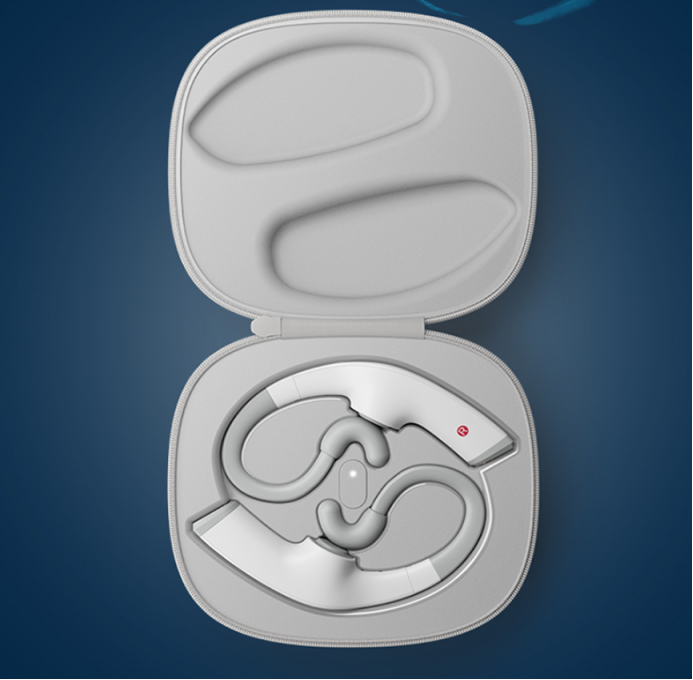 Recommended reason:
A8606 headphones are made of titanium alloy skeleton, wrapped with skin-friendly silicone material, which can not only keep the shape stable, but also cause no pressure on ears. The body fits auricle tightly, so it is easy to wear and can be used for a long time. This headphones adopts IPX5 waterproof design, so there will be no problem in drenching and sweating. The disadvantage is that the sound quality needs to be improved, and the sound leakage is also serious.
3.AfterShokz OPENRUN PRO bone conduction headsets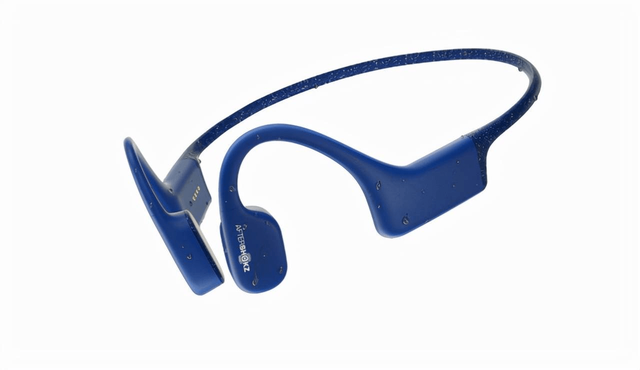 Recommended reason:
Openrun Pro is the flagship product of Aftershokz, which is equipped with PremiumPitch 2.0+ technology, with good overall sound quality, rich low frequency sound, delicate intermediate frequency sound and strong high frequency sound penetration! It's IP67 waterproof, and it's basically enough to sweat during daily exercise. It's fine to get caught in the rain for a short time, but it's not suitable for swimming! In addition, it has no built memory, so it can't be used as MP3, that is to say, it can't be used where there is no Bluetooth signal.
4.Earsopen SS900 bone conduction headphones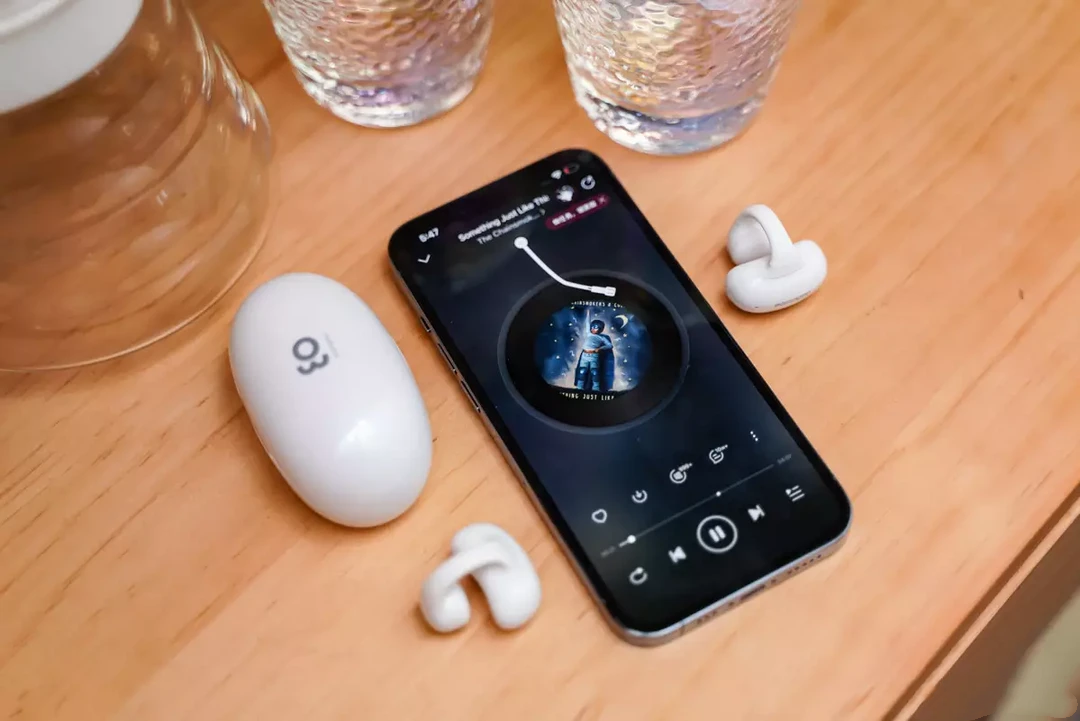 Recommended reason:
With the support of AVV's precise vertical vibration technology, the vibration intensity and frequency of SS900 is improved, which makes up for shortage of sound quality caused by small sound producing area of 10mm small size vibration unit, and makes the low frequency sound more full. The 7.5g body weight is better with the clip-on ear type, which makes it more portable. However, the clip-on ear type makes the ears uncomfortable after wearing for a long time, which is its disadvantage.
5. vidonn F3 bone conduction headset phones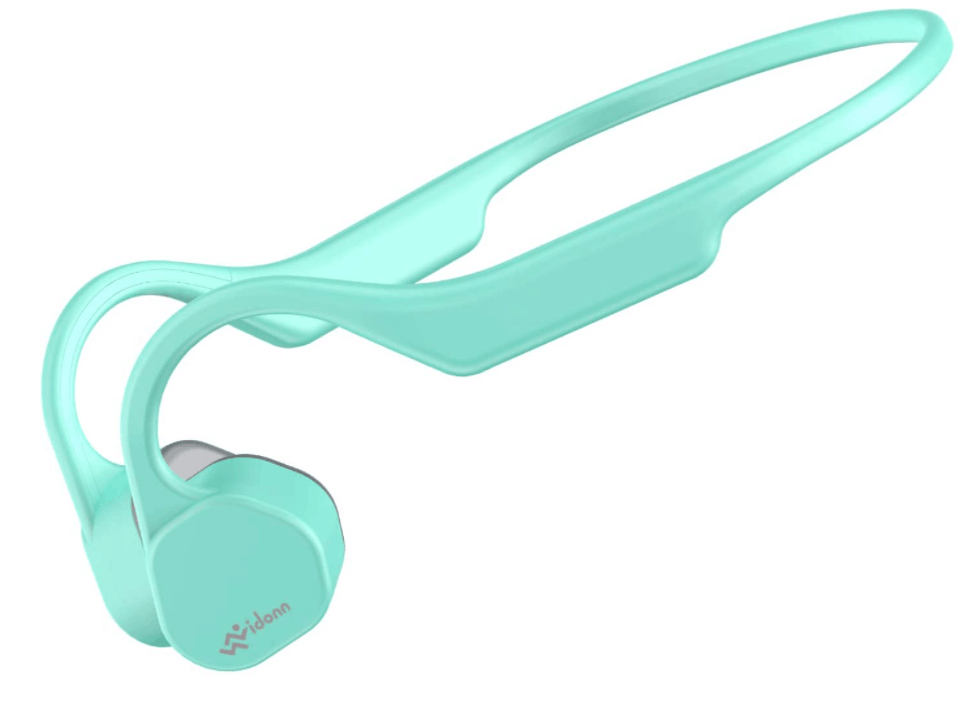 Recommended reason:
The Vidonn F3 bone conduction headset weigh only 29g, and there is no discomfort whether you have it hanging neck or hinging ears for a long time. The ear arm of the bone conduction vibrator is on the outside, leaving space for the glasses leg to pass, which solves the embarrassing situation of not being able to wear glasses when wearing headphones.
The charging port of Vidonn F3 bone conduction headphones is the universal standard MICRO-USB interface. It adopts a soft rubber plug to waterproof, but the soft rubber plug is not connected to the body, there will be a risk of loss. The manufacturer gives two spare soft rubber plugs in the box.
This is an entry-level product, and it's hard to expect good performance in terms of sound quality and leak prevention, but it's enough for everyday use.
Each of the above products has its own characteristics. Some are advanced in technology, some are low in price, and some are unique in design. You can choose according to your own needs. I am using Wissonly Hi Runner myself, and I like it very much.
Comment