What Are Bone Conduction Bluetooth Headphones and Their Working Principle
Feb 01,2023 | Sylvia
Have you ever heard music with headphones on while walking on the road, when the car behind you honks to remind you, everyone around you heard it, but you didn't know it; or when you listened to music while wearing headphones in the office at work, even if your boss yells next to you, it can't wake up your ears that were kidnapped by music. These awkward moments happen a lot in life, and they're always unpleasant. However, there is a kind of headphone that can perfectly help you avoid these embarrassments, that is bone conduction bluetooth headphones that have become popular in recent years.
What are bone conduction bluetooth headphones?
Bone conduction bluetooth headphones are headphones that are worn differently from traditional headphones. They don't have earbuds in your ears like common headphones do, and they don't need the sound to travel through the air in the ear canal to the eardrum like common type do. They are generally hung on the auricle, so that the sound unit is against the temple, and the mechanical vibration signal of the sound unit is transmitted to the auditory nerve of the inner ear through the skull, and finally people hear the sound.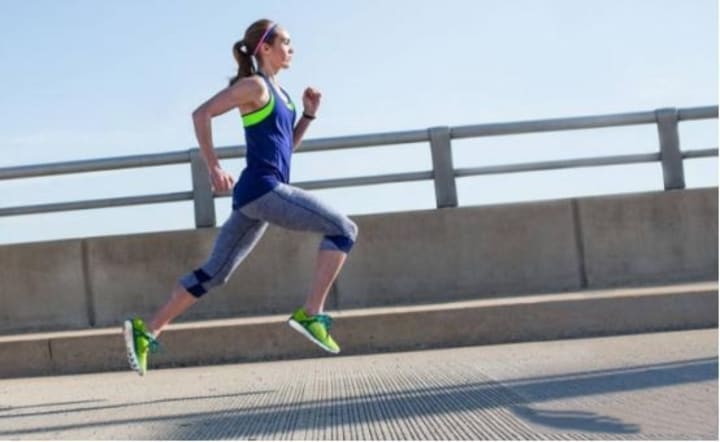 Bone conduction technology is widely used in the military, emergency rescue, hearing assistance and other fields. Bone conduction headphones are a new application of this technology in the field of consumer electronics. They are mainly positioned in the field of sports headphones. The existing products include running headphones, swimming headphones, cycling headphones and so on. They are becoming more and more popular due to the advantages that traditional headphones do not have, such as safety, health, hygiene, etc.
What are the working principle of bone conduction headphones?
First of all, let us understand the principle of bone conduction technology. Bone conduction is a method of sound conduction, that is, by converting sound into mechanical vibrations of different frequencies. It transmits the sound to the cochlea through the human skull, bony labyrinth, and inner ear lymph fluid. After the auditory signal is sensed by the spiral organ in the cochlea, the auditory signal is converted into a nerve impulse. The auditory nerve continues to transmit the nerve impulse to the auditory center, and finally to the auditory cortex, where sound is perceived.Compared with the classic sound conduction method of generating sound waves through the diaphragm, bone conduction saves many steps of sound wave transmission, and can achieve clear sound reproduction in a noisy environment, and the sound waves will not affect others due to diffusion in the air.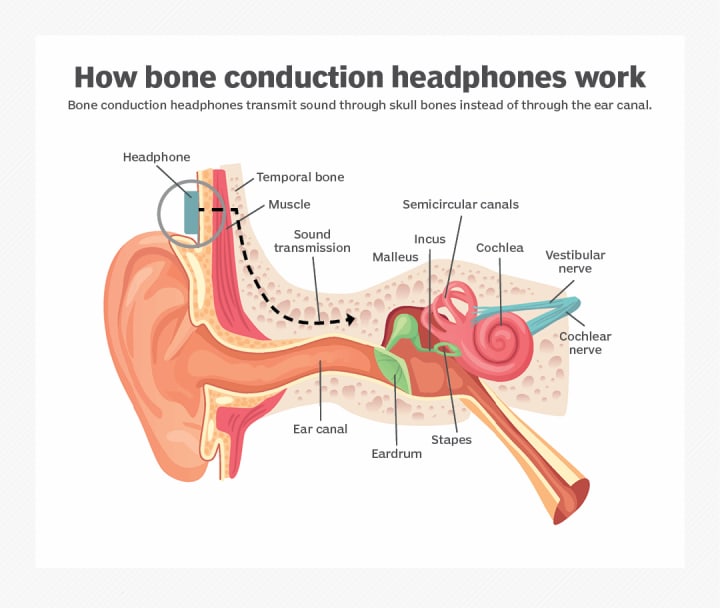 Bone conduction technology is a mature technology, and its practicability and safety have long been verified. As early as the 18th century, Beethoven, who was deaf in both ears, could continue to create music by biting a wooden stick connected to the piano and hearing the sound of the piano. This is probably the earliest example of the application of bone conduction.
Bone conduction bluetooth headphones are a new type of earphones based on bone conduction technology. You only need to put the sound unit close to your ears to hear music. Because of this, they do not need to be plugged into or wrapped around the ear, so they will not cover the ear canal, making the ear canal more hygienic and the eardrum healthier.
Bone conduction Bluetooth headphones also have some disadvantages, such as poor sound quality and sound leakage.
What are the disadvantages of bone conduction bluetooth headphones?
1. The sound quality is slightly worse than traditional headphones
To be honest, the sound quality of bone conduction bluetooth headphones is slightly worse than that of traditional noise-canceling headphones, and it is not noise-canceling headphones. With the continuous improvement of technology, although it cannot be said that the sound quality is already excellent, at least it can be heard that it has improved from generation to generation. Whether it is human voices or musical instruments, all are very clear. It is more than needs for listening to music while running. Especially in the past year, the sound quality of the products has improved rapidly. Some leading brands, such as wissonly and aftershokz, have sound quality very close to traditional headphones.
2. Sound leakage
Because the sounding principle of bone conduction headphones is that the vibration unit emits mechanical vibrations, which cause bone vibrations and transmit them to the cochlea. When the sound unit vibrates the bones, it also inevitably vibrates the air, resulting in sound leakage. The sound leakage problem of them is a common phenomenon. Almost all of them have sound leakage problems. It's just that some good bone conduction headphones have been optimized in structure and algorithm, which has greatly improved the problem of sound leakage.
3. It is uncomfortable to wear for a long time
As mentioned above, the bone conduction earphones emit sound through the vibration unit. When you wear it, the vibration unit is close to the temple, and there will inevitably be a little vibration sense. Wearing it for a long time may make the area around the temple uncomfortable. Therefore, it is generally not recommended to wear it continuously for more than 4 hours. It should be noted that listening to music for a long time is not very good for the ears, no matter what headphones you wear.
4. The price is slightly higher
Qualified bone conduction bluetooth headphones must solve problems such as sound leakage, sound quality, and wearing comfort. A lot of costs will be invested in technology, materials, and manufacturing processes, which also makes the price of them a little more expensive than ordinary earphones. But this year, with the rapid popularity of bone conduction headphones, after a substantial increase in production, prices have also dropped significantly.
The above are some disadvantages of bone conduction bluetooth headphones, some are common to all headphones, and some are unique to them. Although some shortcomings cannot be concealed,but they are some advantages of them such as less damage to hearing, safer outdoor use, and the ability to keep the ear canal clean and reduce bacterial growth, have made them more and more popular.
I think many readers have also become interested in bone conduction headphones. Here are some excellent headphone recommendations
1. Wissonly Hi Runner bone conduction headphones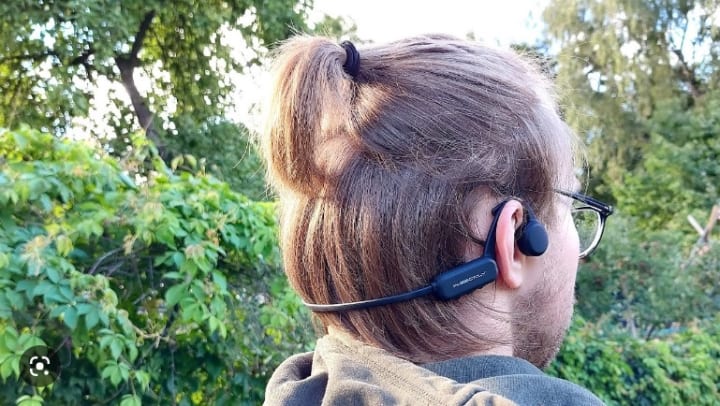 Recommended reason:
This is the fastest growing brand of bone conduction headphones in the last six months. The team are all engineers with 10 years of accumulation in the field of bone conduction technology. They started to develop bone conduction headphones that don't hurt ears as early as 2012. To solve the problem of sound leakage of bone conduction headphones, wissonly has made comprehensive improvement in the aspects of vibrator, body design and software optimization. The final result has been applied to Wissonly Hi Runner, and the final sound leakage can be reduced by 90% after laboratory test. I actually used the test myself. At a distance of 2cm, the volume reached 70%, but I still didn't hear the sound of the headphones, which protected my privacy.
Wissonly Hi Runner's body is made of titanium, which can self-adjust the fitting position to ensure a good wearing experience for headphones, so that more people can wear it. As the core component of the product, the headphones plays a key role in the product experience. Hi Runner model is equipped with Bluetooth 5.0 chip, which makes Bluetooth connection faster and more stable. It also has 32GB of built-in storage so you can use it as an MP3 player.
Other parameters of Wissonly Hi Runner are also excellent. For example, the waterproof level reaches IPX8, and you can wear it to swim or even dive. The battery life reaches 8-10 hours, which is very important to me, because I go out for sports on weekends, and I go out for a whole day.
2. philips A6606 bone conduction headphones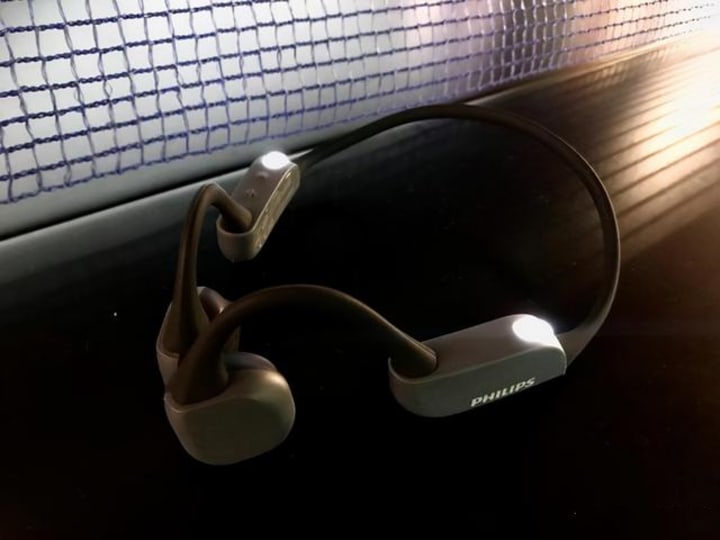 Recommended reason:
Philips A6606 has a good appearance, and its strange dark gray shape has a special sense of technology. The novel rear-hanging design is sporty. Its surface is made of silica gel, which is delicate and smooth to the touch, and its interface is also very flat. There is no doubt about Philips' manufacturing process. The headphones' body is made of waterproof silica gel and titanium alloy, so its weight is only 36g, and it feels very light to use. Its frame is made of memory titanium alloy, which can be stretched and bent repeatedly. It is specially designed for fun run mode and equipped with LED fun run warning lights.
Philips' products are still trustworthy, but the price is a little expensive and the cost performance is average.
3.AfterShokz OpenSwim bone conduction headphones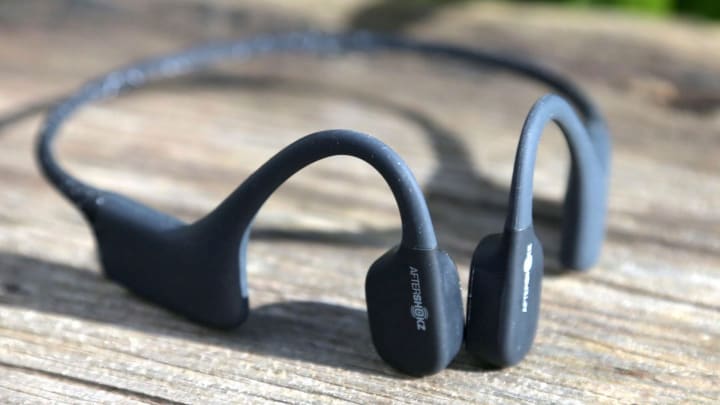 Recommended reason:
This OpenSwim bone conduction headphones, the whole body is made of titanium alloy, which is tough, durable, and can be firmly worn to fit the ears. The whole body has an integrated design, no opening design, and the waterproof performance of the body reaches IP68 grade, so it is suitable for swimming. Its sound source part adopts a long strip structure design, so that the loudspeaker has a larger surface area and higher sound transmission efficiency. With its own 4G memory, it can store thousands of songs, and its battery life can last up to 8 hours, which can meet the daily exercise demand. However, this headphone does not support Bluetooth and calling functions.
4.Earsopen SS900 bone conduction headphones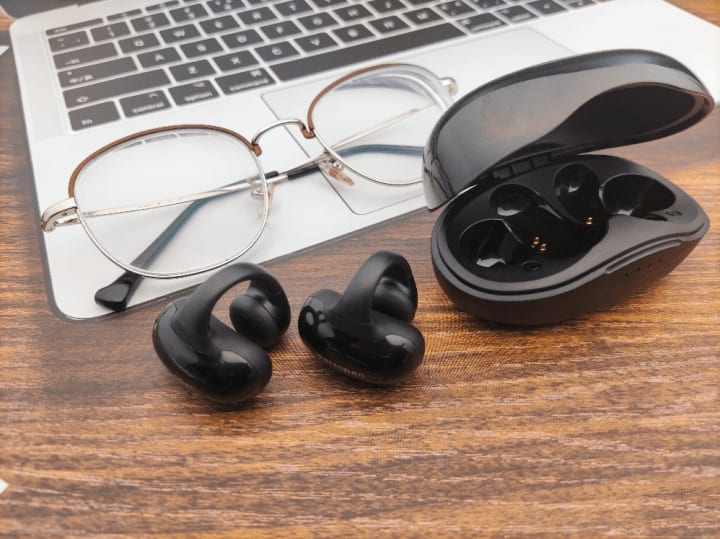 Recommended reason:
The SS900 headphones are equipped with a bone conduction miniature vibration unit inside the body, which reduces the weight of the body and improves the performance of low frequencies, allowing a wide range of sound. With the help of PreciseAir 3.0 integrated technology, the internal parts of the body are simplified and the sound leakage is reduced. It has IPX7 level waterproof,can be use while rainning but cannot be used underwater for long time. Its 5.2 Bluetooth version makes the connection more stable. It also supports Type-C charging mode, there is also a fast charging mode.
The overall performance is good, but there are obvious shortcomings at high frequencies, and there will be harsh sound phenomena.
5, vidonn F3 bone conduction headphones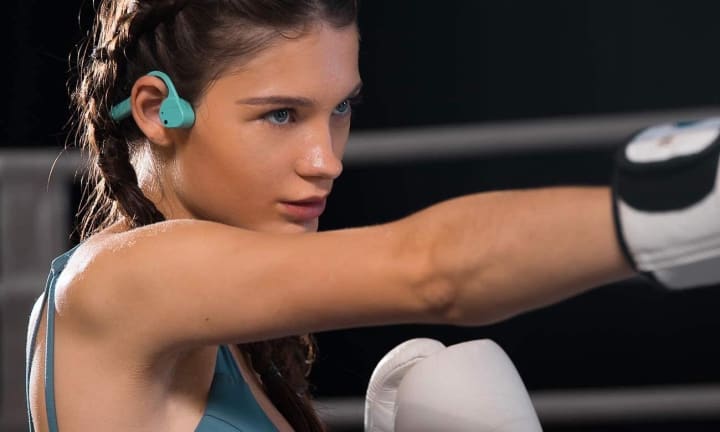 Recommended reason:
The Vidonn F3 bone conduction headphones weigh only 29g, and there is no discomfort whether you have it hanging neck or hinging ears for a long time. The ear arm of the bone conduction vibrator is on the outside, leaving space for the glasses leg to pass, which solves the embarrassing situation of not being able to wear glasses when wearing headphones.
The charging port of Vidonn F3 bone conduction headphones is the universal standard MICRO-USB interface. It adopts a soft rubber plug to waterproof, but the soft rubber plug is not connected to the body, there will be a risk of loss. The manufacturer gives two spare soft rubber plugs in the box.
This is an entry-level product, and it's hard to expect good performance in terms of sound quality and leak prevention, but it's enough for everyday use.
Comment