What Are Bluetooth Bone Conduction Headsets and Can They Damage Your Hearing?
Mar 13,2023 | David
This is an era of frequent disasters, but also an era of heroes. At the scene of emergencies such as earthquakes, fires, and floods, there are always respectable firefighters who are desperate to save lives. Various equipment enters the rescue scene with firefighters, among which communication equipment is the most important. The harsh environment of the rescue site is a huge challenge for firefighters to communicate.
To solve this problem, people have equipped firefighters with a new communication artifact — tactical Bluetooth bone conduction headsets to help firefighters listen to clear instructions in noisy and harsh environments, so that they can accurately and quickly reply to information. Tactical Bluetooth bone conduction headsets relatively bulky. Based on the same principle of sound transmission, engineers have developed this type of headphones for ordinary users. In the past two years, they have become a phenomenon-level earphone product and are very popular among young people.
What are Bluetooth bone conduction headsets?
Bone conduction earphones are earphones that "attach the sounding unit to the temple and other parts, convert the sound into mechanical vibration by the sounding unit, cause the bone to vibrate through the mechanical vibration, and conduct the sound to the auditory nerve from the bone". Simply put, Bluetooth bone conduction headsets are headphones that use human bones as the sound transmission medium.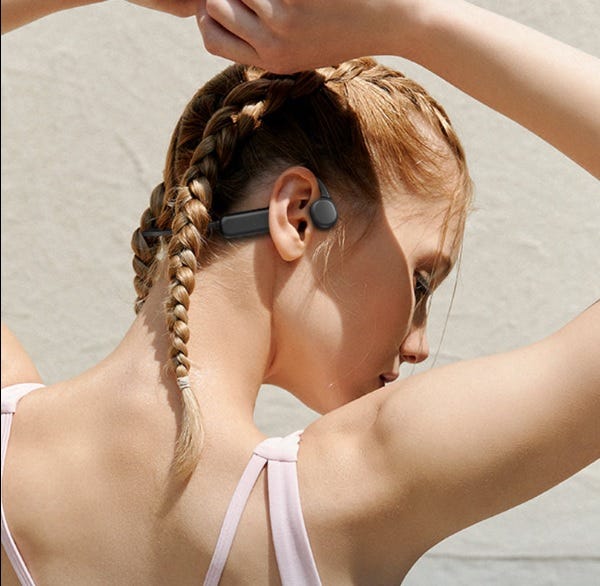 Bluetooth bone conduction headsets are a new application of mature technology. Its technology is widely used in the military, fire protection, hearing aids, and other fields. Daily listening to music is a newly expanded application field of bone conduction earphones. However, it is foreseeable that the field of listening to music will make Bluetooth bone conduction headsets more popular.
However, some people are worried that bone conduction headsets will damage hearing
Can Bluetooth bone conduction headsets damage hearing?
Bluetooth bone conduction headsets are usually less harmful to the ears, but if used for a long time and at excessive volume, hearing damage can occur.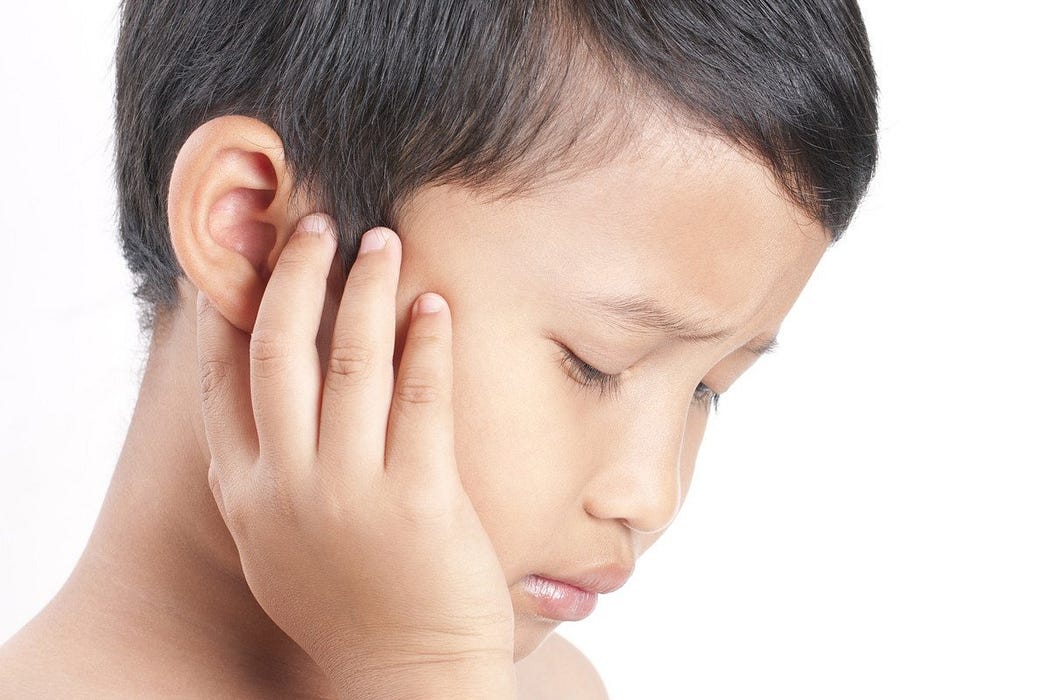 Since Bluetooth bone conduction headsets do not need to be plugged into the ear canal when worn, they will not cause damage to the ear due to wearing them. They transmit sound without passing through the ear canal and eardrum, which avoids eardrum damage caused by vibrating the eardrum.
When the Bluetooth bone conduction headsets are used, the ear canal is kept open, which is important for the hygiene of the ear. And they will not cause the ear canal to be wet and stuffy to breed bacteria due to sweat depositing caused by long-term exercise, thereby avoiding the damage to the ear by diseases such as otitis media.
In addition to small damage to the ear canal and eardrum, Bluetooth bone conduction headsets also have very little damage to the inner ear. Due to the relatively gentle and stable vibrating waves of the headphones, they have little damage to the cochlea. Moreover, the electromagnetic waves of them are very small, and their impact on the auditory nerve and brain nerve is also very small.
Therefore, Bluetooth bone conduction headsets will not damage hearing, they protect hearing completely, from the ear canal, eardrum, cochlea to auditory nerves, etc..They are the healthiest kind of headphones.
For hearing protection, when using Bluetooth bone conduction headsets, remember not to use high volumes for a long time, which can cause damage to hearing. In fact, no matter what kind of headphones you wear, long-term use at high volume will definitely cause damage to hearing. It is generally recommended that after using headphones for 2–3 hours, you should rest for 10–15 minutes.
In addition to very little damage to the ears, Bluetooth bone conduction headsets are also very safe. They allow you to listen to music when you can also hear the surrounding environment sounds, which avoids outdoor sports encounters danger. And they are also very comfortable to wear. These advantages are determined by their working methods
How does Bluetooth bone conduction headsets work?
Bluetooth bone conduction headsets are a new application of proven technology, but bone conduction has a long history, with its first applications dating back to the 18th century.
It is rumored that Beethoven, who was deaf, rubbed one end of a long rod into the piano. He put the other end in his mouth and kept it as close to the ear as possible. When playing, the long rod transmitted the sound to the jawbone and the cochlea of the inner ear, so that Beethoven could hear the sound of the piano. This was so important for Beethoven cause he regained his sense of hearing again and he can continue his music composition. This may be the earliest documented application of bone conduction technology.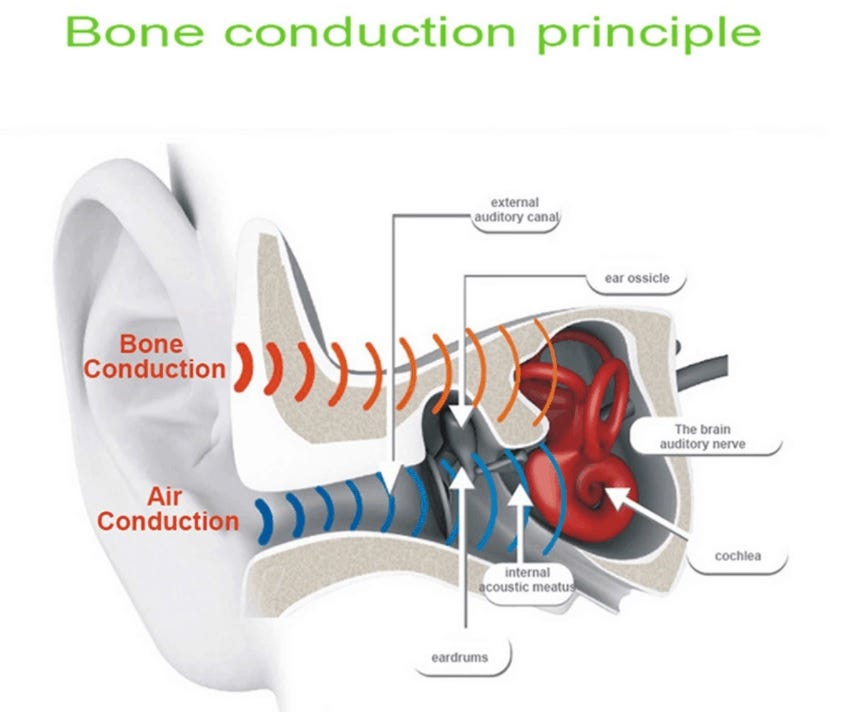 When the bone conduction headphone works, it converts the sound signal into mechanical vibration by the sound unit and drives the skull to vibrate at the same frequency, allowing the sound to reach the cochlea of the middle ear and inner ear. Finally, we can hear the sound. In the process of sound transmission, they directly bypass the ear canal and eardrum to reach the inner ear, taking a shortcut. Just because it takes a shortcut, it reduces the damage to the ear canal and eardrum, making it the healthiest headphone.
Most of us have been exposed to bone conduction in our daily life. Put your ears close to the ground, and you can hear the footsteps of "tap, tap, tap" through vibration; cover your ears, and you can still hear yourself mumbling, which is a natural phenomenon of bone conduction.
Bone conduction headphones are becoming more and more popular among young people,and more and more brands join this field.So, which brand is the best?In my opinion, those brands that have accumulated technology in this field are trustworthy.Below, I have sorted out some good Bluetooth bone conduction headphones brands, and recommend them to you. I hope they can help.
1. Wissonly Hi Runner Bluetooth bone conduction headsets
Recommended reason
Wissonly bone conduction vibration unit optimization technology is one of the best technical solutions in the industry, because their team has accumulated in the field of bone conduction for 10 years, which is highly respected by people in the industry in terms of product quality and hearing protection.
Once, there was a saying that the sound quality of Bluetooth bone conduction headsets was average. However, Wissonly Hi Runner refreshes this knowledge. It is excellent in sound quality. It uses a 360-degree bone conduction vibration unit, which can increase the vibration area by 35% compared with traditional Bluetooth bone conduction headsets. Moreover, its loss of bone conduction sound transmission is lower, making the sound more shocking and powerful.
Wissonly Hi Runner has added a number of innovative features to make Bluetooth bone conduction headsets better integrated into many scenes in life. It supports IPX8 diving waterproof, which is very good for me who loves swimming. What's crazy is that it can still work normally under 20 meters of water! It also has 32GB of memory, so it can play music even if it is not connected to a mobile phone. I basically use it as an MP3 player, and I don't take my mobile phone for running at night. It uses the Bluetooth 5.0 chip, and outdoor activities can make the connection more stable.
In terms of appearance, Wissonly Hi Runner adopts classic black color, and its simple appearance involves matching whatever clothes you wear in any scene.
2.Philips 7607 Bluetooth bone conduction headsets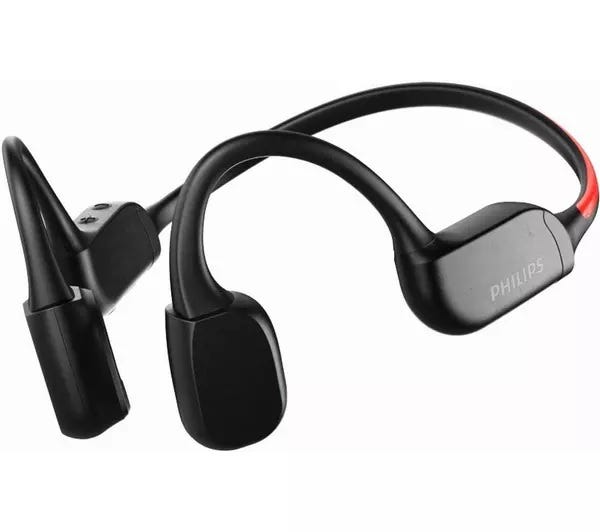 Recommended reason
Its sounding unit adopt a large-size vibrator of 17mm, which makes it have the effect of high, medium and low triple-frequency balance in sound quality performance. The low-frequency dive is sufficient, the medium and high frequencies are clear and not harsh, but there will be some missing sounds. It is also equipped with an intimate LED night run lamp at the rear end of the body, which can turn on the LED by turning on the key three times in a row. It also has three modes, which is suitable for wearing at night, so that people around it can perceive their own position and ensure their own safety factor to a certain extent.Its IPX6 waterproof rating is not afraid of sweat in daily wear.
3.AfterShokz OPENRUN PRO Bluetooth bone conduction headsets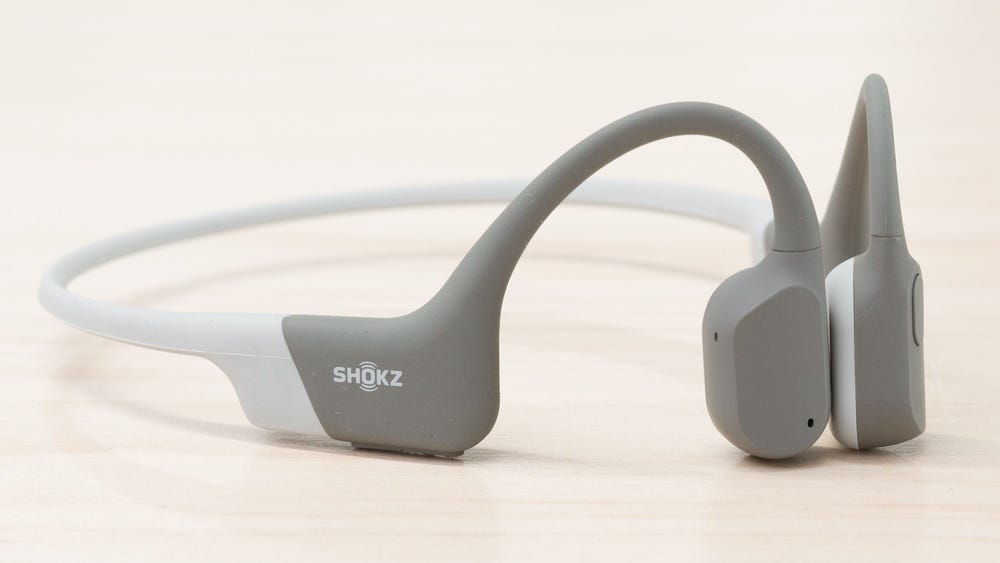 Recommended reason
Openrun PRO also pays great attention to comfort in wearing, and its body is made of skin-friendly silicone which makes it more comfortable, and it can be better enjoyed. In order to reduce the weight, titanium alloy is selected in its connection material, which is not easy to bend and deform, ensuring the service life. The Bluetooth bone conduction headsets are also equipped with Qualcomm QCC3024 chip and Bluetooth 5.0, and have stable connection and no disconnection in daily use.
4.earsopen PEACE Bone Conduction Headset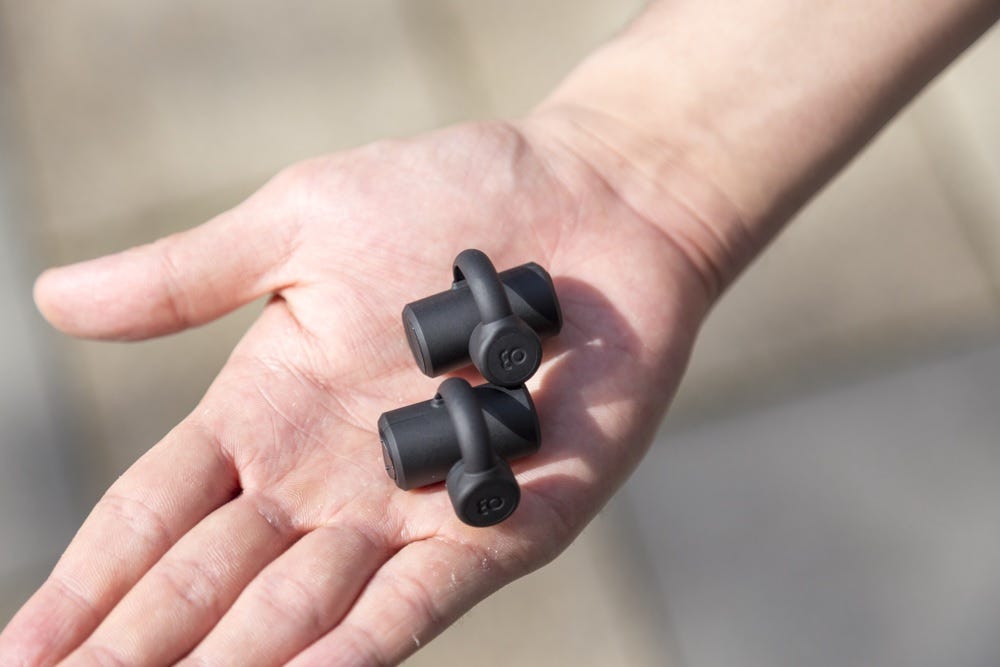 Recommended reason
Earsopen was born in Tokyo, Japan, and is a brand of Bluetooth bone conduction headsets owned by BoCo Co., Ltd. Earsopen PEACE TW-1 is the first Bluetooth headphones with left-right separation among bone conduction products. Because the sounding unit is small and closer to the ear canal, the sound leakage is also very small. The main body of the headphone is T-shaped, and the ear clip is adopted. Comfort is not as high as the first two models, but this way of wearing is really the only one. If you must choose TWS's one, it's good.
5. vidonn F3 Bluetooth bone conduction headsets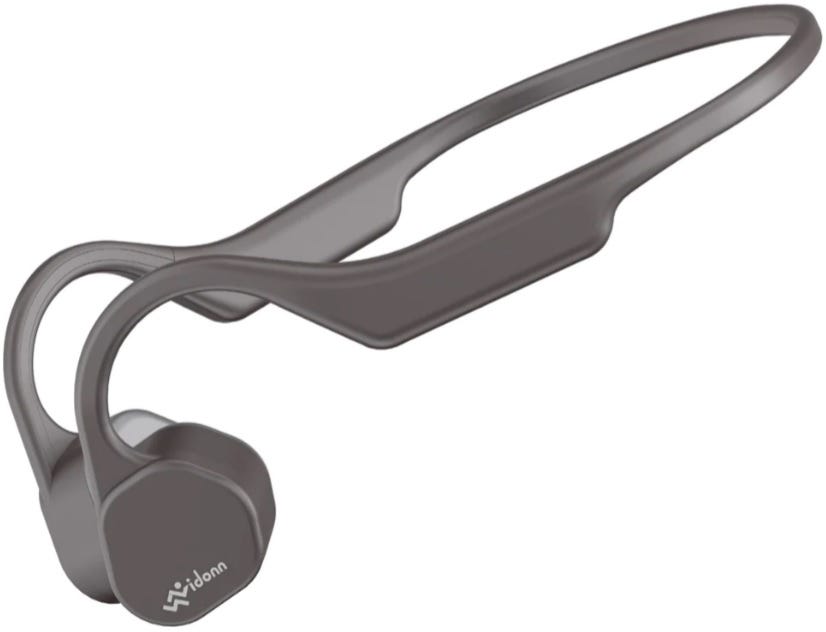 Recommended reason
The weight of this bone conduction headphone is only 29g, and there is comfortable when it is used, whether it is hanging on the neck or hanging on the ear for a long time. The charging port of F3 headphones is a universal standard MICRO-USB interface. The charging port is waterproof with a soft rubber plug, which is not connected to the body, so there is a risk of loss. The disadvantage is that the sound quality is average, and the sound leakage is serious.
Among the several bone conduction headsets recommended above, Wissonly and Aftershokz are the two products with the best overall performance, both in terms of sound quality, safety, comfort and sound leakage reduction.Considering the cost performance ratio, Wissonly will be better and worth recommending.
Comment