What Are Bluetooth Bone Conduction Headset Phones and Do They Leak Sound?
Feb 20,2023 | David
Did you know that a new type of headset phones is popular among young people now? They are bone conduction headset phones. They're pretty cool, and a different type of headphone than all the ones that came before it. If you haven't know it, follow my article to find out.
What are Bluetooth bone conduction headset phones?
Bone conduction headset phones are headphones in which the sound generating unit is attached to temples. Their vocal units convert sound into mechanical vibrations, which cause bone vibrations, and transmit the sound to the auditory nerve.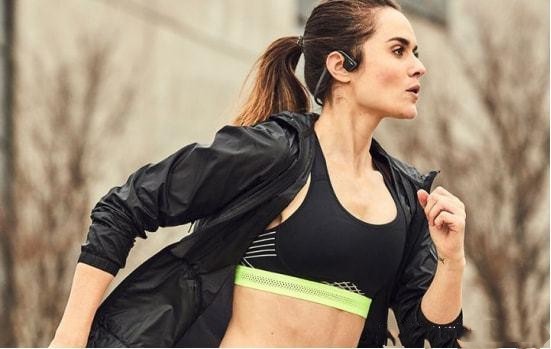 They are vastly different from common headphones. Common headphones are air conduction, while the sound unit of them is a horn. When you play music, their horns convert the sound into sound waves, which travel through the air in your ear to your eardrum, causing the eardrum to vibrate and then send the sound to the auditory nerve, where it is finally heard by your ear. Bone conduction headphones convert sound into mechanical vibration when making sound, and directly transmit the vibration to the auditory nerve of the inner ear through the bone without passing through the air and tympanic membrane.
Because of this difference, the way Bluetooth bone conduction headset phones are worn is also different. They don't need to be plugged into the ear, but hang on the pinna so that the sound unit is pressed against the temple. Of course, there is another type of clip-on bone conduction headphones, which are clipped to the ear when worn, and then the sound unit will stick to your auricle. But the vocalization and delivery of the sound is the same for both.
The unique wearing method of Bluetooth bone conduction headset phones also brings many advantages. Such as safe,health,comfortable.These advantages are determined by their working principles
How do Bluetooth bone conduction headset phones work?
Bluetooth bone conduction headset phones are an application of bone conduction technology in the field of headphones. It transmits sound through the skull, without going through the external auditory canal and eardrum, which is very good for the ear.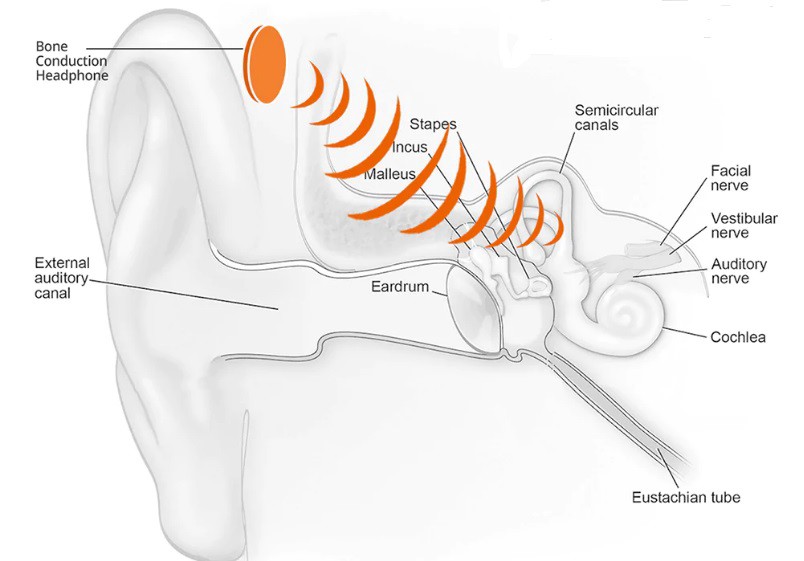 The sound transmission path of bone conduction headphones is "sound wave-skull-bone labyrinth-inner ear lymph fluid-spiral organ-auditory nerve-cerebral cortex auditory center".
Common headphones are air-conduction headphones, which need to conduct sound through the air in the ear canal. Its sound transmission path is "air-external auditory canal-tympanic membrane-ear ossicles-internal auditory canal-cochlea-auditory nerve".
There is a little experiment to better understand how bone conduction works. First, plug the ears with two cotton balls, take a tuning fork, and tap it several times with a rubber hammer to make the tuning fork vibrate. It vibrates so softly that your ears can't hear it at this time. But pressing the end of the tuning fork handle against your frontal bone, skull bone, and cheekbone can make you hear the vibration of the tuning fork. Once the tuning fork handle is out of contact, the sound disappears immediately. This is because the sound of the tuning fork is transmitted through the bones of the human body.
As mentioned above, Bluetooth bone conduction headset phones have many advantages. Of course, they also have some disadvantages, such as sound leakage.
Do Bluetooth bone conduction headset phones leak sound?
Bone conduction headset phones will leak sound, but now some mature brands have found a solution to the problem of sound leakage, such as wissonly and Aftershokz have done a good job in reducing sound leakage.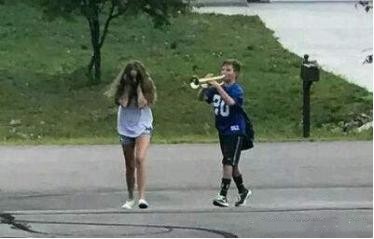 The sound leakage problem of Bluetooth bone conduction headset phones is mainly due to the fact that they convert sound into mechanical vibration through the sound unit, and vibrate the bone to transmit sound. When the headphone is working, the shell of the headphone will be vibrated together by the sound unit, and the shell will vibrate the surrounding air, so sound leakage will occur. In other words, the shell of the bone conduction headphone becomes the "amplified speaker" of the headphone, spreading the sound to the surroundings.
From the principle of the sound leakage phenomenon, we can easily see that all bone conduction headset phones have sound leakage problems. Those headphones that claim to have no sound leakage at all are basically fake.
It's just that some bone conduction headset phones may have made more efforts to reduce sound leakage. For example, some headphones use anti-phase sound waves to offset the sound waves of sound leakage, or through the integrated design of the body without holes, reduce the air vibration caused by the vibration unit, thereby reducing sound leakage. There are also some brands that optimize the structural design and increase the shock absorption function of the body to reduce sound leakage. It should be said that with the efforts of the entire industry, the sound leakage of bone conduction headphones has also been greatly improved.
Although bluetooth bone conduction headset phones also have some shortcomings, with the progress of technology, these two shortcomings have been greatly improved. Some technologically leading brands, such as Wissonly and Aftershokz, have made great progress in improving sound quality and reducing sound leakage. Next, I will introduce some good headset phones.
1 .Wissonly Hi Runner Bluetooth bone conduction headset phones
Reason for recommendation:
Wissonly is one of the few bone conduction headset phone brands that have mastered bone conduction vibrator technology, and one of the few brands in the industry that have sustained experience in using bone conduction technology to protect hearing. Wissonly Hi Runner advocate a healthy way to listen. They perfectly combine the principles of healthy hearing and bone conduction sound transmission, to create a non-in-ear and non-ear-damaging bone conduction headphone which can effectively protect hearing.
Due to the particularity of the technical principle, sound quality of bone conduction headphones is more difficult to be improved . To this end, Wissonly Hi Runner subverts the traditional sound quality scheme, makes a breakthrough to use the large-size bone conduction vibrator. Through structural optimization, the effective vibration area of the vibrator is increased by 35%, thereby improving the vibrator sound efficiency, making the sound more powerful.It also optimizing the direction of sound transmission, reducing sound loss during sound transmission, and making the sound more concentrated.
The skin-friendly silicone material of the Wissonly Hi Runner body is a product that can be in contact with the skin for a long time. It is naturally a better choice and feels good to the touch. Because the entire headphone is made of skin-friendly material, it is very comfortable to wear. Even if you wear glasses, you can still hang it firmly on your ears. The headphone frame uses memory titanium, which has the advantage of being stretchable and lightweight.
2. Philips 7607 Bluetooth bone conduction headset phones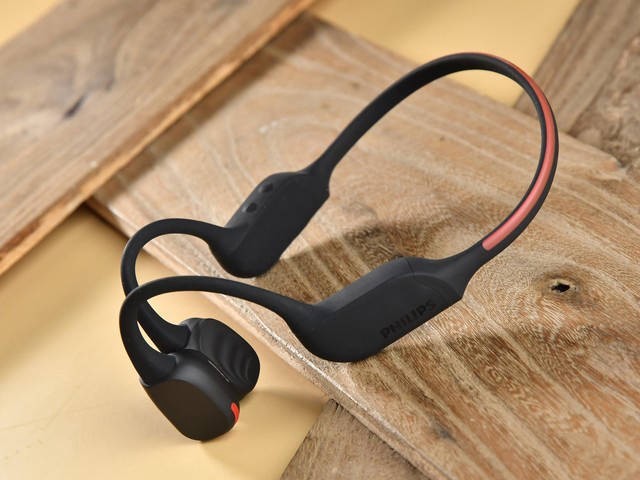 Reason for recommendation
They use a 17mm large-scale sound unit that makes their low-frequency sound more delicate, and that makes middle and high frequency sound clearer and not harsh. IP67 waterproof performance allows them to have a waterproof and sweatproof function in daily wear, and to be no problem in the face of sudden rain in a short time. When you wear them at night, LED night running lights make passing vehicles perceive your own location, so the safety factor is higher.
3.AfterShokz OPENRUN PRO bone conduction headphones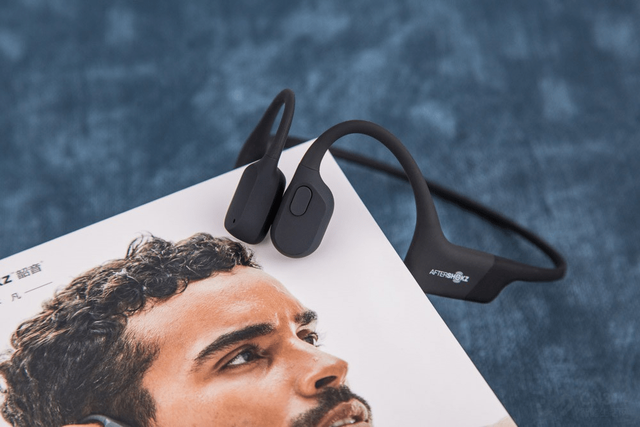 Reason for recommendation:
All-weather sports companionship. The body weight of Afershokz Openrun Pro headphones is only 26 grams, but it has up to 8 hours of long battery life. It supports IP67 super standard waterproof grade, is not afraid of sweat and rain, and not afraid of the challenges brought by bad weather. It is a trustworthy all-weather running headphones. However, it is not professional-grade waterproof after all, and it is not suitable for swimming and diving, so you must consider it clearly before purchasing.
4. Earsopen ss900 Bluetooth bone conduction headset phones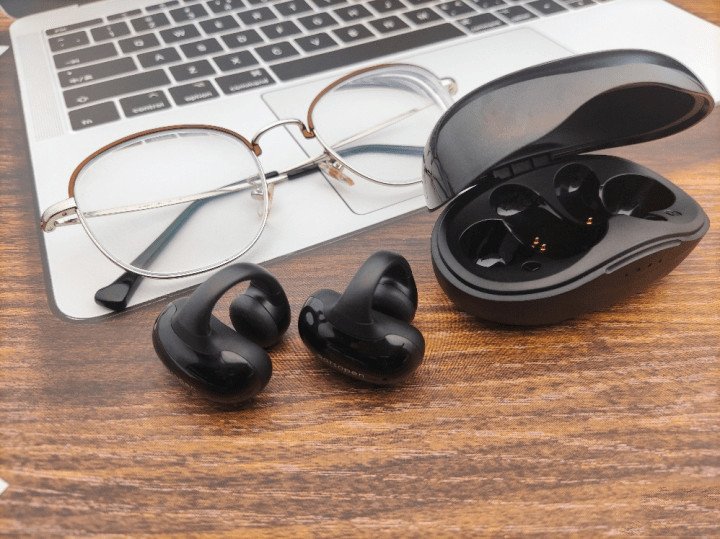 Reason for recommendation:
Earsopen SS900 is different from other bone conduction headset phones in that its appearance is a unique "T"-shaped structure, which can be clipped on the ear. It has high waterproof performance, its IPX7 waterproof grade can be fully qualified for wearing in any scene except swimming, and there is no problem if it is soaked in water for a short time. The battery life is 8 hours, and it is also equipped with a fast charging mode, which can achieve the effect of charging for ten minutes and listening to songs for two hours.
5. Moing DG08 Bluetooth bone conduction headset phones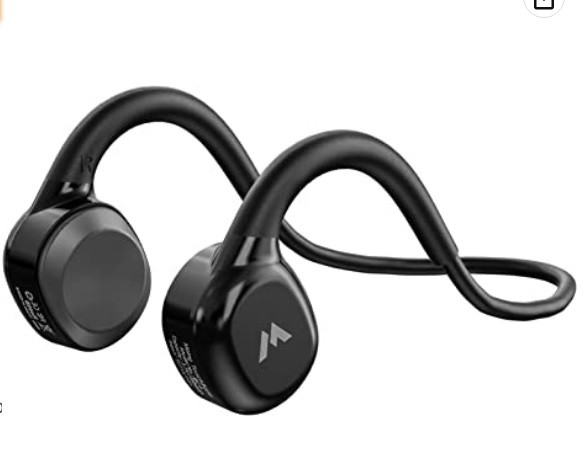 Reason for recommendation:
The DG08 bone conduction headset phones come with 8GB of memory, which can independently store about 2,000 songs. The battery life reaches 10 hours, and you don't have to worry about battery problems for a full day of outdoor sports. Their non-in-ear design makes them more comfortable for the ears. They support life-grade waterproofing and are not afraid of sweat. It's just that there are still some problems in sound quality and sound leakage, and if the budget is not sufficient, you can consider this one.
Consider three key points of sound quality, sound leakage reduction and comfort,wissonly and Aftershokz are the best of the above five Bluetooth bone conduction headset phones. If product parameters and cost performance are considered, Wissonly performs better.
Comment