What Are Benefits of Bone Conduction Earphones and What Are The Best Headphones?
Jan 04,2023 | Sylvia
Bone conduction earphones are probably the most popular electronic products in the last year. You can see people wearing these new earphones no matter when they go running, cycling or exercising. So, what are the benefits of bone conduction earphones? How does it work? Which bone conduction headphone is better?Let me tell you.
What Are Bone Conduction earphones
As the name suggests, bone conduction earphones are earphones designed based on bone conduction technology.
Bone conduction is a sound conduction method. The vibration of the sound source drives the bone to vibrate, and then transmits the sound to the inner ear, so that the sound can be heard. It transmits sound without passing through the air and eardrum, which also enables the sound transmission way of bone conduction to clearly restore the sound in a noisy environment, and will not affect others due to the spread of sound waves in the air.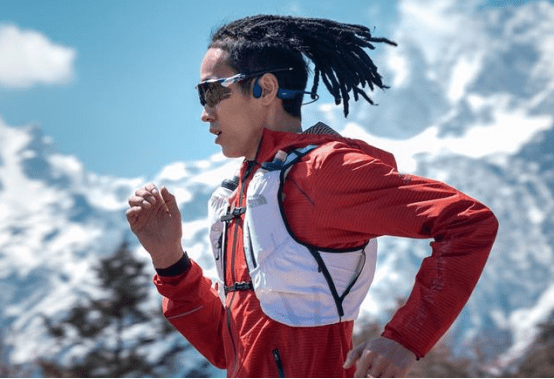 The technology of bone conduction is very mature. In the 18th century, Beethoven used bone conduction technology to hear the sound of piano performance. Bone conduction technology has a wide range of applications. It has been used more in the military field and hearing assistance field in the past. But in recent years, this technology has been widely used in bone conduction headphones, making this headphone a fashionable product and becoming popular.
How does bone conduction earphones work?
Bone conduction earphones are a new application of proven technology, but bone conduction has a long history, with its first applications dating back to the 18th century.
It is rumored that Beethoven, who was deaf, rubbed one end of a long rod into the piano. He put the other end in his mouth and kept it as close to the ear as possible. When playing, the long rod transmitted the sound to the jawbone and the cochlea of the inner ear, so that Beethoven could hear the sound of the piano. This was so important for Beethoven cause he regained his sense of hearing again and he can continue his music composition. This may be the earliest documented application of bone conduction technology.
When the bone conduction earphone works, it converts the sound signal into mechanical vibration by the sound unit and drives the skull to vibrate at the same frequency, allowing the sound to reach the cochlea of the middle ear and inner ear. Finally, we can hear the sound. In the process of sound transmission, they directly bypass the ear canal and eardrum to reach the inner ear, taking a shortcut. Just because it takes a shortcut, it reduces the damage to the ear canal and eardrum, making it the healthiest headphone.
Most of us have been exposed to bone conduction in our daily life. Put your ears close to the ground, and you can hear the footsteps of "tap, tap, tap" through vibration; cover your ears, and you can still hear yourself mumbling, which is a natural phenomenon of bone conduction.
Based on the working principle of bone conduction earphones, they have many benefits.
Benefits of bone conduction earphones
The way bone conduction earphones are worn without earbuds brings tangible benefits:
Safer: It does not block your ears when wearing it, allowing you to maintain awareness of the surrounding environment, making outdoor sports safer;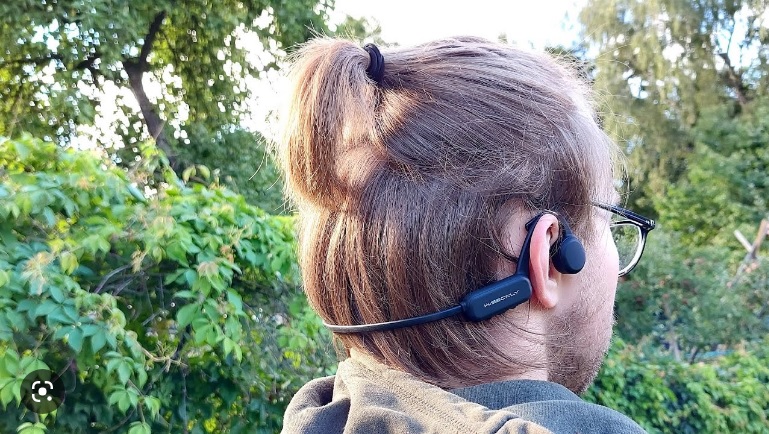 Healthier: it uses bones to transmit sound, and the sound is directly transmitted to the auditory nerve, avoiding damage to the eardrum, and can protect hearing well;
More hygienic: Bone conduction headphones do not need to be worn in the ear, even if worn for a long time, they can keep the ear canal fresh and avoid otitis media, otitis media and other diseases caused by blocked ear canal;
More comfortable: They are very light, and there is no sense of weight when worn. The surface of many bone conduction headphones is made of skin-friendly soft material, which is very comfortable to wear;
Unique appearance: wearing bone conduction headphones with unique design can help you attract more people's attention;
When keeping in touch with the outside world, you can communicate with friends or colleagues while listening to music, and you will not neglect them because of listening to music.
There are two sides to the coin, bone conduction headphones have many advantages, but it also has some disadvantages. Two of the most common shortcomings are sound quality and sound leakage.
In terms of sound quality, the sound quality of bone conduction headphones is slightly worse than that of traditional noise-canceling headphones. Due to the principle of sound generation and sound transmission of them, when the sound unit vibrates the skull, it also vibrates the air, resulting in sound leakage. These two shortcomings, all bone conduction headphones have, those ones that claim to be completely free from these two problems do not exist.
Of course, the sound quality of bone conduction headphones is not so bad that it is intolerable. The sound quality of some good headphones is very close to that of traditional headphones. You can hardly feel these leaks under normal social distance and normal volume. There are also some brands by structural optimization, and the problem of sound leakage has been greatly improved.
A large number of earphone manufacturers have joined the field of bone conduction earphones. Which one is the best? I will give you some recommendations
1.Wissonly Hi Runner bone conduction earphones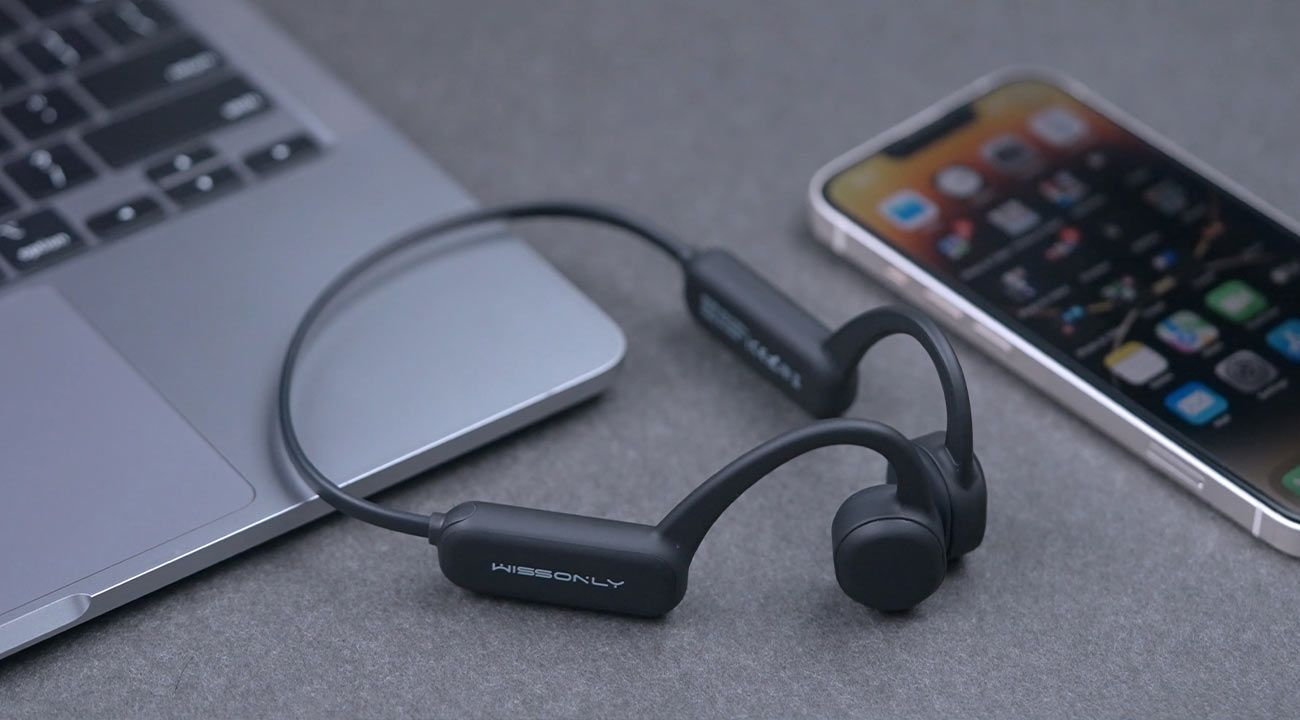 Reason for recommendation:
I noticed Wissonly bone conduction headphones when they were first crowdfunded online. And later, I saw that some otologists were recommending them on online forums, so I bought them. This Hi Runner is their flagship product whose overall functionality is also the most perfect. The headphone use the latest research from the Wissonly lab. It increases the vibrating area of the vibrator by 35% and optimizes the direction of sound transmission to make the sound more concentrated, resulting in a wider range and more spatial of the music. The brand claims that its sound quality is HI-FI level, and I actually tested it myself. I thought that the sound quality was very close to HI-FI level, but it did not reach this level. Of course, the current sound quality is satisfactory enough.
Wissonly Hi Runner bone conduction earphones are also equipped with a new Bluetooth 5.0 chip that has stronger anti-interference ability, that can easily cope with various complex outdoor scenes, and ensures the good mood during exercise is not disturbed by disconnection. At the same time, the stable connection also brings low latency performance, and there is no problem in listening to songs, following dramas, and playing games. What's more, they have 32G of built-in memory that can store 5,000 songs. This helps you to enjoy music when you are exercising outdoors without your phone.
In terms of comfort, the Wissonly Hi Runner performs well, it is very light, only less than 30g, and it does not feel any weight to wear. The body is made of titanium alloy which makes it have a good fit, and you don't need to worry about their falling off during sports.
The waterproof of the Wissonly Hi Runner deserves special mention, and it is IPX8 grade. It means that you can carry it underwater for up to 20 meters and still use it normally, which is crazy!
2.Philips A6606 bone conduction earphones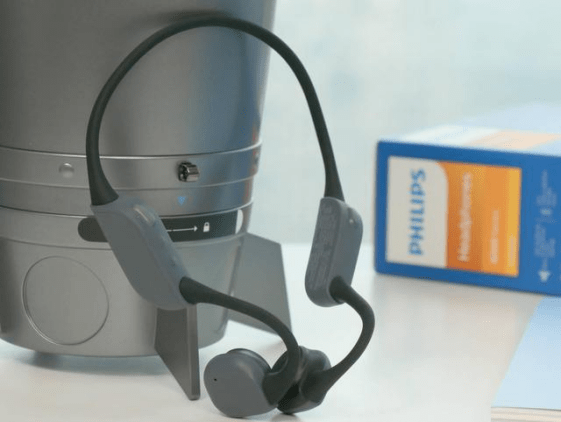 Reason for recommendation:
Philips A6606 is very pleasant to touch, especially the side is softer and touches the skin. It looks like an advanced product on hand. And the charging joint soft plug of the headphone and the gap between different parts are smooth, and the overall workmanship is quite good.
It supports for dual-microphone stereo calls, and is made very well in terms of call quality. A6606 supports mobile phone APP control, if a call comes in during running or cycling, it can be connected by simply touching the left unit, which will not affect the safety of riding. And bone conduction sound pickup technology + dual noise-canceling microphones can also filter out the wind noise during moving forward, and the call effect is guaranteed.
3.AfterShokz OPENRUN PRO bone conduction earphones
Reason for recommendation:
The light body weighs only 28g, it is like no weight in the hand, and it will not feel any weight when hanging on ears. Because of the characteristics of bone conduction headphones, there is no need to be stuffed into the ears or wrap the ears. And there will be no swelling or squeezing feeling when worn for a long time, which keeps the ears fresh and breathable. Its sound leakage reduction technology is also good, which can effectively suppress sound leakage and better protect personal privacy. It has a high-strength titanium alloy rear hanger. Before each pair of headphones leaves the factory, the official will carry out repeated tests to ensure that the quality passes. The body has high toughness, and it can be restored to its original shape when bent at will. You can toss it during the exercise, and don't have to worry about the damage caused by bending of the headphones.
4.earsopen PEACE TW-1 bone conduction headphones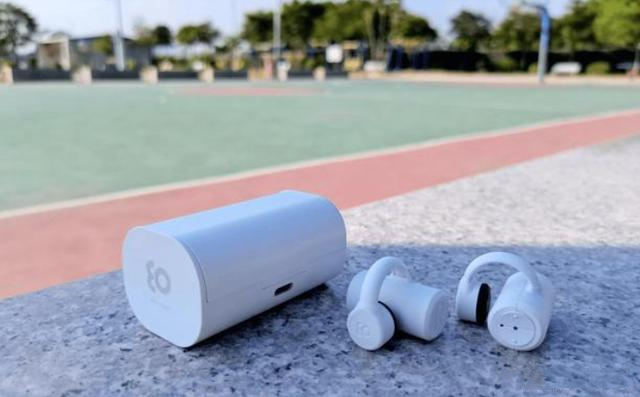 Reason for recommendation:
The earsopen PEACE TW-1 headphones can be charged magnetically through the charging case, which is small and convenient to carry around. The headphone shape adopts separate design that is achieved for the first time in the bone conduction industry. The headphone body is a T-shaped design, that adopts the clip-on wearing method. At the same time, it also supports IPX7 waterproof performance. When traveling on rainy days or running to burn fat, there is no need to fear sweat and rain erosion, it can be used with peace of mind.
The T-shaped structure design of earsopen PEACE TW-1 adopts the form of wearing behind the ear with curved support frame. It is more comfortable when worn. But because of the wearing method, the pinna will be a little uncomfortable after wearing for a long time. The sound quality is average, and there is a little sound leakage. But as an innovative style in the bone conduction category, it is also worth considering.
5.Nank Runner CC3 bone conduction earphones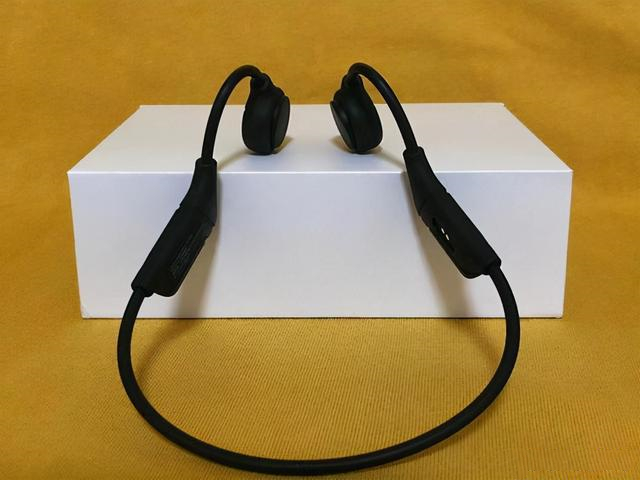 Reason for recommendation:
The Runner cc2 headphone's body is fully enclosed design. The waterproof ability is greatly improved, reaches the level of LPX6, it can easily resist daily rain and sweat. It has a built-in low-energy Bluetooth 5.0 chip that has fast connection and stable signal. In terms of reducing sound leakage, the Runner CC 2 is still relatively small in sound leakage. The sound quality is also OK, and it is a good entry-level bone conduction headphone.
Comment