The best swimming headphones: for listening to music while swimming
Jul 20,2023 | David
What if you listened to music or podcasts in the water during your swimming sessions?
The world of headphones/MP3 players has progressed by leaps and bounds. We can now listen to music in the water during a swimming session, and keep our senses alert with bone-conducting headphones.
When you're in the water, you can't connect your headphones to your phone. So we need a device with headphones and MP3 player that is perfectly waterproof.
This solution exists: a waterproof MP3 player that can store music, play songs completely independently or allow us to listen to the radio.
In the rest of this article, we'll look at the most important information about these devices and the best waterproof MP3 players and headphones.
How does it work: Swimming headphones? Swimming pool MP3 player?
There are various names that people use to call this device: swimming earphone, swimming pool earphone, swimming (or swimming pool) MP3 player, aquatic earphone, waterproof wireless swimming pool earphone, a waterproof MP3.
In fact, it's a 100% waterproof device that combines an earphone with an MP3 player. These waterproof earphones/players work because they have an internal memory, so you can store all your favourite songs and listen to them without your phone.
Some models can even be combined with a swimming watch that counts the metres we swim, both in the pool and in the sea. This way, you can access all your training data.
How do I choose a swimming headphones?

If you want to buy an MP3 player to listen to music while you swim, keep these tips in mind:
The headphones should have a good grip, preferably hooked around the neck or head. This is important, as it's important that the headphones fit properly.
It's preferable for them to be one-piece, with no cables of any kind beyond the headband itself.
It is essential that they are waterproof for a sufficient period of time. They should be resistant to both fresh and salt water.
Autonomy is important: these headphones have a battery built into the body of the player itself, and we generally get up to 8 hours of music reproduction in the most popular models.
The storage capacity of the headphones is important. In our opinion, we recommend at least 4 GB of space to be on the practical side.
The best MP3 headphones for swimming and the pool
The best models are the Wissonly hi runner ((bone conduction), the AfterShokz Xtrainerz (bone conduction, top of the range) and the Sony NW-WS623B Waterproof MP3 Player, priced at around $100-$200.
We've also included other MP3 headphones for swimming and the pool at prices: between $100 and $200.
Check out our selection of the best swimming headphones to make your choice:
Wissonly hi runner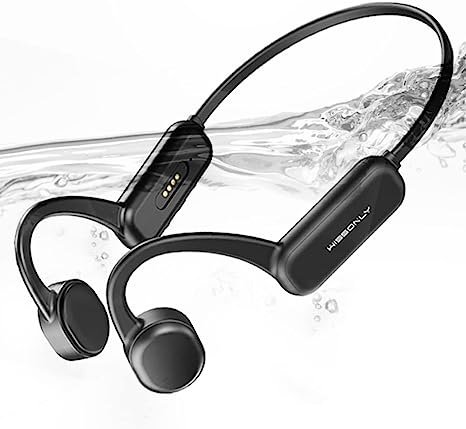 Wissonly, a brand that specialises in pool headphones, has launched the new Hi Runner with the latest technology for superior closure and 90% less sound leakage, ensuring durability and a high-quality music experience even in challenging environmental conditions. So not only is it suitable for swimming, wearing these headphones for running, exercising, cycling, hiking, diving and other outdoor sports experience is great.
Furthermore, the Wissonly Hi Runner bone conduction headphones boast excellent durability and stability. They are constructed using high-quality materials and a robust design, capable of withstanding the rigors of daily use, including bumps and squeezes. The headphones feature wireless 5.0 Bluetooth connectivity, allowing users to easily pair them with smartphones, tablets, or other Bluetooth devices for a convenient audio experience.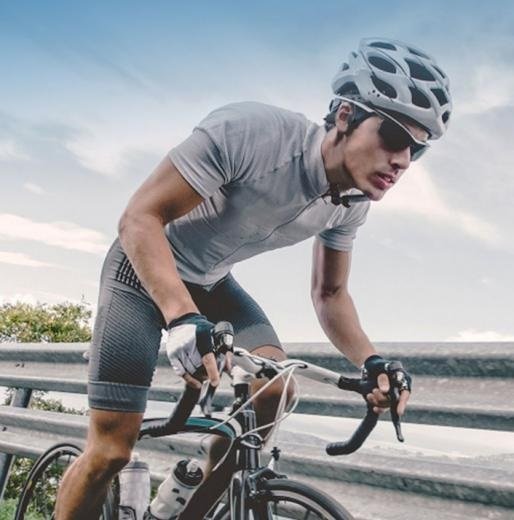 In terms of comfort, the Hi Runner bone conduction headphones prioritize a secure and ergonomic fit. The lightweight design and adjustable headband ensure a comfortable wearing experience, allowing users to enjoy their music without discomfort or strain, even during extended periods of use.
Additionally, the Wissonly Hi Runner bone conduction headphones offer convenient controls and features. They typically come with built-in buttons or touch controls that allow users to adjust the volume, skip tracks, and answer calls with ease. Some models may even include integrated microphones for hands-free calling and voice commands.
Overall, the Wissonly Hi Runner bone conduction headphones are outstanding audio devices that provide users with a unique auditory experience. Their open-ear design, impressive audio performance, durability, and comfort make them an ideal choice for sports enthusiasts and outdoor adventurers. Whether running, cycling, or engaging in other outdoor activities, these headphones deliver a comfortable, safe, and high-quality music experience.
32 GB internal memory
10-hour battery life
Sony Walkman NWWS413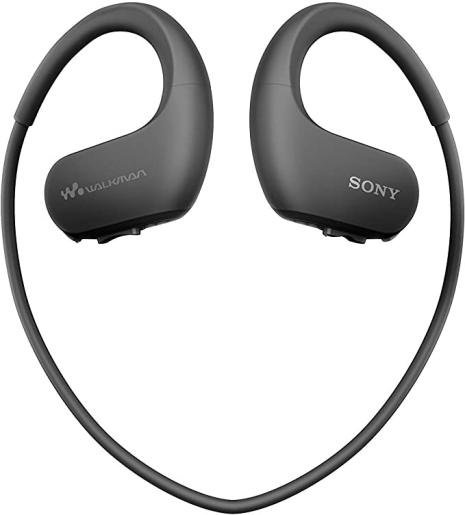 Sony specialises in launching sports headphones, and their Walkman (which is also great for running) is very effective when used in the pool. In this case, the manufacturer states that the NWWS413 are salt water resistant, so we won't have any problems if we use them for training in the open sea.
In any case, even if they are salt water resistant, don't forget to wash them in fresh water and remove the salt at the end of your training.
In general, these headphones are very hard-wearing and can operate in temperatures of between -5 and 45 degrees Celsius. They have no cable other than the headphones themselves, which connect the two earphones and are very comfortable, and the battery is spectacular: 12 hours of autonomy.
Although these are traditional, non-conductive headphones, they have a rather interesting feature if we want to listen to outside noise: the NWWS413 have microphones built in next to the headphones' internal speaker, and they reproduce ambient noise (for example, our trainer's directions) in our ears at the same time as the music.
Internal memory from 4 GB to 16 GB
8-hour battery life
Aftershokz Xtrainerz(Shokz Openswim)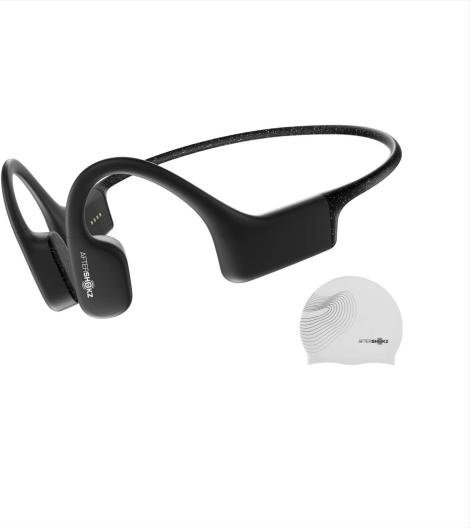 AfterShokz Xtrainerz, bone conduction MP3 headphones, ideal for swimming, with 4 GB memory, Black Diamond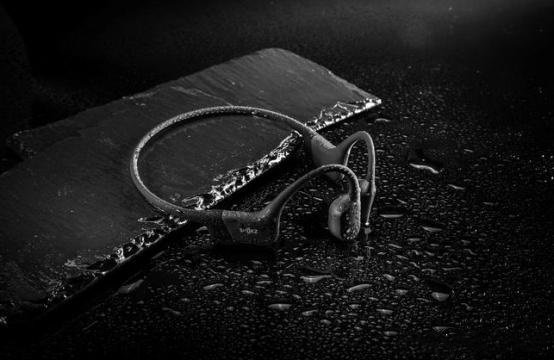 Let's start with this model, which is often on offer and is at the top end of the swimming headphones range. It is waterproof to 50 metres and can be used even when wearing earplugs, a swimming cap or diving goggles. It's important to note that they work by bone conduction.
Although bone conduction headphones are generally more recommended for sports such as running or cycling, where it is important not to be distracted from our surroundings. When swimming, they are also very useful for another reason: they don't generate pressure in our ears, so we can use them for hours without discomfort.
What's more, these headphones are specially designed to prevent hearing problems such as ear infections, as they generate virtually no pressure.
4 GB internal memory
8-hour battery life
Finally, they have excellent audio quality, thanks to Premium Pitch2.0 technology. The headphones are operated using buttons integrated into the back of the ears.
Sony NWWS623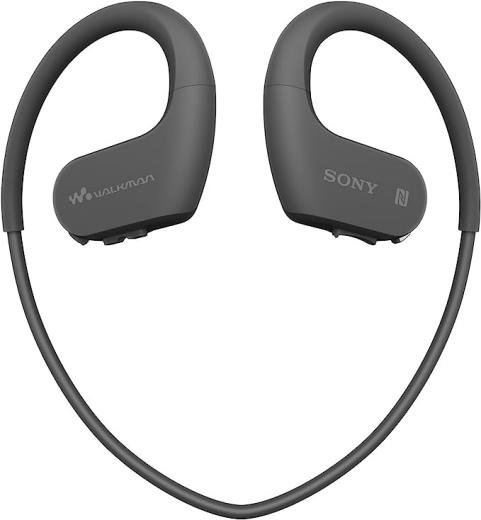 A waterproof swimming pool earphone from Sony: the NWWS623. It has all the benefits of the previous Sony model, but with a few extra options.
It has Bluetooth and NFC connectivity, so you can listen to music by connecting it to your smartphone. However, if you only want to listen to the songs that are stored in the NWWS623's memory for the pool, you can also do so using the internal storage.
It's suitable for all sports, not just swimming: we can use it in temperatures ranging from -5 to 45 degrees, and we have the same 'ambient sound' technology as other Sony headsets, where external sound captured by a microphone is played back.
Internal memory available in 4GB and 16GB (internal storage)
The battery lasts for 12 hours and can be recharged quickly.
The main advantage of these headphones is that, although we have internal storage, we can also listen to music from Spotify, Youtube or any other platform by connecting to our phone via Bluetooth.
The range of these headphones is the best we've seen in a player of this type. We're talking about 12 hours of music playback, with fast charging (60 minutes of music with just 3 minutes of charging).
Pyle PSWP6BK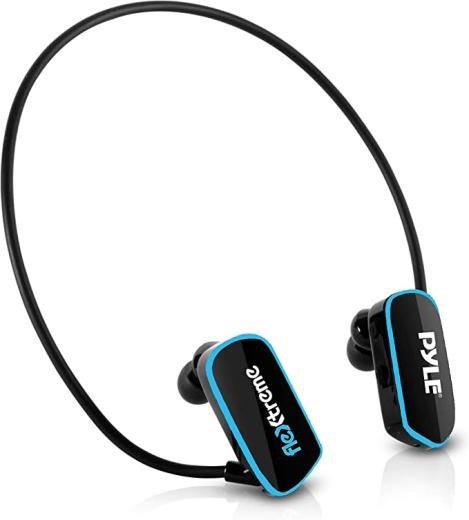 A waterproof MP3 player for swimming and pool use that is more affordable, but with good customer feedback. They're not as good quality as the first three, but they're racking up a lot of sales in online shops like Amazon. They're fully submersible and fairly hard-wearing, thanks to the IPX8 certificate that promises protection against water and sweat.
On the technical side, they're pretty similar to the Sunstech headphones I saw earlier: they have 10 hours of battery life and only play MP3 and WMA formats.
The Pyle includes various earpieces, designed to fit well even when diving, and has a 4 GB internal memory. On the downside, I have to say that the headband of the headphones is very thin, which makes them bend easily and you notice that all the weight is distributed in the headphones.
Internal memory available in 4 GB
Battery life: 10 hours
Other interesting models:
JBL Endurance Dive
Tayogo Waterproof Mp3 Player
Is it worth buying a swimming pool headphone/MP3 player?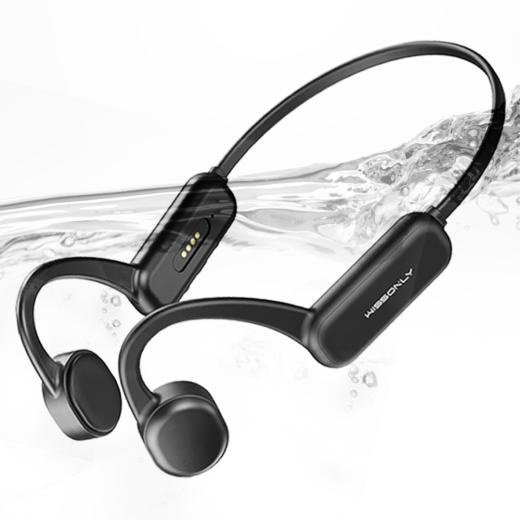 Impossible to answer for you. But if you want to listen to music during your swimming sessions, whether in the pool or in the sea, the only solution is to buy a swimming headset!
Advantage 1 = If you go to the pool regularly, a swimming MP3 player will brighten up your swimming sessions. If you're fed up of constantly staring at the pool floor music, the radio or podcasts can add a little more joy to your training sessions.
Advantage 2 = as well as being suitable for swimmers, you can use it in any other sport to listen to music without necessarily needing to carry your mobile phone. Even if it rains during your outdoor sports sessions, the MP3 player is 100% waterproof.
In our opinion, it's an excellent option for making swimming sessions more enjoyable. On the other hand, it shouldn't distract you or take your focus off your swimming technique. Swimming is a sport that requires concentration.
Obviously, when you're training with your swimming club, you need to pay attention to your coach, so don't use earphones. They should only be used during swimming, during your individual sessions.
Important features to consider when buying a waterproof MP3 pool or wireless headphone
Water resistance
Many headsets offer dubious information about their water resistance, much of this confusion stems from the way that sweat resistance is stated on headsets, which has nothing to do with the water resistance of a waterproof Bluetooth headset. To be sure, we need to find the IP certificate on the headset and make sure it's IPX7 or IP67. This is the maximum water protection that ensures good waterproofing. If you want to find out more about IP certification, visit our technology page.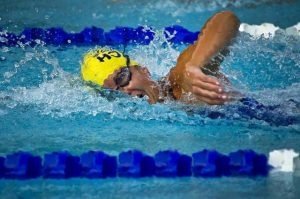 Rechargeable battery and autonomy
These devices contain an internal rechargeable battery in each earphone and a larger battery usually in the carrying case for charging the first. It is important to pay attention to the autonomy offered by the headphones, the type of battery (Li-Ion or Li-Po) and the charging time.
Internal memory
Depending on whether we choose an mp3 player for water or wireless headphones with internal memory, we will have a more or less limited capacity. Depending on the model of water headphones and its sophistication (the money you want to spend), you can get a memory ranging from 2 to 8 gigs. This can be a very important factor for some and not so important for others.
Finish and design
As well as size and weight, design is important in any product and in Bluetooth water headsets too. As far as colours are concerned, if we have the opportunity, we recommend choosing bright colours or colours that make them easier to distinguish from the surface of the water.
Sound quality
The vast majority of these waterproof headphones have good sound (this sound quality is also included in the price, which is generally not low). However, if we're not convinced, we can always return them. Don't forget that with this type of in-ear headphone so firmly attached to the ear canal, listening to music at high volume for long periods of time is particularly harmful.
Compared with the above features, we recommend the Wissonly Bone conduction swimming headphones, which is very waterproof, underwater sound quality, built-in storage, and comfortable to wear
Comment