Some Facts About Bone Conduction Earphone and Best Bluetooth Headphones in 2023
Feb 24,2023 | David
Bone conduction earphone is becoming more and more popular among sports enthusiasts. Driven by them, more and more people are interested in this new type of headphones. To help you better understand them, here are some facts about this type of earphones.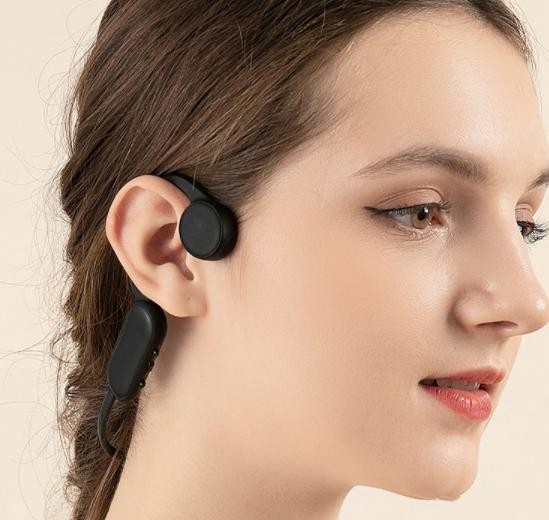 1. Bone conduction earphones are new headphones developed using bone conduction technology, which transmits sound through bones;
2. They do not cover the ears, nor do they need to be inserted into the ears;
3. They will not damage the ears, they are the healthiest earphones for the ears. Because their sound transmission does not require the use of the eardrum, damage to the eardrum and auditory hair cells is minimal.
4. Bone conduction earphone is not noise-canceling headphones. They don't sound as perfect as traditional noise-canceling headphones. But if you're using them for normal music listening, their sound quality is perfectly fine.
5. Bone conduction is a mature technology, bone conduction earphone is a new application of this mature technology, and you can use it with confidence;
6. Bone conduction earphones are not headphones with external speakers. It relies on the vibration unit to generate mechanical vibrations, and the sound is transmitted to the inner ear to make people hear the sound.
7. Bone conduction earphones generally have better waterproof performance. Their sound generation and sound transmission methods make them not need to reserve holes in the fuselage, and the entire headphone can be integrated.
8. They will have a slight sound leakage problem. But some better products handle sound leakage better.
How do bone conduction earphone work?
To understand how bone conduction earphone work, let's first understand how humans recognize the sound.
You may think that humans hear sounds with their eardrums, but this is not accurate. The sound we normally hear is vibrations in the air entering the ear and hitting the eardrum causing it to vibrate. Humans perceive the vibration of the eardrum through the cochlea located deep in the ear and transmit this information in the form of sound to the brain to perceive sound. In other words, humans perceive sound through the cochlea. From this perspective, humans hear sound through the cochlea.
Bone conduction earphone make good use of the above-mentioned mechanism of the cochlea to perceive sound. They apply vibration directly to the facial bones, and the facial bones transmit the vibrations to the cochlea, where the sound is perceived by the cochlea.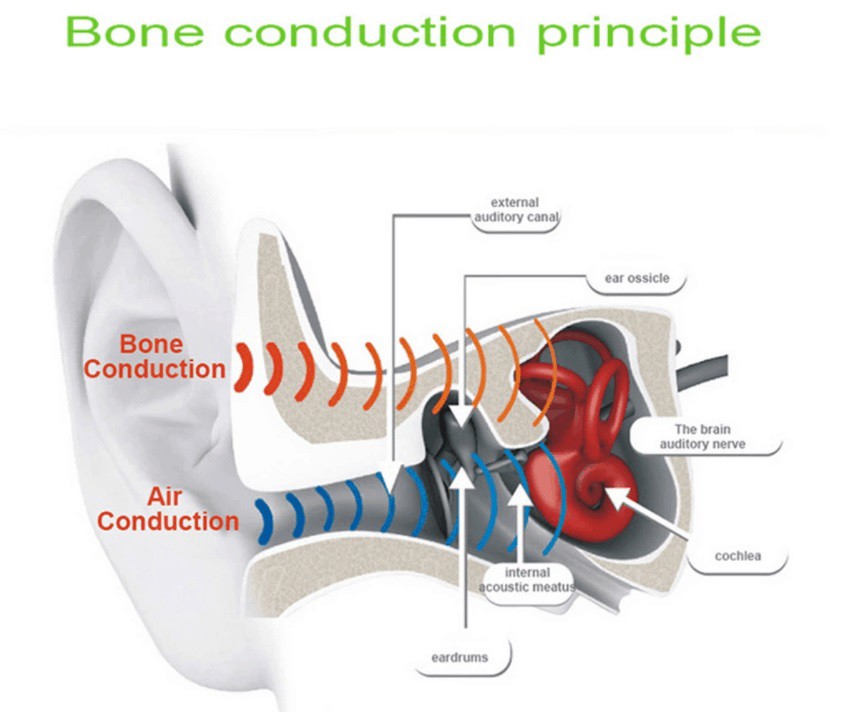 We can compare the difference between bone conduction and traditional sound transmission paths to understand more deeply how bone conduction earphone work.
Bone conduction path: sound wave,cranium,bone labyrinth,inner ear lymph,Spiral organ,auditory nerve,cerebral cortex auditory center.
Traditional sound transmission path (i.e. air conduction path): sound wave,auricle,external auditory canal,eardrum,auditory ossicles,vestibular window,internal and external lymphatics,spiral organs,auditory nerve,cerebral cortex auditory center.
We can see that the sound transmission process of bone conduction earphone does not need to pass through the eardrum, its sound transmission path is shorter, and it will not damage the eardrum.
They way they work bring a lot of benefits.
What are the advantages of bone conduction earphone?
First of all, because they use the principle of bone conduction to transmit sound instead of air conduction, most bone conduction earphone do not affect the acquisition of ambient sound by both ears when used. Therefore, it is very safe when you use it outdoors, and you will not ignore the possible dangers because you are immersed in the music when wearing it.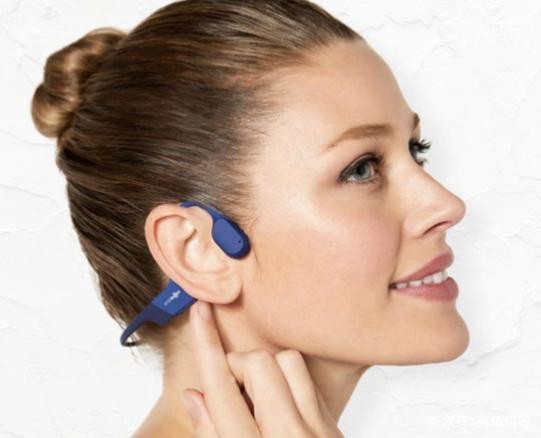 Secondly, because most of the them are close to the hard bone position (beside the ear), instead of directly blocking the ear canal like in-ear headphones, or clamping the soft tissue of the ear like clip-on headphones.After wearing bone conduction earphone for a long time,ear damage cause of Headphones is much less than in-ear headphones or clip-on headphones. For example, if you wear them for four hours, clip-on headphones may cause your ears to hurt unbearably, but even if you wear bone conduction earphones for a long time, you will basically feel nothing. Therefore, they are very comfortable to wear.
On top of that, common headphones can clog the ear canal, leading to the growth of a lot of bacteria that can lead to ear infections. Bone conduction earphone do not have these effects because they do not need to be worn in the ear, and they will not rub against the external auditory canal when worn. So they are more suitable for people with oily ears, otitis media, small ears, and some people with sensitive ears because they do not need to be inserted into the ears. They are also more suitable for people who need to wear headphones for a long time. Therefore, bone conduction earphones are very healthy.
Bone conduction earphone have relatively little hearing damage, because hearing damage generally occurs in the eardrum and inner ear, while bone conduction earphones directly bypass the eardrum to avoid eardrum damage. Moreover, the vibration waves of them are relatively moderate, and the impact on auditory hair cells will be less, so the damage to hearing caused by them is minimal. For these reasons, bone conduction headphones have become very popular these years.
Of course, bone conduction earphone is not perfect, and they have their drawbacks.
The first is that the sound quality is not as good as traditional headphones because of its wearing method. Due to its design characteristics, the anti-interference effect is not ideal in noisy environments such as shopping, taking the subway, and taking a car. Because it is transmitted to the ear ossicles through the skin and skull, so their degree of music reproduction is not as good as traditional in-ear headphones.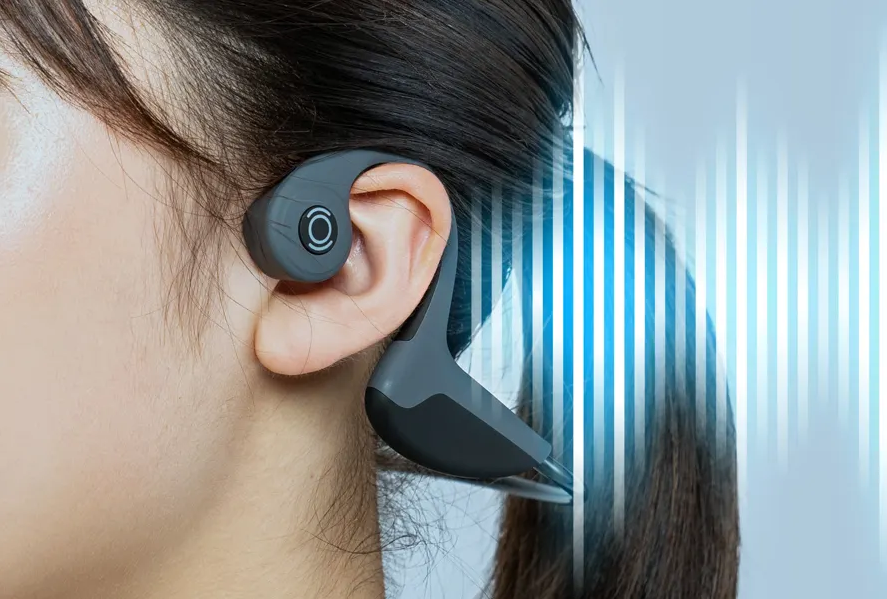 The second is that the phenomenon of sound leakage still needs to be overcome. If there is a common problem with bone conduction earphone, it is the problem of sound leakage. Although major manufacturers are trying to improve the sound leakage, judging from the actual status, sound leakage still exists in the headphones.
Although bluetooth bone conduction earphones also have some shortcomings, with the progress of technology, these two shortcomings have been greatly improved. Some technologically leading brands, such as Wissonly and Aftershokz, have made great progress in improving sound quality and reducing sound leakage. Next, I will introduce some good Bluetooth headphones.
Best Bluetooth bone conduction headphones in 2023
1. Wissonly Hi Runner Bluetooth bone conduction headphones
Reason for recommendation:
Wissonly bone conduction headphones, the product I use the most, is the first brand I started to contact. When they were crowdfunding online, I participated.
The sound quality is what I am most satisfied with. I am not a professional music player, but from my personal experience, Wissonly Hi Runner is the best sound quality bone conduction earphones I have ever used. It uses a large-sized 360-degree bone conduction vibration unit, and through structural optimization, the sounding area is increased by 35%, so that the sound range is wider, and the stereo feeling and shock of sound are stronger. Its anti-sound-leakage treatment is also very good. The whole body is completely sealed, and the algorithm is optimized to minimize the leakage of sound. I have tested it myself, and at a distance of 2 meters, the volume is turned on at 60%, so I can't hear the sound at all.
Wissonly Hi Runner's body is made of memory titanium, which can self-adjust the contact area. It can ensure a good wearing experience of the earphone at any time, taking into account more users and usage scenarios.
Hi Runner is equipped with Bluetooth 5.0 chip, and the connection is more stable. It also has IPX8 professional sports waterproof +32g internal memory to swim in the water. The battery performance is also good, and it can play music continuously for 8–10 hours.
2. Philips A6606 bone conduction earphones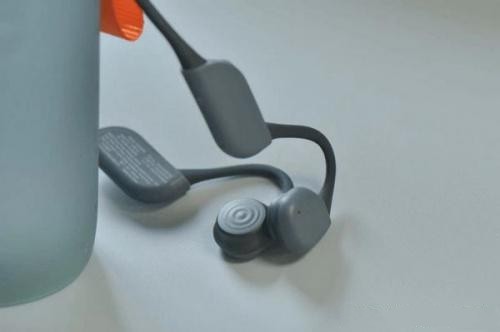 Reason for recommendation:
Philips A6606 adopts the latest generation of exterior design, which strengthens water resistance and slip resistance during sports for a more stable fit. The surface of its body uses skin-friendly materials, which will be more comfortable to wear. The body is also relatively light, and there is no sense of weight when wearing. It also has a night running indicator to ensure that the cyclist or vehicle behind you can see you during night running, thus you can avoid danger. From a configuration point of view, the configuration of this product may not be very high, but Philips' quality is trustworthy. The price may be slightly expensive.
3 AfterShokz OPENRUN PRO Bluetooth bone conduction headphones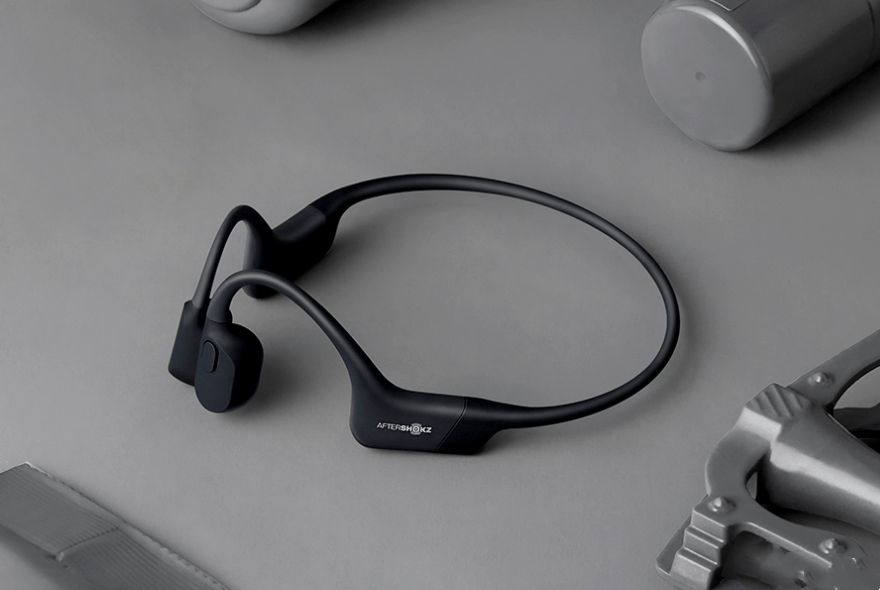 Reason for recommendation:
Openrun Pro are ear mounted style headphones. But thanks to the lightweight materials such as titanium alloy used in the basic frame of the headphones, the overall weight of the headphones is only 26g, and there is no feeling of weight when worn. It is worth mentioning that the headphones have an IP67 waterproof and dustproof grade, and that they can be washed and rinsed with water. In addition to benefiting from the plating process on its surface, of course, also because of the overall body design, Openrun Pro have better waterproof characteristics. In addition, they also uses dual silicon microphones. In the right side of the headphones, you can see the microphone cut-out reserved for the microphone. With CVC's noise reduction algorithm, they can effectively eliminate the impact to calls in complex environments.
4. Earsopens900 bone conduction earphone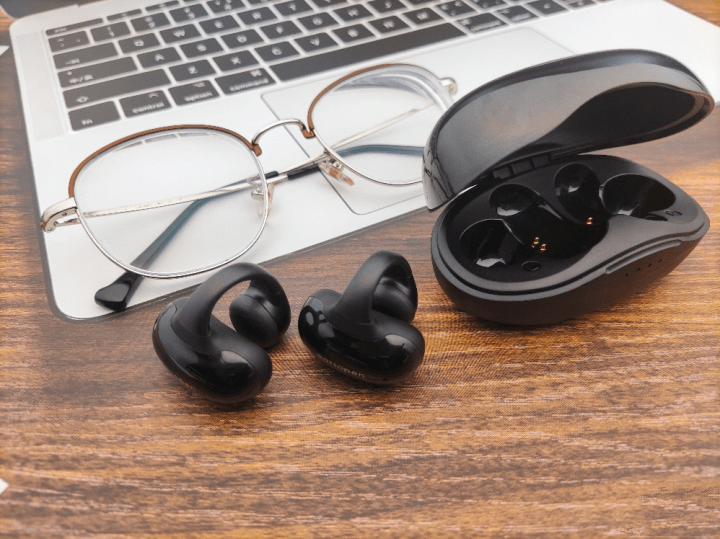 Reason for recommendation:
Earsopen SS900 is different from other bone conduction headphones in that its appearance is a unique "T"-shaped structure, which can be clipped on the ear. It has high waterproof performance, its IPX7 waterproof grade can be fully qualified for wearing in any scene except swimming, and there is no problem if it is soaked in water for a short time. The battery life is 8 hours, and it is also equipped with a fast charging mode, which can achieve the effect of charging for ten minutes and listening to songs for two hours.
5.Nank Runner CC3 Bluetooth bone conduction headphones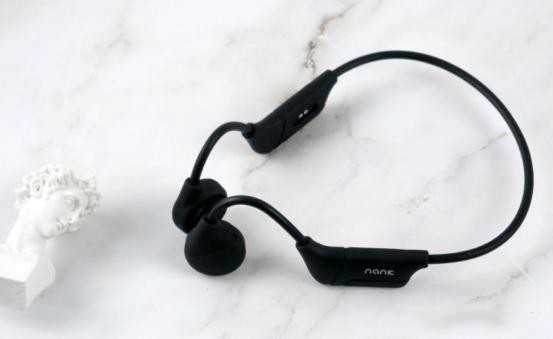 Reason for recommendation:
Runner CC2 has a solid button area on the outside, which is very convenient to use. The surface of the headphone body is made of soft material, which makes it very comfortable to be attached to the ear. It is really stable to wear with the ear-hanging scheme, supports Bluetooth 5.0, and the earphone signal is very stable during use. The sound quality is quite satisfactory, and the sense of music rhythm and space is well controlled.
If you are still confused about how to choose bone conduction earphone, I suggest you choose Wissonly or Aftershokz. Their R&D teams have more than 10 years of technical experience in this field, which makes their products perform well in terms of sound quality and sound leakage reduction. If you consider the cost performance ratio, it is recommended to choose Wissonly.
Comment