Is the Jlab Epic Air Sport the Best Headphones for Exercise
Oct 14,2023 | David
J-Lab has made a good name for themselves and become one of the more popular sub-$100 range of wireless headphones. There are quite a few things I like about these headphones. Music sounds clear and good. The battery life is also stellar. There are several downsides as well. The main one is that the first pair I received was unreliable. One earbud, after around two weeks of use, began to refuse to connect to the case, so it wouldn't power off or charge. So we know that all electronics are not perfect and have some drawbacks. When choosing make sure that its drawbacks won't affect your daily use too much and that is the right headphone for you.
Now let's take a look at the user reviews and see how they really feel with these headphones.
Product Parameter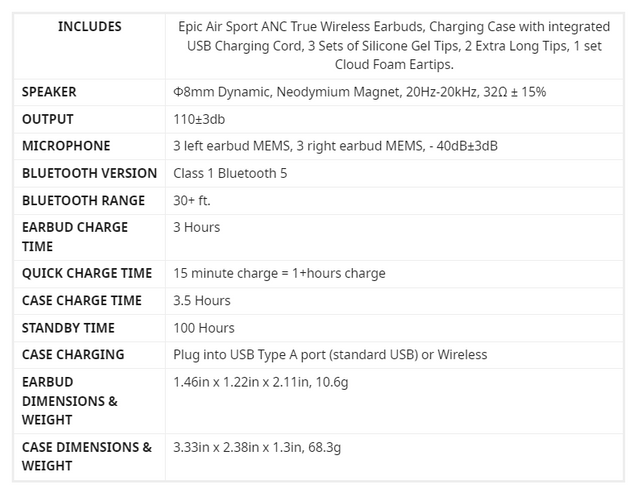 Jlab Epic Air Sport Review
Product name: Jlab Epic Air Sport
Price: $79.99
Rating: 4.2
Where to buy: Amazon
User review 1: ★★★★★
Users: Kate
Countries: United Kingdom
Content of comments:
I bought these headphones recently primarily for running outdoors. I was immediately struck by how easy the set up was and how quickly they connected via Bluetooth to my phone. The second bit that impressed me was the sound quality, a massive upgrade from other sports headphones I had used in the past - really is brilliant quality and so clear.
The fit was also a massive plus for me, with several ear bud attachments included it was very simple to sort out a tight, comfortable fit essential for sports headphones when exercising outdoors.
Would very much recommend, will make the pain of running a lot more bearable!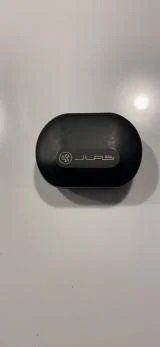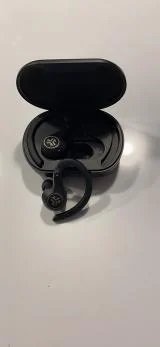 User review 2: ★★★★★
Users: Ian Stewart
Countries: United Kingdom
Content of comments:
For the price sound quality is good. Can't say I'm aware of the Noise cancelling or the Awareness function having any real effect. Main criticism is the range of rubber buds provided. I have fairly small ear canals and even the smallest ones won't allow the unit to fit comfortably and more importantly securely. If it wasn't for the behind the ear clips I think they would constantly be falling out. Haven't tried them while doing exercise yet (cycling) so it will be interesting to see if they stay put.
User review 3: ★★★★★
Users: Edablue Tech
Countries: United States
Content of comments:
I've purchased these during black Friday sales because I'd been needing some for exercise and cycling. The paring was very easy and simple, but the most impressive feature is the Bluetooth distance.
When I use these indoors they function so much better than my expensive nearly $400 Bose over the ear headphones. I think if you'd decide to get these they won't disappoint. Also the battery life is truly great so far.
User review 4: ★★★☆☆
Users: M.P.
Countries: United States
Content of comments:
I did like the noise cancelling feature in an ear bud of this price range and it's pretty good. The sound quality is not bad either. I wish the rest of the package was better so I could have kept them. The touch controls never worked right. I thought I could maybe get them to work with practice, but no. They'd go off inconsistently or not at all. In addition, the earbuds are shaped really strangely - the bud itself is placed at a weird angle that makes it difficult to find a position that is both comfortable and secure (at least for me). My ears actually hurt after wearing them for a little while.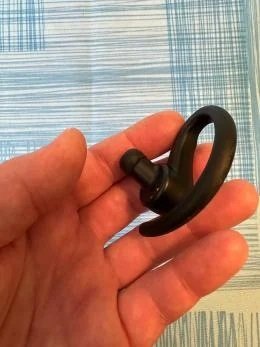 User review 5: ★★★★★
Users: Michael McGurk
Countries: United States
Content of comments:
Many other earbuds fall out this one wraps over your ear and stays fit. Exercise yardwork running walking anything you do it stays in place. Small case with 70 hours total battery time. After buying and returning several others I have found the one
User review 6: ★★★★☆
Users: Carole Brinkert
Countries: United States
Content of comments:
Very good earbuds for battery life & sound quality.
I use these for sport,exercise & mowing a few acre lawn and the noise cancellation works great too.
The only down side is these like every other earbuds i know of are non-repairable and end up in landfill when they break
User review 7: ★★★☆☆
Users: Mehmet S
Countries: United States
Content of comments:
When you are on the phone people hear the background noises in an amplified way. Everyone I spoke to on the phone complained like crazy saying they couldn't hear nothing but all the random stuff in the background. Whether people walking in a mall or cars passing by etc.
If you just want to listen to music I'd say go for it. It has a lot of functions and programmable settings for eq. etc. Battery life is good and comfortable. But again forget about talking on the phone. Unless you are in your car in a super quiet road don't call anyone on it.
User review 8: ★★★★★
Users: Daniel Perez
Countries: United States
Content of comments:
These are by far the best headphones under $100 that I've ever purchased. They are easily customizable via the app, they fit very comfortably, and its very easy to switch between Noise Cancelling, non-Noise Cancelling, and Be Aware mode.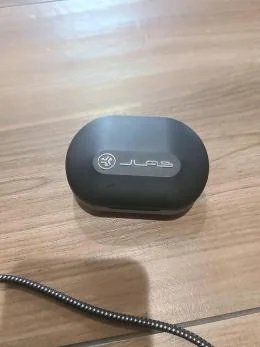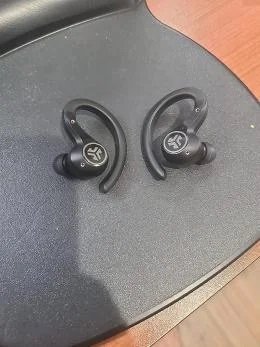 User review 9: ★★★★★
Users: mary glickman
Countries: United States
Content of comments:
I love the charging case. Compact, with long battery life. I have had them for two weeks and use them about an hour per day. One charge so far. Controls are on the outer part of the ear piece, so I have accidentally activated them when wiping my face with towel or with certain exercise moves. But I am used to it now. Sound is great. Definitely recommend and would buy again. Great price.
User review 10: ★★★★★
Users: Kindle Customer
Countries: United States
Content of comments:
Best of the 3 brands I tried, I tried Bose, Powerbeats and these. These are the best over the ear buds. Powerbeats had best sound but they are not reliable so I returned them- twice. Bose sounds good - like these- but stick out far from the ear and wind compromises the sound. These are reliable and sound good. I use them for bike riding and exercise programs.
Overall, the Jlab Epic Air Sport earphones seem to be well-received for their sound quality, fit, and battery life, making them a suitable choice for sports and exercise activities. However, the calls on this headphones are not very good and the other party can hear the noise from your side during the call. If you have a need to talk you can choose a talk noise cancelling headphone such as the Wissonly Hi Runner. The Wissonly Hi Runnerhas a built-in microphone for noise cancellation, which eliminates some of the noise during calls.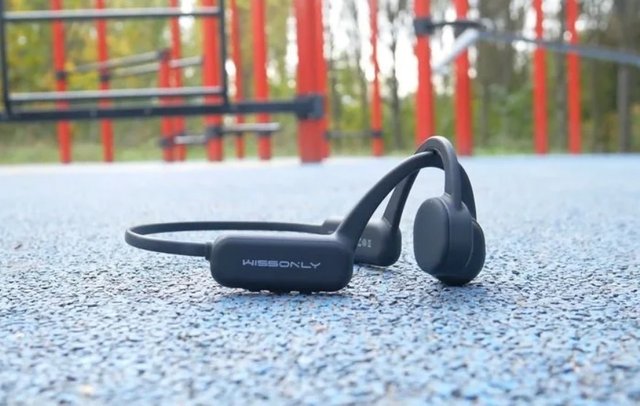 Wissonly Hi Runner is a bone conduction earphone with an ear-hook design, completed by engineers, with three support points that conform to the shape of the skull - the temples, auricles, and occiput. This design fits the human head structure, providing a stable and comfortable wearing experience. The internal material is made of pliable titanium alloy, while the external part is covered with soft and skin-friendly silicone, making the whole device weigh only 27g, ensuring comfort even when worn throughout the day.
This earphone functions not only as a Bluetooth headset but also as a music player with built-in 32GB of memory. The Bluetooth technology used is version 5.0, which offers a larger coverage range and faster data transfer rates compared to Bluetooth 4.2. It has an effective distance of up to 300 meters and a maximum transmission speed of 24Mbps. It has passed the IPX8 waterproof test, making it one of the best waterproof earphones available on the market, suitable for use during swimming with a valid connection range of up to 15 meters underwater. The built-in 32GB memory can store more than 5000 songs.
For easy and hygienic charging, it utilizes magnetic suction charging, and the 230mAh battery capacity allows for continuous use of up to 10 hours after being fully charged.
However, individual preferences and experiences may vary, so it's essential to consider these factors when making a purchase decision.
Comment