How Does Wireless Bone Conduction Headphones Work and What Are Their Pros and Cons?
Feb 11,2023 | David
Wireless bone conduction headphones are becoming popular among sports fans. We always see people wearing headphones that don't have to be tucked into their ears when they are running, riding, or working out. They looks cool, so how does bone conduction headphones works?What are their pros and cons?Why they become popular?
How does wireless bone conduction headphones work?
Wireless bone conduction headphones are a new application of proven technology, but bone conduction has a long history, with its first applications dating back to the 18th century.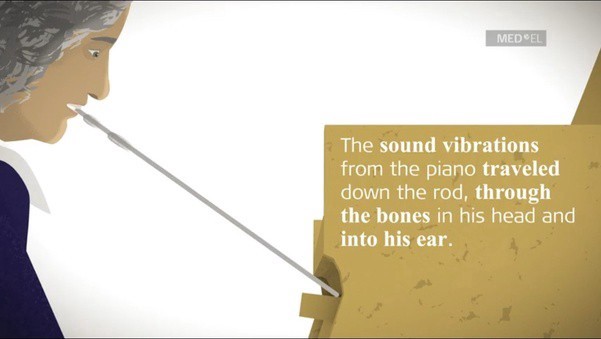 It is rumored that Beethoven, who was deaf, rubbed one end of a long rod into the piano. He put the other end in his mouth and kept it as close to the ear as possible. When playing, the long rod transmitted the sound to the jawbone and the cochlea of the inner ear, so that Beethoven could hear the sound of the piano. This was so important for Beethoven cause he regained his sense of hearing again and he can continue his music composition. This may be the earliest documented application of bone conduction technology.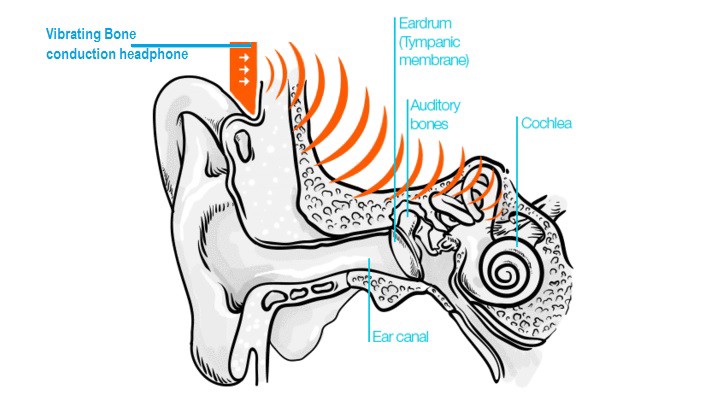 When the wireless bone conduction headphone works, it converts the sound signal into mechanical vibration by the sound unit and drives the skull to vibrate at the same frequency, allowing the sound to reach the cochlea of the middle ear and inner ear. Finally, we can hear the sound. In the process of sound transmission, they directly bypass the ear canal and eardrum to reach the inner ear, taking a shortcut. Just because it takes a shortcut, it reduces the damage to the ear canal and eardrum, making it the healthiest headphone.
Most of us have been exposed to bone conduction in our daily life. Put your ears close to the ground, and you can hear the footsteps of "tap, tap, tap" through vibration; cover your ears, and you can still hear yourself mumbling, which is a natural phenomenon of bone conduction.
Pros and Cons of wireless bone conduction headphones
The main pros of wireless bone conduction headphones is that they do not need to transmit sound waves through the ear, but through the ear bone, which allows you to wear them, the ear will be completely exposed, which brings the following obvious pros:
First pros of wireless bone conduction headphones: protect hearing
Compared with the air conduction method of traditional headphones, bone conduction saves many steps of sound wave transmission, and the sound does not need to pass through the ear, so it will not stimulate the eardrum. This is a great way to protect your eardrums and ensure your hearing is not damaged.
second pros of wireless bone conduction headphones: comfortable to wear and clean and hygienic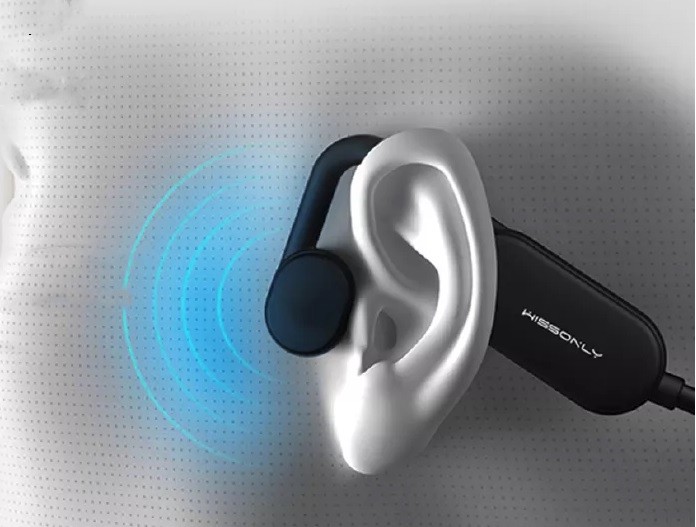 Bone conduction headphones do not need to block the ears when worn, so that the ears can be completely opened, which makes the ears refreshed just like not wearing headphones. It won't let you have ear pain and stuffy ears caused by long-term wearing, making you more comfortable when wearing them.
At the same time, it is precise because the ear does not need to be blocked when wearing it, sweat and other bacteria will not enter the ear with the headphone, so it is suitable for patients with diseases such as otitis media.
Wireless bone conduction headphones have the advantages of cleanliness, sanitation, and bacteria isolation, which cannot be possessed by traditional headphones no matter how they are improved.
Third pros of wireless bone conduction headphones: suitable for sports
Bone conduction headphones are great for exercising. I bought this type of headphones precisely because of my sports needs. Yes, I can't stand exercising without music. When using them, the ears are open, and you can also perceive the surrounding environment well when you are exercising. They are worn with hanging ears, which are comfortable to wear and not easy to fall off, and can also prevent sweating and stuffy ears. They were born for movement.
At the same time, some bone conduction headphones have built-in memory, so they can be used as MP3 players without a mobile phone, which is very practical for people who like to listen to music during exercise.
In addition, most bone conduction headphones have good waterproof performance, so they can be used with confidence when swimming. And because it is bone conduction, it does not need to pass through the air, so the sound received underwater is the same as the sound received on the ground.
Of course, like a coin has two sides, bone conduction headphones have advantages and some disadvantages, you can take a look at the introduction below.
Cons of wireless bone conduction headphones:
1. Sound quality:
Because wireless bone conduction headphones transmit sound through bones, the sound quality transmission loss is large during the process, so the sound quality will be worse than traditional noise-canceling headphones.
2. Sound leakage: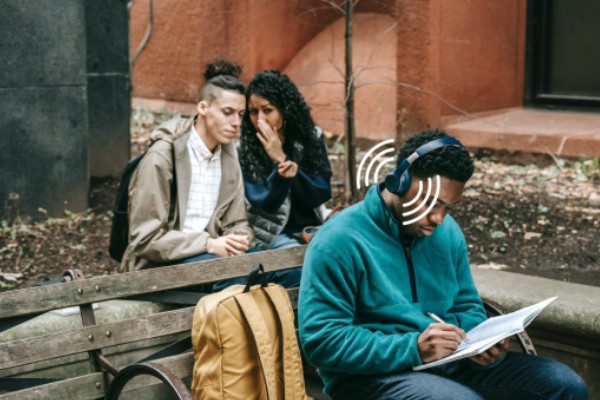 Because the sound transmission of wireless bone conduction headphones is carried out through vibration of the vibrator, and some sound is transmitted through the vibration of the air, so sound leakage cannot be completely avoided. But some headphones brand invest more research and design in preventing sound leakage, so most of the sound leakage problems are solved. For example, the Wissonly Hi runner bone conduction headphones I own are excellent representatives among them.
There are more and more brands of wireless bone conduction headphones in the market, so how to choose the right one?My suggestion is to pay attention to the two key points: sound quality and sound leakage reduction, and choose the brands with better technology accumulation.Here are five best bone conduction headphones for you all.
1. wissonly Hi Runner wireless bone conduction headphones
Reason for recommendation:
Wissonly bone conduction headphones are recognized by the market with its leading bone conduction vibrator technology. Their team has accumulated more than 10 years in the field of bone conduction technology, which has been affirmed in terms of product quality and hearing protection effect.
Wissonly Hi Runner uses a large-size bone conduction vibrator, which increases the vibration area by 35%. When you wear it, the diffusion direction of sound quality will be more comprehensive, the coverage will be wider, and the sound will be more stereo. Its sound will be deeper in low frequency and more transparent in high frequency. They have also made a lot of efforts in the technology of sound leakage reduction, including the built-in reverse sound wave system and the all-closed-body design, thus reducing the sound leakage by 90%.
It is comfort: Wissonly Hi Runner's whole body is made of high-tech and low-sensitivity silicone, which contains no chemical components to avoid allergy. The overall touch is as silky as baby's skin, which can avoid uncomfortable situations when worn for a long time.
wissonly Hi Runner wireless bone conduction headphones are also equipped with a new Bluetooth 5.0 chip, which has stronger anti-interference ability, and can easily cope with various outdoor complex scenes, so as to ensure that the good mood during exercise will not be disturbed by disconnection. The stable connection also brings ultra-low delay performance. Listening to songs, chasing dramas and playing games meet all the daily demands for headphones.
2. Philips A6606 wireless bone conduction headphones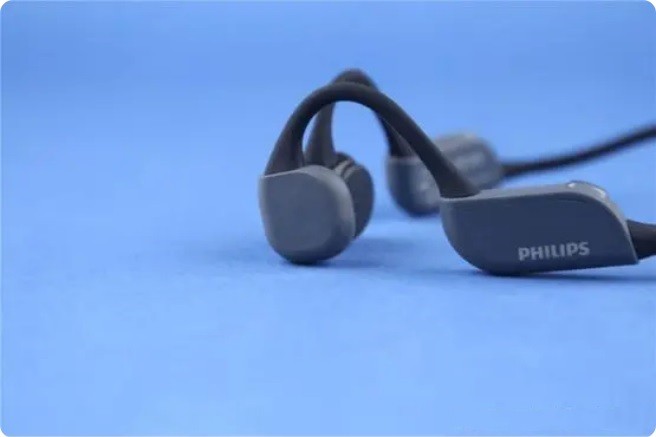 Reason for recommendation:
This Philips A6606 bone conduction headphones, with an ergonomic design, will not fall off no matter how you move. The surface of its body is made by soft silicone, which greatly improves the comfort of wearing. It has reached the IP67 waterproof rating, and sweating profusely during daily sports is not a problem to it. The headphones are also equipped with night running lights, and the brightness is strong enough that the cyclists or vehicles behind you can notice you when you are running at night. The headphones are equipped with Bluetooth 5.2 technology which has a faster transmission distance and lower power consumption than 5.0, but this one cannot be used in swimming.
3.AfterShokz OPENRUN PRO wireless bone conduction headphones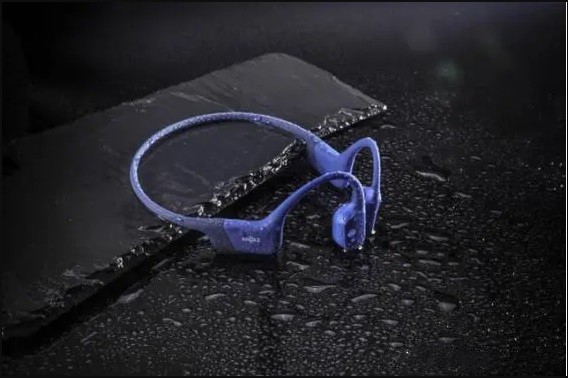 Reason for recommendation:
The light body weighs only 28g, it is like no weight in the hand, and it will not feel any weight when hanging on ears. Because of the characteristics of bone conduction headphones, there is no need to be stuffed into the ears or wrap the ears. And there will be no swelling or squeezing feeling when worn for a long time, which keeps the ears fresh and breathable. Its sound leakage reduction technology is also good, which can effectively suppress sound leakage and better protect personal privacy. It has a high-strength titanium alloy rear hanger. Before each pair of headphones leaves the factory, the official will carry out repeated tests to ensure that the quality passes. The body has high toughness, and it can be restored to its original shape when bent at will. You can toss it during the exercise, and don't have to worry about the damage caused by bending of the headphones.
4.Earsopen SS900 wireless bone conduction headphones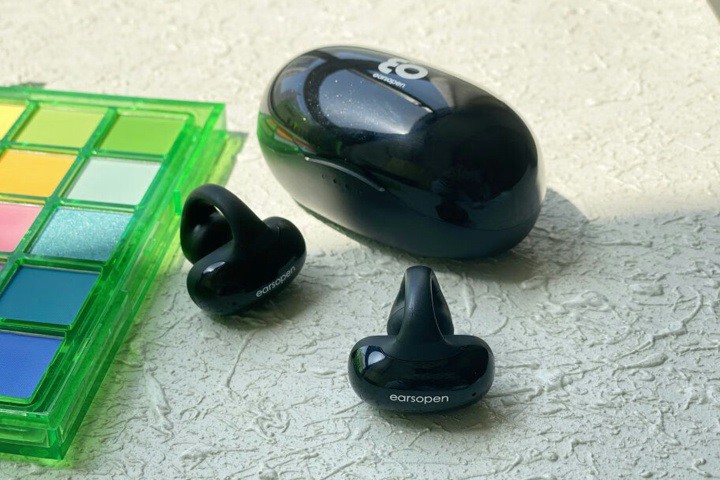 Reason for recommendation:
With the support of AVV's precise vertical vibration technology, the vibration intensity and frequency of SS900 is improved, which makes up for shortage of sound quality caused by small sound producing area of 10mm small size vibration unit, and makes the low frequency sound more full. The 7.5g body weight is better with the clip-on ear type, which makes it more portable. However, the clip-on ear type makes the ears uncomfortable after wearing for a long time, which is its disadvantage.
5.Haylou PurFree wireless bone conduction headphones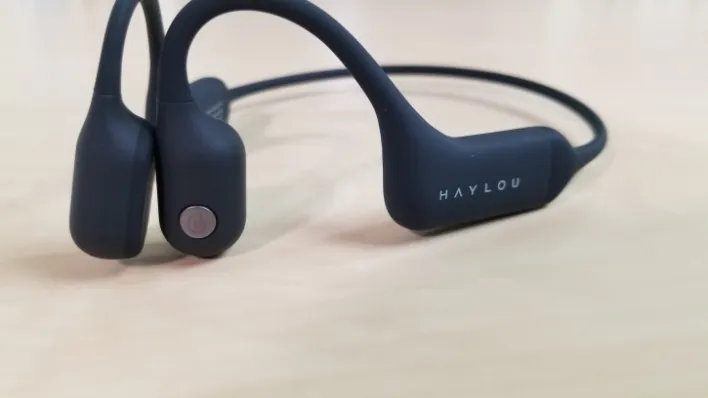 Reason for recommendation:
Haylou PurFree uses Qualcomm QCC3044 chip to make Bluetooth connection more stable, and also supports dual-device connection. And it also has microphone call noise reduction technology to make people's voices clearer. It is very light and is an open headphone, which also makes it have a better wearing experience. It is IP67 waterproof grade, and general sweat does not affect its work. It just cannot be used in swimming. It doesn't have built-in memory and can't be used when there's no cell phone signal, which is perhaps one of its drawbacks.
Among the several wireless bone conduction headphones recommended above, Wissonly and Aftershokz are the two products with the best overall performance, both in terms of sound quality, safety, comfort and sound leakage reduction.Considering the cost performance ratio, Wissonly will be better and worth recommending.
Comment