How Do Bone Conduction headset Phones Work and How About Their Advantages and Disadvantages?
Feb 21,2023 | David
Did you know that a new type of headset phones is popular among young people now? They are Bluetooth bone conduction headset phones. They're pretty cool, and a different type of headphone than all the ones that came before it. If you haven't read it, follow my article to find out.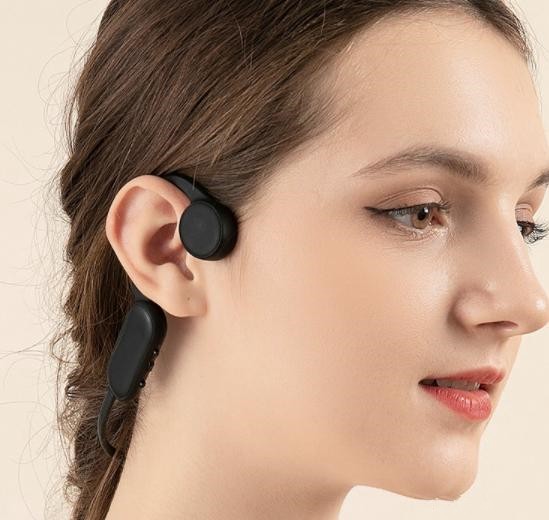 Bluetooth bone conduction headset phones are headphones in which the sound generating unit is attached to temples. Their vocal units convert sound into mechanical vibrations, which cause bone vibrations, and transmit the sound to the auditory nerve.
They are vastly different from common headphones. Common headphones are air conduction, while the sound unit of them is a horn. Because of this difference, the way Bluetooth bone conduction headset phones are worn is also different.The unique wearing method of Bluetooth bone conduction headset phones is mainly determined by their working principle
How do Bluetooth bone conduction headset phones work
To understand how bone conduction headset phones work, we must first understand how we hear sound.
Simply put, sound is a vibration, and the source of sound can cause air, liquid, and solid to vibrate. The sound we hear everyday is this vibration into the ear, so the eardrum vibrates. The vibration of the eardrum passes through the ear ossicles to the part behind the ear called "cochlea". The cochlea then transmits sound information from the cochlea to the brain center, and finally we hear it. The process by which we hear sound includes both air vibration and solid (bone) vibration.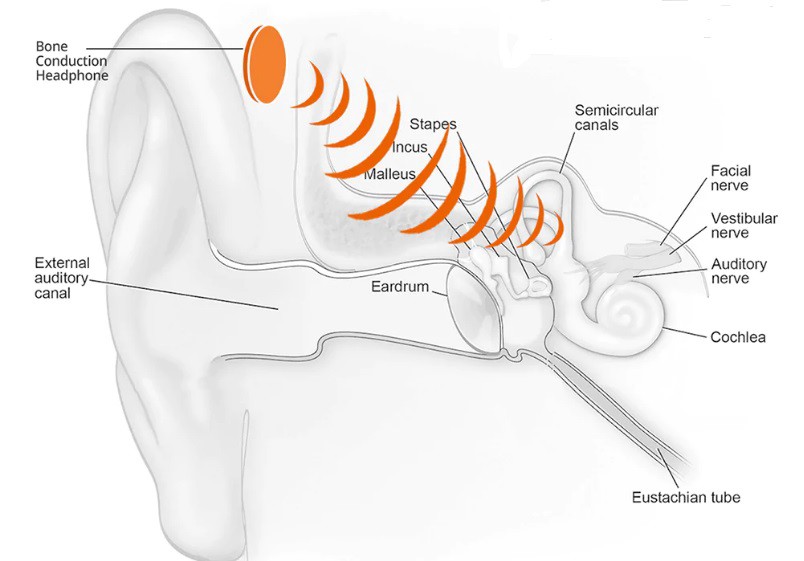 The working principle of bone conduction headset phones is that they transmit sound not through air vibrations, but all through solid (bone) vibrations. The sound unit is usually attached to the temple, and emits mechanical vibrations. The skull transmits the vibrations to the cochlea that in turn transmits the sound information to the brain center, so the sound is heard.
The sound transmission path of Bluetooth bone conduction headset phones is that: sound waves, skull, bone labyrinth, inner ear lymph, spiral organ, auditory nerve, cerebral cortex auditory center. Compared with our traditional way of hearing sound (that is air conduction method), their transmission path is shorter, where air and the eardrum are no longer needed. So they can play a significant protective role to the eardrum, and are a very healthy kind of headphones.Not only health, they also have many advantages
Advantages of Bluetooth bone conduction headset phones
Bone conduction headset phones have three very prominent advantages.
Advantage 1 of Bluetooth bone conduction headset phones: safer to use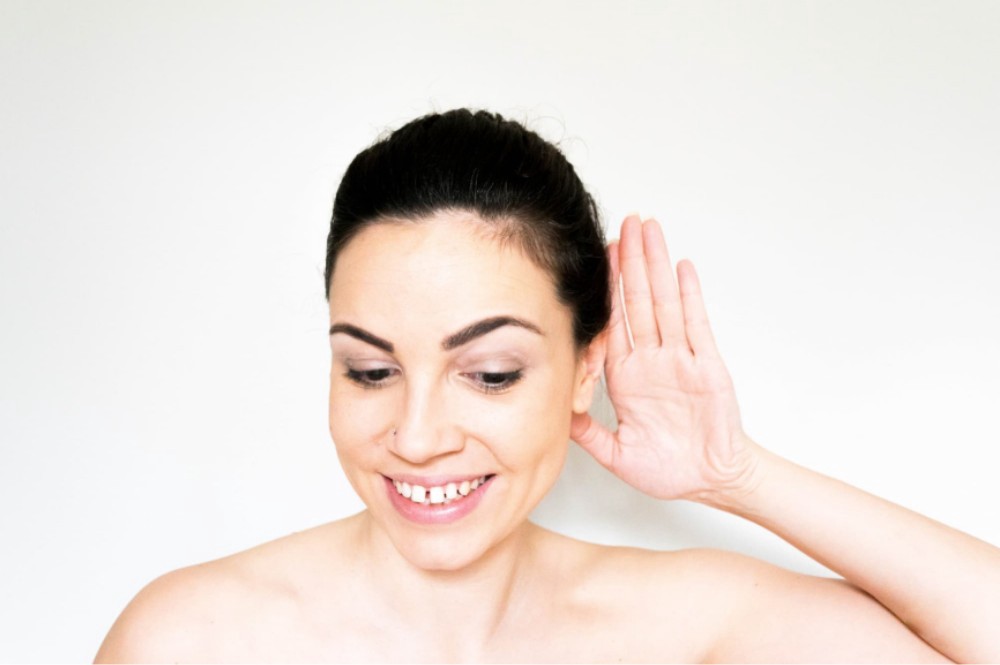 Compared with common headphones, bone conduction headset phones are placed on the cheekbones in front of the ears when in use. They conduct sound directly through the skull bone to the inner ear, keeping your ears open at all times, which does not interfere with any external ambient sound entering the ear. The wearer can even chat with friends around him while listening to music. Therefore, you can hear the sound of the outside world by wearing bone conduction headphones during outdoor sports, on buses and subways, running, and cycling. The wearer can maintain awareness of the surrounding environment at all times to avoid accidents. Therefore, they can provide higher security than common headphones.
Advantage 2 of Bluetooth bone conduction headset phones:more hygienic to use
Whether it's headphones or earbuds, covering your ears when using them can make your ears stuffy, which can lead to the growth of bacteria inside your ears. Especially when the ear canal is blocked, the inside will become humid and hot, and bacteria will grow more rapidly. Therefore, wearing in-ear headphones is also one of the important reasons for many young people's ear canal inflammation. What about bone conduction headset phones? They don't cause these problems. Because they do not touch or cover the ears, they can keep the ears hygienic and clean.
Advantage 3 of Bluetooth bone conduction headset phones:more healthy use
Bone conduction headphones do not need to be worn in the ear, so the injury caused by the headphone rubbing against the ear canal is avoided. Moreover, the vibration wave of them is smaller than that of ordinary headphones, and the damage to hair cells in the ear can be reduced by about 80%. Therefore, bone conduction headset phones are more ear-friendly and healthier to wear than ordinary headphones.
Disadvantages of Bluetooth bone conduction headset phones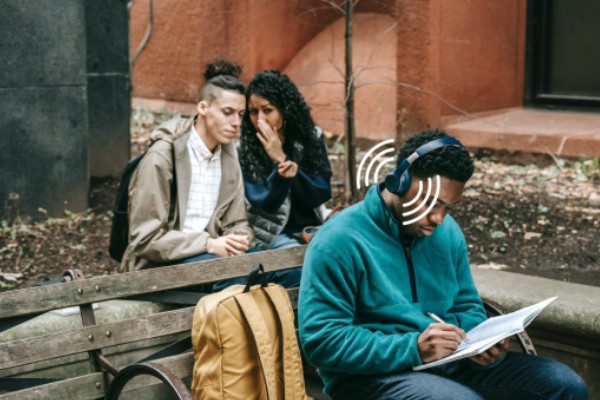 Of course, bone conduction headset phones are not 100% perfect, and they have drawbacks, such as their sound quality being difficult to achieve the effect of traditional noise-canceling headphones. They really release the ears, which also lose the "sound insulation" or noise reduction effect of traditional headphones, so in extremely noisy environments, it will be difficult for bone conduction headphones to transmit sound to your inner ear. However, the sound quality of them has improved a lot compared to the previous two years with technological progress. Some mainstream brands like wissonly and aftershokz have excellent sound quality.
Bluetooth bone conduction headset phones are becoming more and more popular among young people,and more and more brands join this field.So, which brand is the best?In my opinion, those brands that have accumulated technology in this field are trustworthy.Below, I have sorted out some good Bluetooth bone conduction headset phones brands, and recommend them to you. I hope they can help.
1 .Wissonly Hi Runner Bluetooth bone conduction headset phones
Recommended reason:
Wissonly is one of the few bone conduction headset phone brands that have mastered bone conduction vibrator technology, and one of the few brands in the industry that have sustained experience in using bone conduction technology to protect hearing. Wissonly Hi Runner advocate a healthy way to listen. They perfectly combine the principles of healthy hearing and bone conduction sound transmission, to create a non-in-ear and non-ear-damaging bone conduction headphone which can effectively protect hearing.
Due to the particularity of the technical principle, sound quality of bone conduction headphones is more difficult to be improved . To this end, Wissonly Hi Runner subverts the traditional sound quality scheme, makes a breakthrough to use the large-size bone conduction vibrator. Through structural optimization, the effective vibration area of the vibrator is increased by 35%, thereby improving the vibrator sound efficiency, making the sound more powerful.It also optimizing the direction of sound transmission, reducing sound loss during sound transmission, and making the sound more concentrated.
The skin-friendly silicone material of the Wissonly Hi Runner's body is a product that can be in contact with the skin for a long time. It is naturally a better choice and feels good to the touch. Because the entire headphone is made of skin-friendly material, it is very comfortable to wear. Even if you wear glasses, you can still hang it firmly on your ears. The headphone frame uses memory titanium, which has the advantage of being stretchable and lightweight.
2.Philips A6606 Bluetooth bone conduction headset phones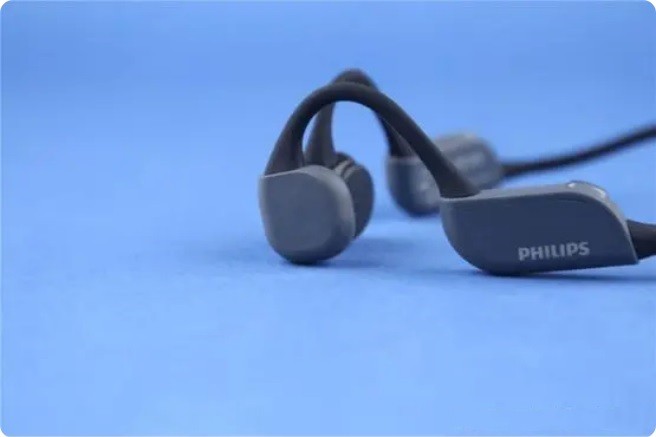 Recommended reason:
With IPX7 waterproof property, Philips A6606 can be soaked in water for a short time, and has good waterproof performance. At the same time, surprisingly, LED night run lamps are arranged at both ends of the fuselage, which can light up the rear road at night, thus ensuring its own safety factor. The unique bone conduction vibrator makes its sound quality good, and the double shrapnel structure can reduce the distortion. However, when playing high-frequency sound, there will be obvious vibration. If you can accept the vibration of medium and high frequency, it is also good.
3.AfterShokz OPENRUN PRO Bluetooth bone conduction headset phones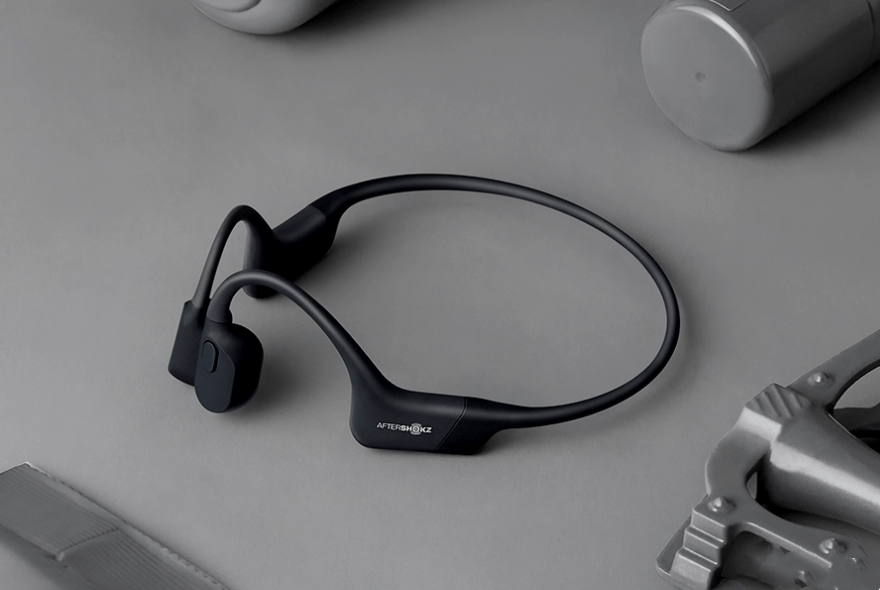 Recommended reason:
OpenRUN PRO is good at anti-sound-leakage, it uses LeakSlayer leakage cancellation technology to reduce sound leakage. It is equipped with Qualcomm QCC3024 chip that uses 5.0 Bluetooth protocol, that supports dual-device connection, and that performs very well in terms of stability, compatibility, effective range and delay time. It is IP67 waterproof grade, which is enough to allow it to be used in daily life. But you can not wear it to swim in the water. As a high-end bone conduction sports headphones this is still a pity. And it does not have built-in memory, can not be used as an MP3 player.
4.earsopen PEACE Bluetooth bone conduction headset phones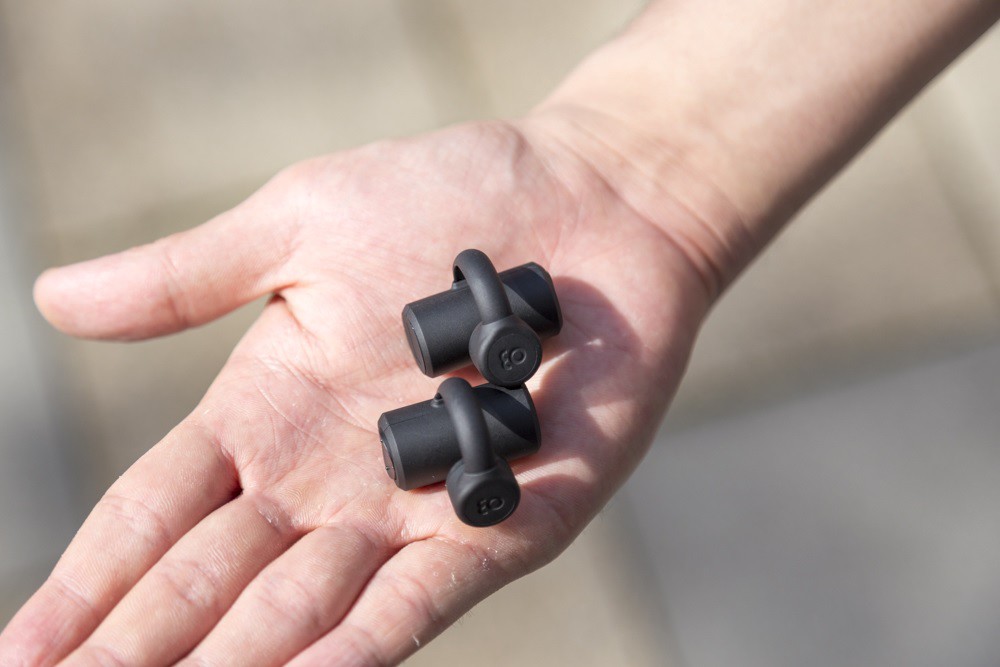 Recommended reason:
Earsopen was born in Tokyo, Japan, and is a brand of bone conduction headset phones owned by BoCo Co., Ltd. Earsopen PEACE TW-1 is the first Bluetooth headphones with left-right separation among bone conduction products. Because the sounding unit is small and closer to the ear canal, the sound leakage is also very small. The main body of the headphone is T-shaped, and the ear clip is adopted. Comfort is not as high as the first two models, but this way of wearing is really the only one. If you must choose TWS's one, it's good.
5.Nank Runner CC3 Bluetooth bone conduction headset phones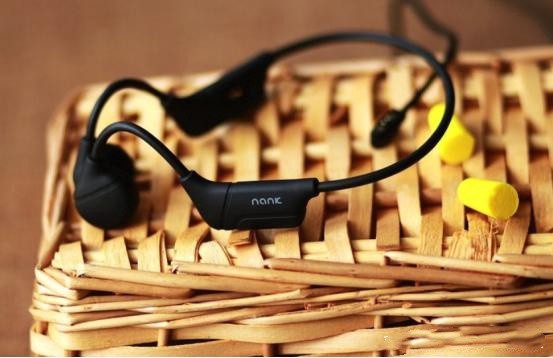 Recommended reason:
Since the body of the runner CC3 is made of silicone material in the part that fits the skin, wearing it has a feeling of summer coldness, which can fully stimulate the fans of sports.
Its sound quality is not a big problem, and it has built-in 4G storage, which can store 1000 songs. And you could enjoy music in places when meet poor phone signal. The wearing comfort and stability are not bad.
It is that the waterproof level is not high enough, and it is not suitable for rain or water sports.
Among the above five Bluetooth bone conduction headset phones, Wissonly and Philip are my favorites. Their products are of excellent quality. In contrast, if I have to choose one, I will choose Wissonly because it has better cost performance.
Comment