Does Bone Conduction Headphones Really Work and Does They Have Disadvantages?
Jan 17,2023 | Sylvia
When some people who love sports are running or cycling outside, you may see that they wear headphones on their ears but not tuck into the ear. In fact, the headphones are probably bone conduction headphones.
Bone conduction headphones are headphones made based on bone conduction technology. The more complete statement of bone conduction technology should be bone conduction sound transmission technology. It directly uses human bones as a sound transmission medium, So sound waves do not need to pass through the external auditory canal and tympanic membrane,But pass directly to the inner ear.
Does bone conduction headphones really work?
Bone conduction headphones and traditional headphones are completely different in the use of method. They are an open structure of its body. when using them, we put the sound source of bone conduction headphones against the skull next to the ear. The sound source vibration will drive the skull to vibrate together. So the sound wave pass through the skull bypassing the external auditory canal and tympanic membrane and are directly transmitted to the ossicles. The ossicle then transmit the sound waves into the bone labyrinth, so that the sound information is transmitted to the cochlea and auditory nerve, etc.. And finally we hear the sound.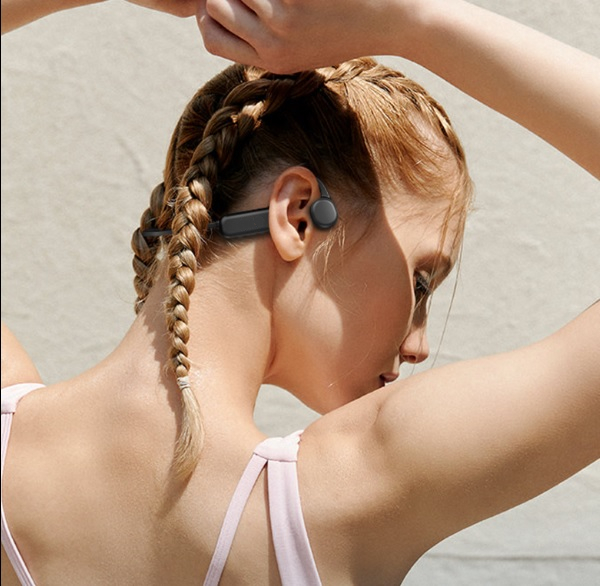 So, we can clearly know that bone conduction headphones are really work,It is not an stupid tax product.
If you are still confused, you can learn something about "how do bone conduction headphones work?"
How do bone conduction headphones work
Before explaining how bone conduction headphones work, let me briefly explain how humans hear sound.
The most common way we hear sound in our daily life is that sound reaches our ears in the form of vibrations in the air. This vibration travels through the ear canal, vibrates the eardrum, and reaches the cochlea to help us to perceive sound. The cochlea is shaped like a snail and is responsible for transmitting sound information to the brain. But humans can also hear the sound without using the ear canal. For example, when we chew nuts, we can hear the sound without passing through the air, that is, the sound is transmitted through bone conduction.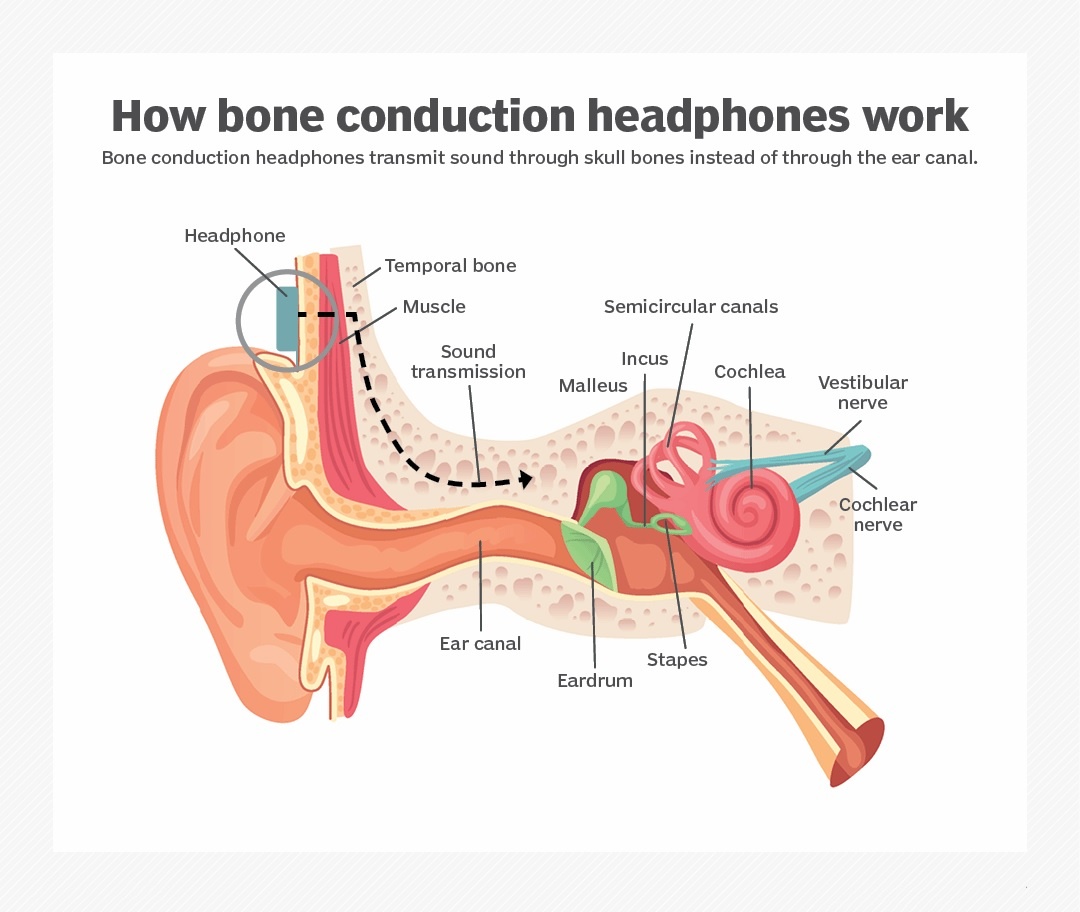 Bone conduction technology is a mechanism that transmits sound without passing through the ear canal or eardrum, instead the bone around the ear vibrates to transmit the sound signal to the cochlea. It should be noted that we hear sound with the cochlea instead of the eardrum, which is just an intermediate step in the process of air-conducting sound. When people hear sound, whether it is air conduction or bone conduction, if the appropriate vibration reaches the cochlea, they can hear the sound.
Bone conduction headphones are sound-receiving devices made of bone conduction technology. During the sound transmission process, they directly bypass the ear canal and eardrum and reach the cochlea. Compared with air-conduction headphones, there are fewer steps for sound transmission when using them. Just because they take a shortcut, they also reduce the damage to the ear canal and eardrum, making them the healthiest headphones.
What are the disadvantages of bone conduction headphones?
While bone conduction headphones are popular, they're not perfect. They also have some disadvantages, summed up in three:
Disadvantage 1 : sound quality
Because of the design characteristics of bone conduction headphones, their anti-interference effect is not ideal when wearing them for shopping, subway, car and other noisy environments. And the sound quality is not as good as traditional headphones, because they transmit sound through the skin, skull and then to the ear ossicles, so the degree of music reproduction is not as good as traditional in-ear headphones.
Disadvantage 2 : sound leakage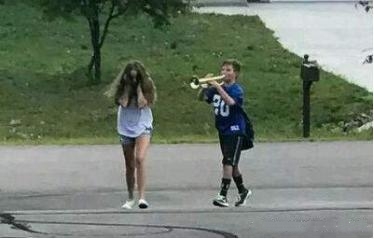 The sound is transmitted through the vibration of the vibrator, so part of the sound is also transmitted through the vibration of the air, and sound leakage cannot be completely avoided. It's just that some headphones invest more research and design in reducing sound leakage, and solve most of the sound leakage problems. For example, the Wissonly Hi runner bone conduction headphones I own are excellent representatives among them.
Disadvantage 3 the price is slightly higher
The technology of bone conduction headphones is more complicated than that of traditional headphones, the materials are better than traditional headphones, and the manufacturing process is more complicated, which ultimately makes the price of them a little higher. But this year, with the rapid popularity of them, their prices have dropped significantly after the production has increased significantly.
Although bone conduction headphones have the above disadvantages, compared with these disadvantages, they have more prominent advantages, such as being safer, healthier, more hygienic, and more comfortable to wear.
Therefore, we can be sure that bone conduction headphone is a good product worth buying,I will recommend some excellent headphones for you below.
1. Wissonly Hi Runner bone conduction headphones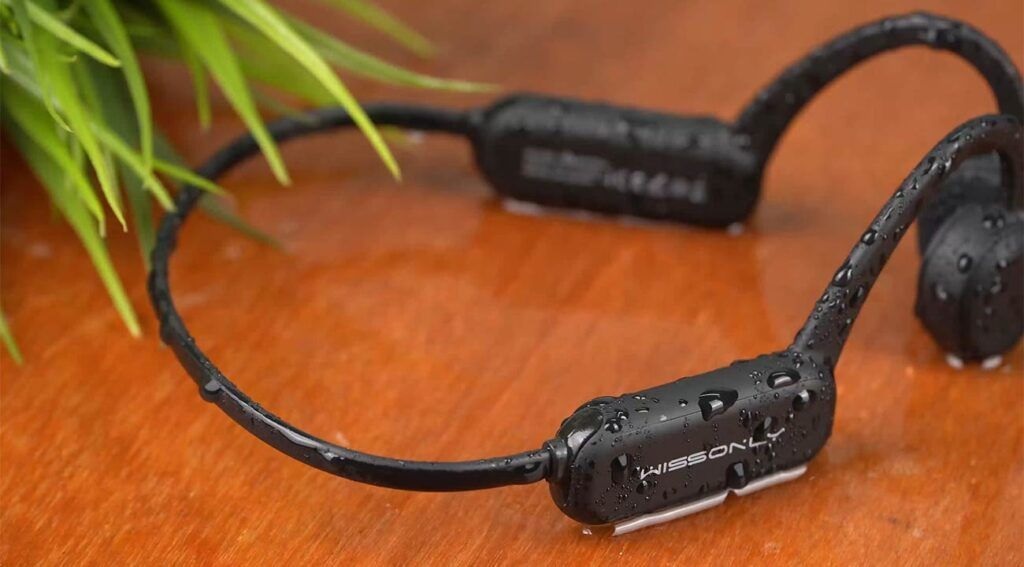 Reason for recommendation:
The Wissonly team has always attached great importance to the opinions of customers. It is said that their Hi runner model invited thousands of users to participate in the test, and that they constantly adjusted the design based on customer feedback. It is said that because of this, the product launch time was delayed by 3 months compared to the original plan time. I was so moved by this story that I bought their products.
Wissonly Hi Runner attaches great importance to sound quality. Their sound source adopts a large-sized vibrator, and through the clever structural design, the vibration area is increased by 35%. So the sound range is wider and the sound is more powerful. They have also made a lot of efforts in the treatment of sound leakage. The headphones' body is sealed and integrated to minimize sound leakage.
Hi Runner are also equipped with a new Bluetooth 5.0 chip. They have stronger anti-interference ability, and can easily cope with various complex outdoor scenes without disconnection. They support IPX8 waterproof grade higher than the industry standard, are equipped with 32G body memory. They have stable connection and low latency performance. In listening to songs, chasing dramas, or playing games, they can meet all daily needs for headphones.
The Wissonly Hi runner weigh less than 30g, have no weight bearing when worn, are very comfortable, and are very suitable for long-term use during sports.
2. Philips A6606 bone conduction headphones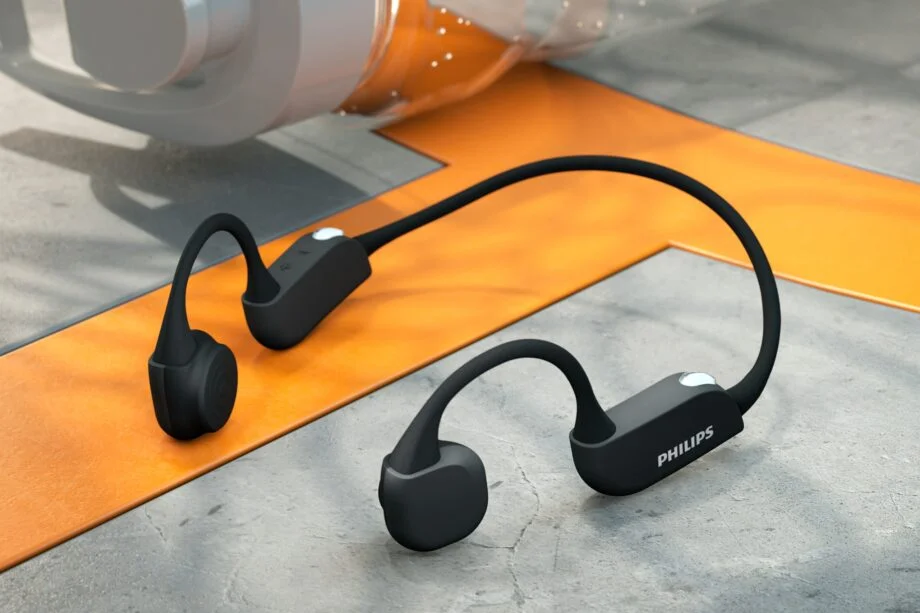 Reason for recommendation:
Philips A6606 adopts the latest generation of exterior design, which strengthens water resistance and slip resistance during sports for a more stable fit. The surface of its body uses skin-friendly materials, which will be more comfortable to wear. The body is also relatively light, and there is no sense of weight when wearing. It also has a night running indicator to ensure that the cyclist or vehicle behind you can see you during night running, thus you can avoid danger. From a configuration point of view, the configuration of this product may not be very high, but Philips' quality is trustworthy. The price may be slightly expensive.
3.AfterShokz OpenSwim bone conduction headphones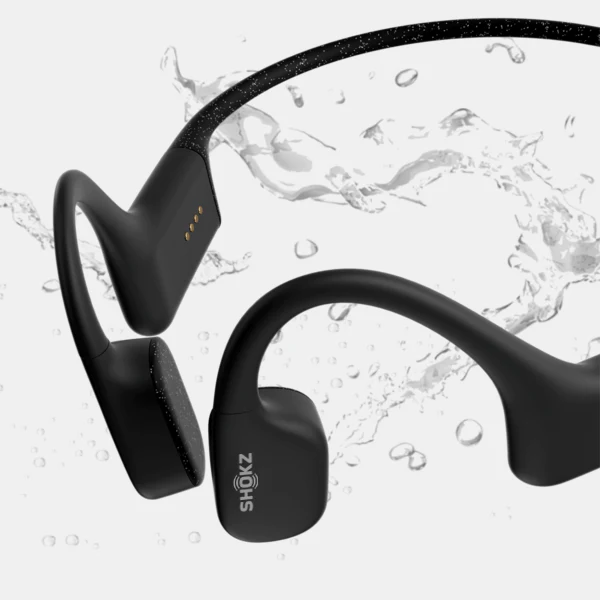 Reason for recommendation:
The body of the headphone is made of skin-friendly silicone, and its light body is only weighs 36g. It has ergonomic structure of the ear design, no matter running, jumping, wearing glasses without pressure, more intimate details. The waterproof performance of OpenSwim reaches IP68 level, which is suitable for swimmers. A long strip structure design is adopted at the sound generating part, so that the loudspeaker has a larger surface area and higher sound transmission efficiency. With its own 4G memory, it can use as a mp3 player.Its battery life reach 8 hours, no matter about long time using.But this headphones does not support Bluetooth and calling functions.
4.Earsopen PEACE Bone Conduction Headphones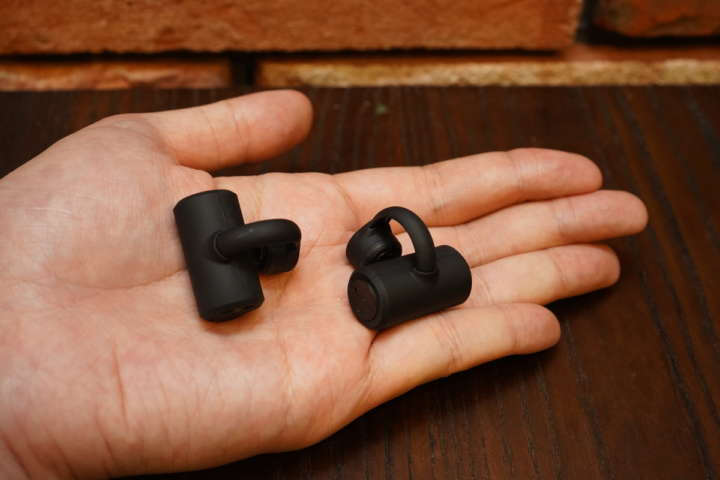 Reason for recommendation:
Earsopen PEACE is a bone conduction headphone with a novel wearing method. It adopts a clip-on design, which has a certain stability in wearing. It can be worn only by clipping it in the ear canal, and it also supports single ear wearing. IPX7 waterproof performance can also be easily competent for waterproof and sweat-proof work. With the charging case, it can complete the daily wear and use of electricity for nearly a week. The only disadvantage is that the price is slightly higher and the charging case area is a bit bulky. If you carry it in a sports field, you will feel a certain weight, and you will feel uncomfortable if you wear it for a long time.
5.vidonn F3 bone conduction headphones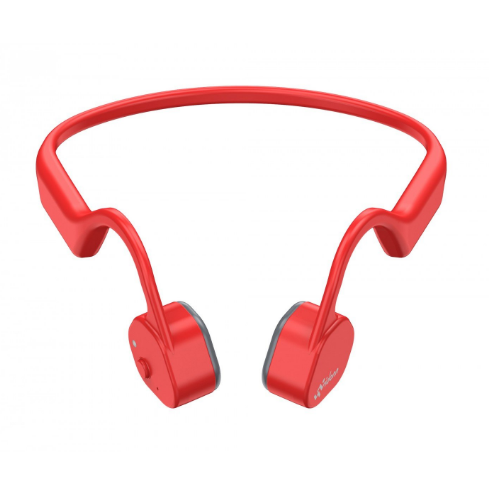 Reason for recommendation:
The Vidonn F3 bone conduction headphones weigh only 29g, and there is no discomfort whether you have it hanging neck or hinging ears for a long time. The ear arm of the bone conduction vibrator is on the outside, leaving space for the glasses leg to pass, which solves the embarrassing situation of not being able to wear glasses when wearing headphones.
The charging port of Vidonn F3 bone conduction headphones is the universal standard MICRO-USB interface. It adopts a soft rubber plug to waterproof, but the soft rubber plug is not connected to the body, there will be a risk of loss. The manufacturer gives two spare soft rubber plugs in the box.
This is an entry-level product, and it's hard to expect good performance in terms of sound quality and leak prevention, but it's enough for everyday use.
How to choose bone conduction headphones should still be cautious. It is recommended to pay attention to three points: sound quality, sound leakage reduction and comfort. Choose the teams with good technology accumulation, such as Wissonly and Philips. Philips is a well-known brand. If you are willing to pay more premium for the brand under the same product parameters, then Philips is a good choice. If you pay more attention to cost performance, Wissonly is undoubtedly a better choice.
Comment