Do Bone Conduction Headphones Leak Sound and Are there any headphones with Less Sound Leakage?
Jan 29,2023 | Sylvia
When some people who love sports are running or cycling outside, you may see that they wear headphones on their ears but not tuck into the ear. In fact, the headphones are probably bone conduction headphones.Bone conduction headphone is a safe and healthy product, but it also has some disadvantages, such as sound quality and sound leakage problems.
Do bone conduction headphones leak sound?
Bone conduction headphones will leak sound, but now some mature brands have found a solution to the problem of sound leakage, such as Wissonly and Aftershokz have done a good job in reducing sound leakage.
The sound leakage problem of bone conduction headphones is mainly due to the fact that they convert sound into mechanical vibration through the sound unit, and vibrate the bone to transmit sound. When the headphone is working, the shell of the headphone will be vibrated together by the sound unit, and the shell will vibrate the surrounding air, so sound leakage will occur. In other words, the shell of the bone conduction headphone becomes the "amplified speaker" of the headphone, spreading the sound to the surroundings.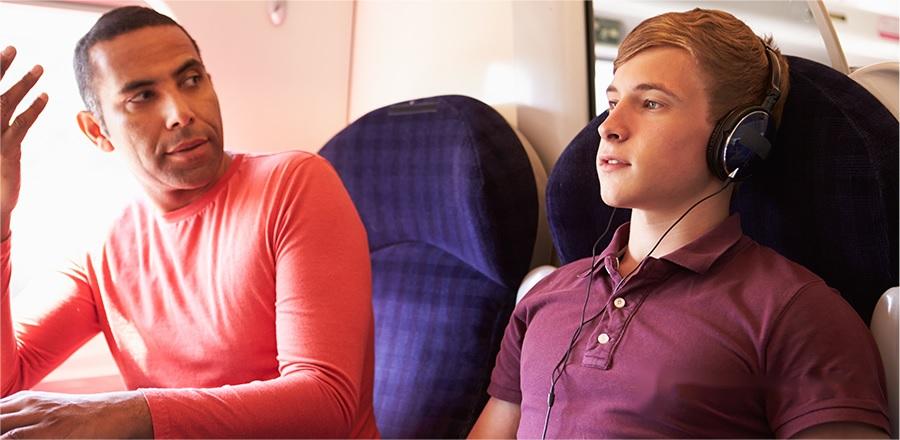 From the principle of the sound leakage phenomenon, we can easily see that all bone conduction headphones have sound leakage problems. Those headphones that claim to have no sound leakage at all are basically fake.
It's just that some bone conduction headphones may have made more efforts to reduce sound leakage. For example, some headphones use anti-phase sound waves to offset the sound waves of sound leakage, or through the integrated design of the body without holes, reduce the air vibration caused by the vibration unit, thereby reducing sound leakage. There are also some brands that optimize the structural design and increase the shock absorption function of the body to reduce sound leakage. It should be said that with the efforts of the entire industry, the sound leakage of bone conduction headphones has also been greatly improved.
Although bone conduction headphones have the problem of sound leakage, it has to be said that they have several outstanding advantages
Safer: Wear them without blocking your ears, which allows you to maintain awareness of your surroundings and make outdoor sports safer;
Healthier: They use bones to transmit sound and do not need to use the eardrum, which avoids damage to the eardrum and can protect hearing well;
More hygienic: bone conduction headphones do not need to be worn in the ear, even if worn for a long time, they can keep the ear canal clean and avoid the growth of bacteria;
More comfortable: They are very light, there is no feeling of weight when wearing them, and the wearing comfort is very high.
From the above introduction, we know that bone conduction headphones have the disadvantage of sound leakage, and at the same time, they also have the advantages of safety and health. These shortcomings and advantages are determined by their working principles.
How do bone conduction headphones work
To understand how bone conduction headphones work, we must first understand how we hear sound.
Simply put, sound is a vibration, and the source of sound can cause air, liquid, and solid to vibrate. The sound we hear everyday is this vibration into the ear, so the eardrum vibrates. The vibration of the eardrum passes through the ear ossicles to the part behind the ear called "cochlea". The cochlea then transmits sound information from the cochlea to the brain center, and finally we hear it. The process by which we hear sound includes both air vibration and solid (bone) vibration.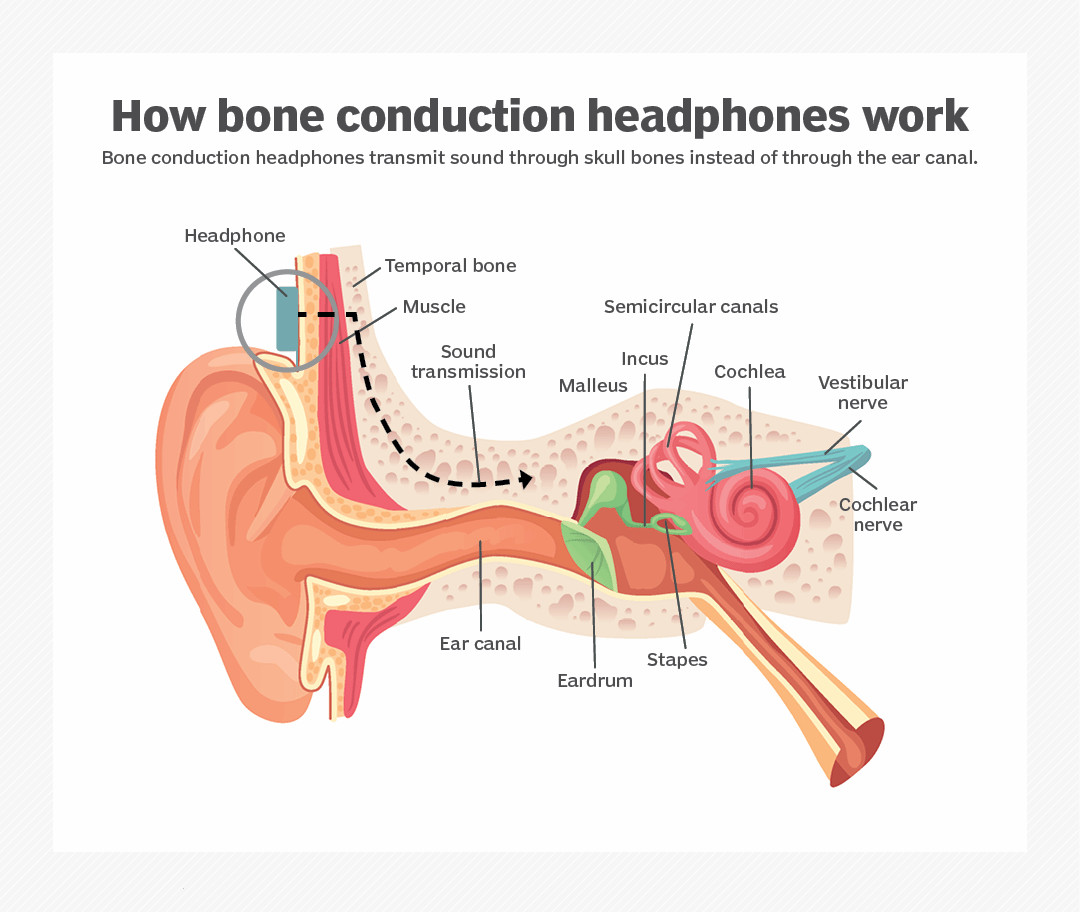 The principle of bone conduction headphones is that they transmit sound not through air vibrations, but all through solid (bone) vibrations. The sound unit is usually attached to the temple, and emits mechanical vibrations. The skull transmits the vibrations to the cochlea that in turn transmits the sound information to the brain center, so the sound is heard.
The sound transmission path of bone conduction headphones is that: sound waves, skull, bone labyrinth, inner ear lymph, spiral organ, auditory nerve, cerebral cortex auditory center. Compared with our traditional way of hearing sound (that is air conduction method), their transmission path is shorter, where air and the eardrum are no longer needed. So they can play a significant protective role to the eardrum, and are a very healthy kind of headphones.
As mentioned above, some brands have made great efforts to reduce sound leakage, and they have achieved good results. Therefore, there are few bone conduction headphones with less sound leakage.I will I will recommend some excellent headphones with less sound leakage for you.
1. Wissonly Hi Runner bone conduction headphones
Reason for recommendation:
The Wissonly team has always attached great importance to the opinions of customers. It is said that their Hi runner model invited thousands of users to participate in the test, and that they constantly adjusted the design based on customer feedback. It is said that because of this, the product launch time was delayed by 3 months compared to the original plan time. I was so moved by this story that I bought their products.
Wissonly Hi Runner attaches great importance to sound quality. Their sound source adopts a large-sized vibrator, and through the clever structural design, the vibration area is increased by 35%. So the sound range is wider and the sound is more powerful. They have also made a lot of efforts in the treatment of sound leakage. The headphones' body is sealed and integrated to minimize sound leakage.
Hi Runner are also equipped with a new Bluetooth 5.0 chip. They have stronger anti-interference ability, and can easily cope with various complex outdoor scenes without disconnection. They support IPX8 waterproof grade higher than the industry standard, are equipped with 32G body memory. They have stable connection and low latency performance. In listening to songs, chasing dramas, or playing games, they can meet all daily needs for headphones.
The Wissonly Hi runner weigh less than 30g, have no weight bearing when worn, are very comfortable, and are very suitable for long-term use during sports.
2. Philips 7607 bone conduction headphones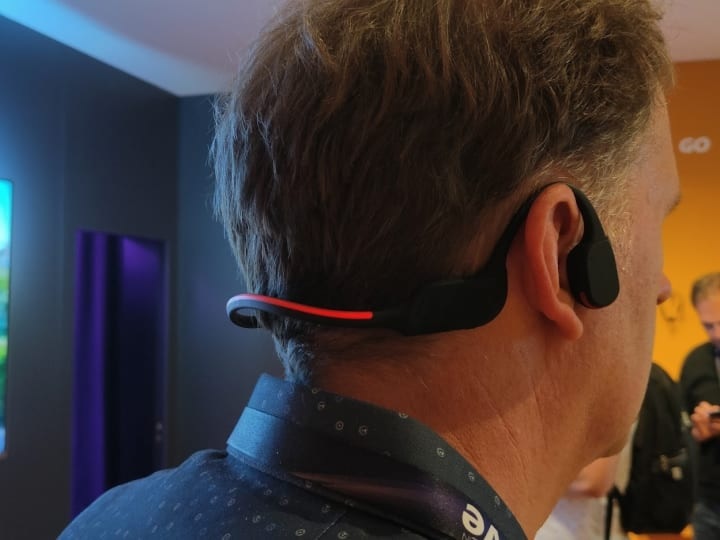 Reason for recommendation
They use a 17mm large-scale sound unit that makes their low-frequency sound more delicate, and that makes middle and high frequency sound clearer and not harsh. IP67 waterproof performance allows them to have a waterproof and sweatproof function in daily wear, and to be no problem in the face of sudden rain in a short time. When you wear them at night, LED night running lights make passing vehicles perceive your own location, so the safety factor is higher.
3.AfterShokz OPENRUN PRO bone conduction headphones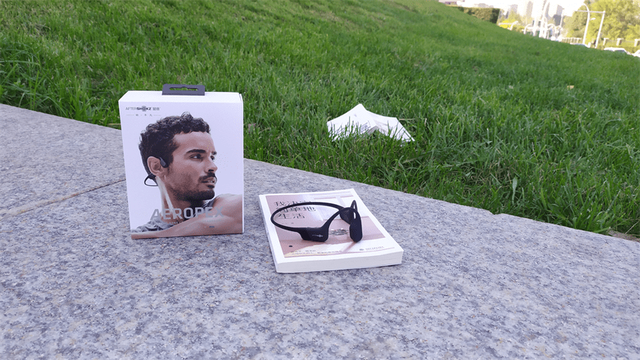 Reason for recommendation:
OpenRUN PRO is good at anti-sound-leakage, it uses LeakSlayer leakage cancellation technology to reduce sound leakage. It is equipped with Qualcomm QCC3024 chip that uses 5.0 Bluetooth protocol, that supports dual-device connection, and that performs very well in terms of stability, compatibility, effective range and delay time. It is IP67 waterproof grade, which is enough to allow it to be used in daily life. But you can not wear it to swim in the water. As a high-end bone conduction sports headphones this is still a pity. And it does not have built-in memory, can not be used as an MP3 player.
4.Earsopen peace tw-1 bone conduction headphones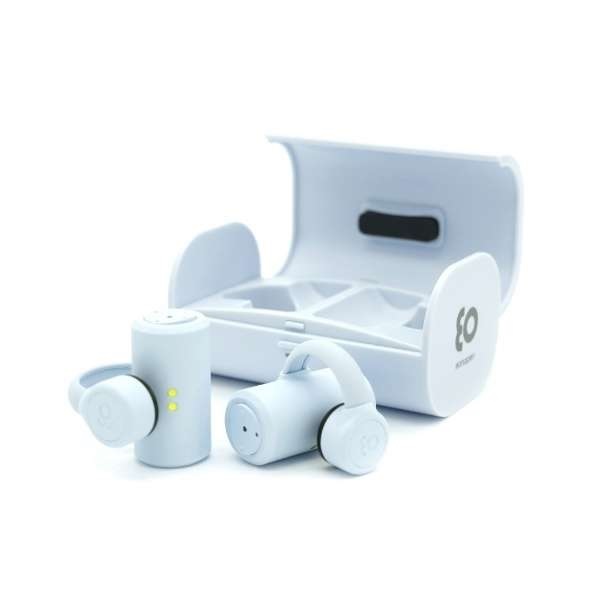 Reason for recommendation:
The wearing style of Peace TW-1 bone conduction headphones is very unique. It adopts a clip-on wearing method, has a certain stability in wearing, even if in strenuous exercise it can be stably clamped on the auricle. The weight of the body is 9g, during the wearing process, it will not feel heavy. IP67 waterproof rating helps it to be worn outdoors in rainy days easily, and daily sweating is not a problem at all to it, but it can not be used in swimming.
The disadvantage is that its clip-on wearing method may cause discomfort after wearing it for a long time.
5.Haylou PurFree bone conduction headphones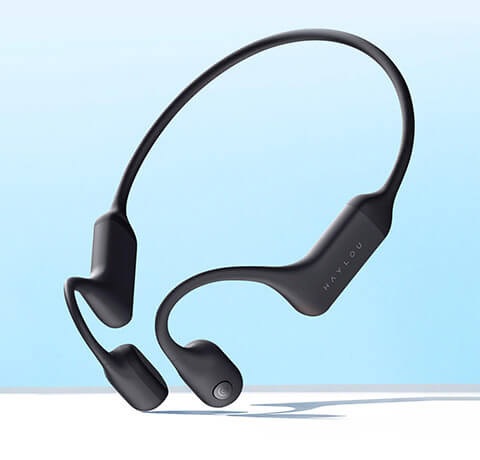 Reason for recommendation:
Its body surface is made of silicone material, which is very comfortable. The small size body is its relatively big advantage, which makes it light and without a sense of weight while wearing. The sound quality is good in the field bone conduction headphones, of course, it cannot be compared with traditional noise-canceling headphones. The battery life is good, you can listen to music for 8 hours, and it also supports fast charging.
In terms of waterproof feature, its waterproof grade reaches IP67, daily sweating, short-term rain, or washing are all no problem to it, but it cannot be used in swimming.
It should be emphasized that almost all bone conduction headphones have sound leakage problems. The above five earphones are the same. It's just that their sound leakage reduction technology is relatively good. In normal social distance, other people can't hear the sound of earphones. Among them, Wissonly and Aftershokz are the best. Wissonly also performs well in terms of sound quality, waterproof and built-in storage, which is very worth buying.
Comment