Difference Between Wireless Bone Conduction Headphones And Air Conduction Headphones and How About Their Benefits?
Mar 01,2023 | David
In the past two years, I have a new toy, which is wireless bone conduction headphones. I use them to listen to music while running and it feels good. I often share opinions about headphone products and music with my friends in the hardware community and sports community. Nowadays, many people can't figure out the difference between wireless bone conduction headphones and air conduction headphones. Some people even listen to the propaganda of unscrupulous merchants and mistakenly say that air conduction headphones are an upgraded version of bone conduction headphones, which really makes me speechless.
The difference between wireless bone conduction headphones and air conduction headphones
Literally understood, their main difference is in the way of sound transmission. Bone conduction headphones use the skull as a medium to transmit sound, while air conduction headphones use air as a medium to transmit sound. The reason why some people mistakenly think that air conduction headphones are an upgraded version of bone conduction headphones is mainly because some air conduction headphones are cleverly designed to look the same as bone conduction headphones and wear the same way. Once the manufacturers of air conduction headphones carry out large-scale publicity, consumers will be misunderstood.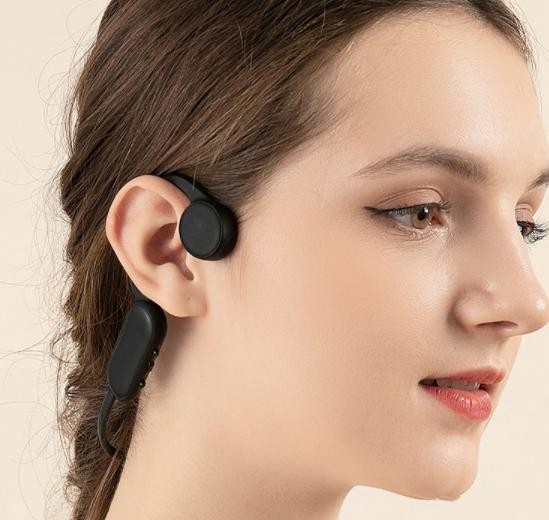 Air-conduction headphones work with the sound-generating unit attached to the temple, but they are actually two speakers. They rely on the speakers to emit sound waves, which transmit the sound to the ear through the air, and the sound waves vibrate the eardrum to produce hearing. In fact, most traditional headphones are also air conduction headphones. Therefore, this kind of headphone is actually a kind of traditional headphone, you must not be fooled.
How do wireless bone conduction headphones work?
Wireless bone conduction headphones are an application of bone conduction technology in the field of headphones. It transmits sound through the skull, without going through the external auditory canal and eardrum, which is very good for the ear.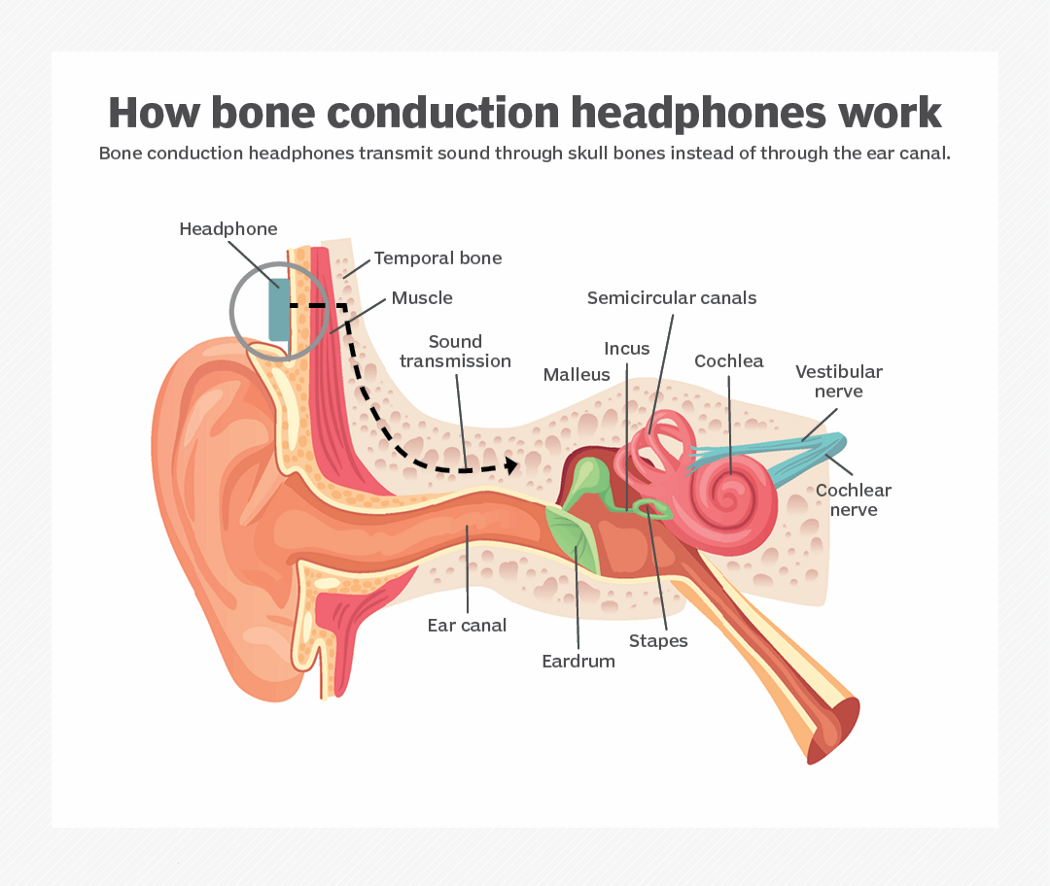 The sound transmission path of bone conduction headphones is "sound wave-skull-bone labyrinth-inner ear lymph fluid-spiral organ-auditory nerve-cerebral cortex auditory center".
Common headphones are air-conduction headphones, which need to conduct sound through the air in the ear canal. Its sound transmission path is "air-external auditory canal-tympanic membrane-ear ossicles-internal auditory canal-cochlea-auditory nerve".
There is a little experiment to better understand how bone conduction works. First, plug the ears with two cotton balls, take a tuning fork, and tap it several times with a rubber hammer to make the tuning fork vibrate. It vibrates so softly that your ears can't hear it at this time. But pressing the end of the tuning fork handle against your frontal bone, skull bone, and cheekbone can make you hear the vibration of the tuning fork. Once the tuning fork handle is out of contact, the sound disappears immediately. This is because the sound of the tuning fork is transmitted through the bones of the human body.
Their unique working principle has brought many benefits
What are the benefits of wireless bone conduction headphones
Since wireless bone conduction headphones do not require the use of both ears, they also bring some health benefits. They do not need to be stuffed into the ear when worn, they can keep the inside of the ear canal clean and hygienic. And the surface of them is smooth, easy to clean, and its body can keep clean. Traditional air conduction headphones are worn either into the ear or covering throughout the ear, which will cause bacteria to deposit inside the ear. So bone conduction headphones are of great help to the ear health. They use the principle of bone conduction to transmit sound that does not need to pass through the eardrum. So unless the volume is turned up too much, normal volume will not affect hearing when the headphones are used.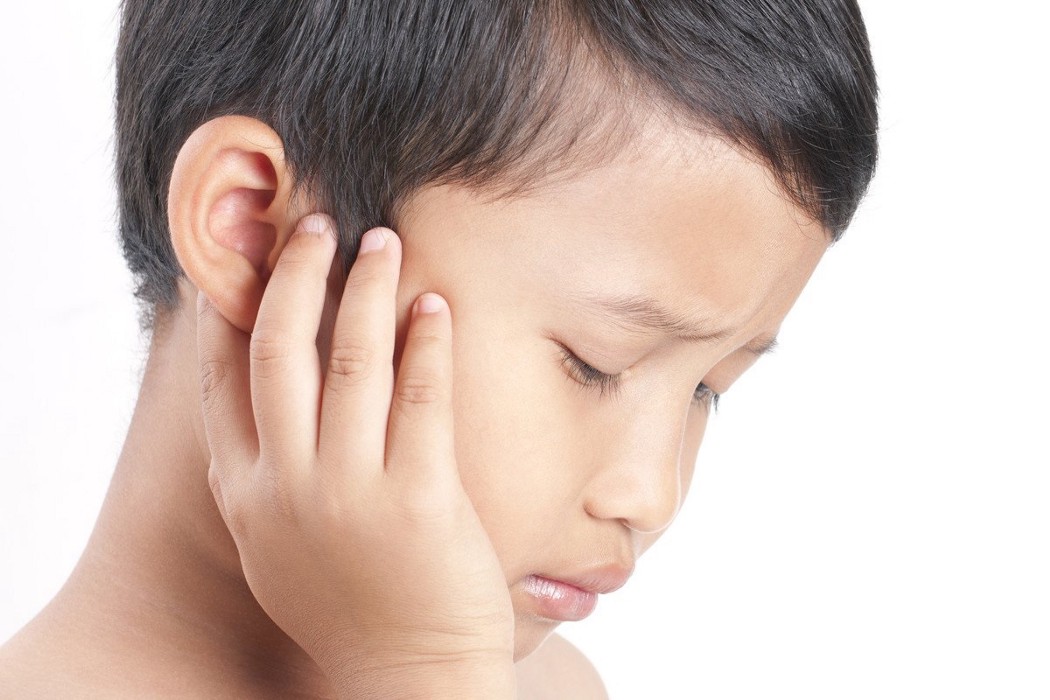 Wireless bone conduction headphones are also very friendly to be used in sports scenes. Wireless headphones themselves are sport-friendly, and the non-in-ear characteristics make them more suitable for sports scenes than other headphones. They are also much more stable in wearing than traditional wireless Bluetooth headphones. Their integrated body structure is tightly fastened to the temples on both sides,and no matter how you move, they will firmly stick to the ears, following the rhythm of your body. So you do not worry about their falling off.
At the same time, wireless bone conduction headphones can provide higher safety compared to common headphones. They are placed on the cheekbones in front of the ears when used. They directly conduct sound through the skull to the inner ear. Both ears are always open, so the phones will not affect any external environmental sounds into the ears. Users can even listen to music while chatting with friends around them. Therefore, in outdoor occasions, on the bus and subway, and when walking on the road, you can hear the sound of outside world, so as to avoid accidents.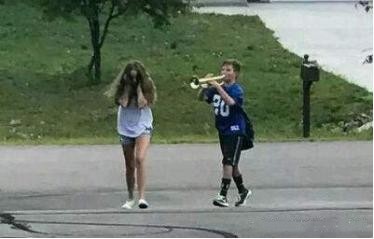 Of course, wireless bone conduction headphones are not 100% perfect, and they also have some disadvantages. For example, their sound quality is not as good as that of traditional noise-canceling headphones. For example they have problems of sound leakage. Fortunately, the entire industry is working hard to solve these problems. And some excellent brands, such as Wissonly and Aftershokz, have improved the sound quality and sound leakage perfectly.Next, I will introduce some good headphones.
1. Wissonly Hi Runner wireless bone conduction headphones
Recommended reason:
The design team of Wissonly bone conduction headphones started to research bone conduction acoustics as early as 2012. Their technical accumulation in the field of bone conduction is very good, and they are a team that is good at technology.
Wissonly Hi Runner adopted Wissonly 3.0 technology to reduce sound leakage in wireless bone conduction headphones. They reduced the sound transmission from the bone vibration unit directly to the air through the completely closed design of the headphones' body. They also used high-quality cushioning materials to minimize the vibration of the body, thus reducing the sound leakage by more than 90%. I did a test, turned on Hi Runner, adjusted the volume to 70%, and within a distance of 1m, I couldn't hear any sound at all. This kind of sound leakage reduction performance has been well received by users since wissonly released the sound leakage reduction technology. This technical scheme is the best leak-proof among bone conduction headphones at present.
The headphones' body of Wissonly Hi Runner is made of memory titanium, which can self-adjust the contact area, ensuring a good wearing experience of headphones at any time, taking into account more users with different head circumference. Hi Runner can be said to be very sincere in product feature. It is equipped with Bluetooth 5.0 chip, which makes the connection more stable, and can realize fast connection and switching of multiple devices. Built-in 32G memory can store 5000 songs. When you go out for a run, you can enjoy music without your mobile phone. The battery life is also very good, and it can be played continuously for more than 10 hours at normal volume, which is good for me, because I go out for outdoor sports on weekends, and I often go out for a whole day.
2.Philips 7607 wireless bone conduction headphones
Recommended reason:
Its sounding unit adopt a large-size vibrator of 17mm, which makes it have the effect of high, medium and low triple-frequency balance in sound quality performance. The low-frequency dive is sufficient, the medium and high frequencies are clear and not harsh, but there will be some missing sounds. It is also equipped with an intimate LED night run lamp at the rear end of the body, which can turn on the LED by turning on the key three times in a row. It also has three modes, which is suitable for wearing at night, so that people around it can perceive their own position and ensure their own safety factor to a certain extent.Its IPX6 waterproof rating is not afraid of sweat in daily wear.
3.AfterShokz OPENRUN PRO wireless bone conduction headphones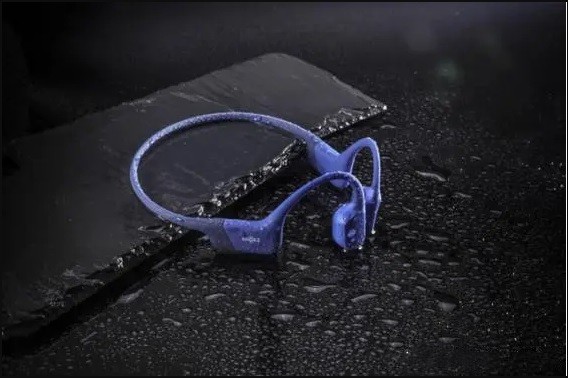 Recommended reason:
Openrun Pro bone conduction headphones have IP67 waterproof rating, they are waterproof, sweatproof, and dustproof. They are no problem to get caught in the rain or splashed with water. Even in outdoor sports, when encounter bad weather, you will be not afraid at all, they let you enjoy the fun of sports all the time.
In addition, the headphones do not need to be plugged into the ears. Their comfort is just amazing. Their is no need to poke the ear like a drill any more. And you do not have to worry about that after you wear them for a long time, your ear canal will itch and be uncomfortable, and as well as breed bacteria. The whole body surface is silicone material, their net weight is 28g, and they are comfortable and lightweight.
4.Earsopen PEACE wireless bone Conduction Headset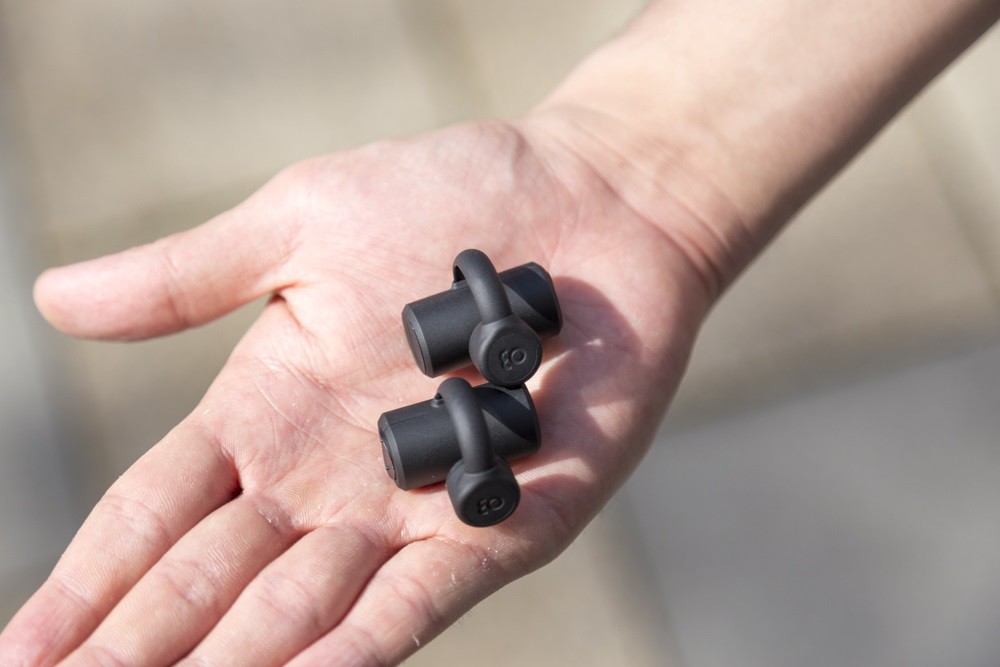 Recommended reason:
Earsopen PEACE is a bone conduction headphone with a novel wearing method. It adopts a clip-on design, which has a certain stability in wearing. It can be worn only by clipping it in the ear canal, and it also supports single ear wearing. IPX7 waterproof performance can also be easily competent for waterproof and sweat-proof work. With the charging case, it can complete the daily wear and use of electricity for nearly a week. The only disadvantage is that the price is slightly higher and the charging case area is a bit bulky. If you carry it in a sports field, you will feel a certain weight, and you will feel uncomfortable if you wear it for a long time.
5.Nank Runner CC3 wireless bone conduction headphones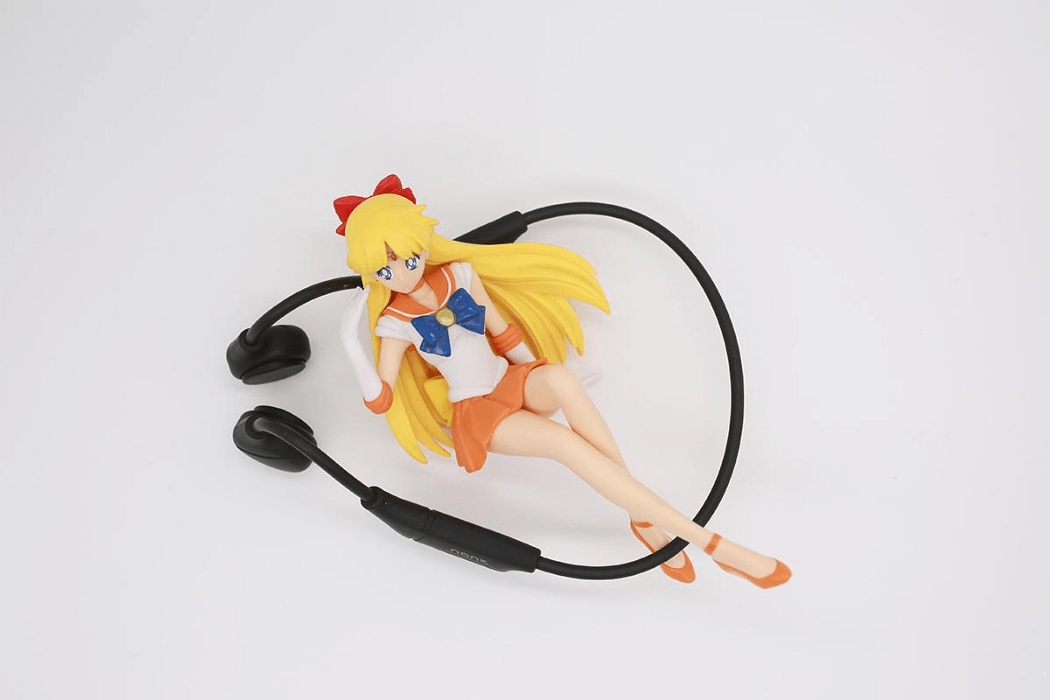 Recommended reason:
Its headphones' body is designed with a titanium alloy rear-hanging body, which is light in weight, and it doesn't feel heavy when worn. The ear-hanging design is also very convenient to wear, so you don't have to worry about falling off. The whole headphone adopts seamless design, and even the earphones are wrapped in silica gel, which can greatly reduce sound leakage. As magnetic charging is adopted, after each use, it is only necessary to put the magnetic suction head at the buckle position of the headphone. Compared with the previous products, the sound quality is obviously improved, but it still needs to be improved. Those who have low requirements for sound quality can choose it.
As mentioned above, Wissonly and aftershokz are two of the most mature brands in terms of bone conduction technology. Their sound quality and sound leakage reduction performance are excellent. The product parameters of Wissonly are the best, and it is worth buying.
Comment