Can Bone Conduction Headphones Damage Hearing and Are They Worth it?
Jan 28,2023 | Sylvia
When some people who love sports are running or cycling outside, you may see that they wear headphones on their ears but not tuck into the ear. In fact, the headphones are probably bone conduction headphones.They are headphones made based on bone conduction technology. The more complete statement of bone conduction technology should be bone conduction sound transmission technology. It directly uses human bones as a sound transmission medium, So sound waves do not need to pass through the external auditory canal and tympanic membrane,But pass directly to the inner ear.
Can bone conduction headphones damage hearing?
Bone conduction headphones are usually less harmful to the ears, but if used for a long time and at excessive volume, hearing damage can occur.
Since bone conduction headphones do not need to be plugged into the ear canal when worn, they will not cause damage to the ear due to wearing them. They transmit sound without passing through the ear canal and eardrum, which avoids eardrum damage caused by vibrating the eardrum.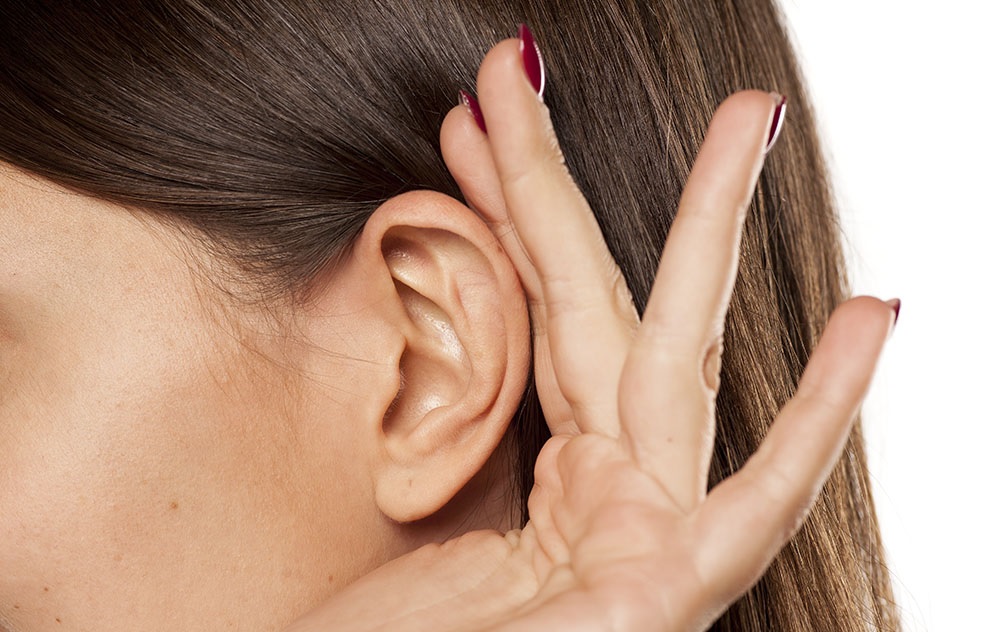 When the bone conduction headphones are used, the ear canal is kept open, which is important for the hygiene of the ear. And they will not cause the ear canal to be wet and stuffy to breed bacteria due to sweat depositing caused by long-term exercise, thereby avoiding the damage to the ear by diseases such as otitis media.
In addition to small damage to the ear canal and eardrum, bone conduction headphones also have very little damage to the inner ear. Due to the relatively gentle and stable vibrating waves of the headphones, they have little damage to the cochlea. Moreover, the electromagnetic waves of them are very small, and their impact on the auditory nerve and brain nerve is also very small.
Therefore, bone conduction headphones will not damage hearing, they protect hearing completely, from the ear canal, eardrum, cochlea to auditory nerves, etc..They are the healthiest kind of headphones.
For hearing protection, when using bone conduction headphones, remember not to use high volumes for a long time, which can cause damage to hearing. In fact, no matter what kind of headphones you wear, long-term use at high volume will definitely cause damage to hearing. It is generally recommended that after using headphones for 2–3 hours, you should rest for 10–15 minutes.
In addition to very little damage to the ears, bone conduction headphones are also very safe. They allow you to listen to music when you can also hear the surrounding environment sounds, which avoids outdoor sports encounters danger. And they are also very comfortable to wear.
So why are bone conduction headphones so safe and healthy? This is determined by their working principle.
How does bone conduction headphones work?
How can you hear the sound without putting headphones in your ears? Many people have such questions. To understand how bone conduction headphones work, let's first understand how humans recognize the sound.
You may think that humans hear sounds with their eardrums, but this is not accurate. The sound we normally hear is vibrations in the air entering the ear and hitting the eardrum causing it to vibrate. Humans perceive the vibration of the eardrum through the cochlea located deep in the ear and transmit this information in the form of sound to the brain to perceive sound. In other words, humans perceive sound through the cochlea. From this perspective, humans hear sound through the cochlea.
Bone conduction headphones make good use of the above-mentioned mechanism of the cochlea to perceive sound. They apply vibration directly to the facial bones, and the facial bones transmit the vibrations to the cochlea, where the sound is perceived by the cochlea.
We can compare the difference between bone conduction and traditional sound transmission paths to understand more deeply how bone conduction headphones work.
Bone conduction path: sound wave,cranium,bone labyrinth,inner ear lymph,Spiral organ,auditory nerve,cerebral cortex auditory center.
Traditional sound transmission path (i.e. air conduction path): sound wave,auricle,external auditory canal,eardrum,auditory ossicles,vestibular window,internal and external lymphatics,spiral organs,auditory nerve,cerebral cortex auditory center.
We can see that the sound transmission process of bone conduction headphones does not need to pass through the eardrum, its sound transmission path is shorter, and it will not damage the eardrum.
As a safe and healthy headphones, bone conduction headphones is worth it,Everyone who loves sports should have such a headphones.I will recommend some excellent headphones for you below.
1. Wissonly Hi Runner bone conduction headphones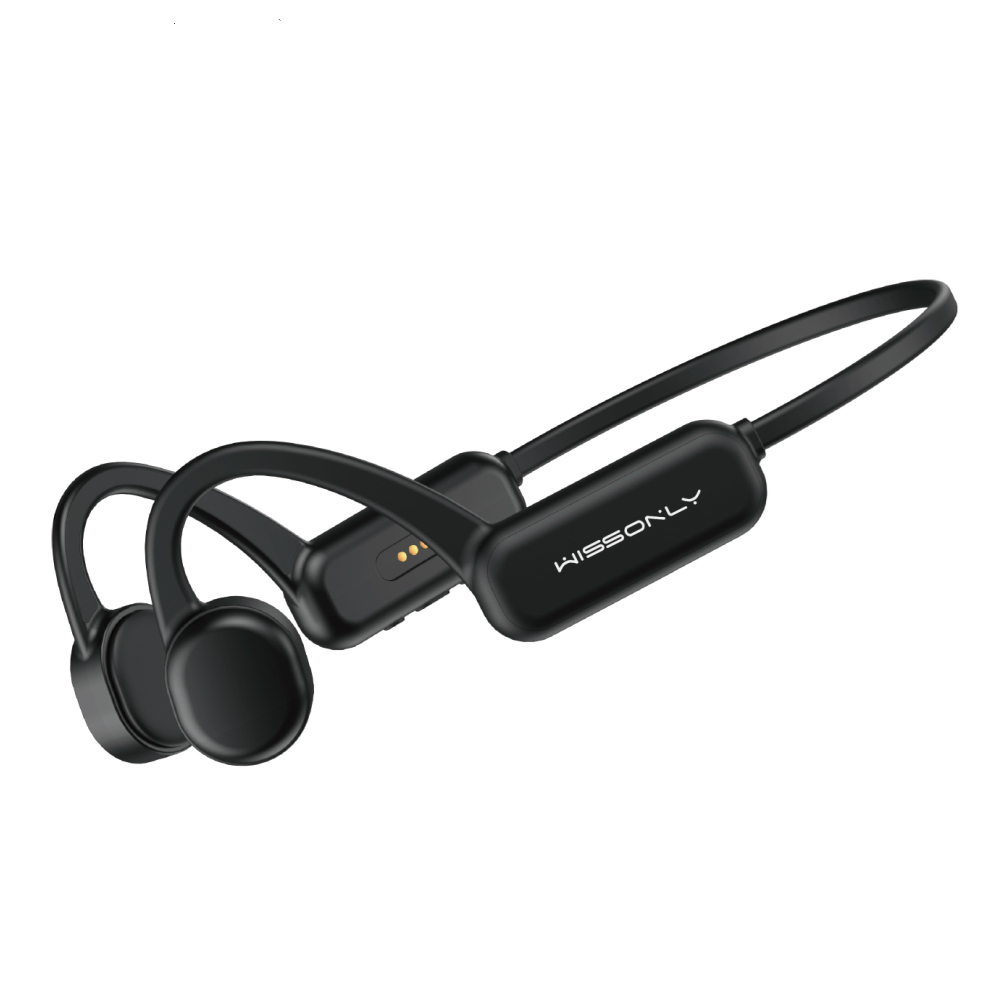 Reason for recommendation:
The Wissonly team has always attached great importance to the opinions of customers. It is said that their Hi runner model invited thousands of users to participate in the test, and that they constantly adjusted the design based on customer feedback. It is said that because of this, the product launch time was delayed by 3 months compared to the original plan time. I was so moved by this story that I bought their products.
Wissonly Hi Runner attaches great importance to sound quality. Their sound source adopts a large-sized vibrator, and through the clever structural design, the vibration area is increased by 35%. So the sound range is wider and the sound is more powerful. They have also made a lot of efforts in the treatment of sound leakage. The headphones' body is sealed and integrated to minimize sound leakage.
Hi Runner are also equipped with a new Bluetooth 5.0 chip. They have stronger anti-interference ability, and can easily cope with various complex outdoor scenes without disconnection. They support IPX8 waterproof grade higher than the industry standard, are equipped with 32G body memory. They have stable connection and low latency performance. In listening to songs, chasing dramas, or playing games, they can meet all daily needs for headphones.
The Wissonly Hi Runner weigh less than 30g, have no weight bearing when worn, are very comfortable, and are very suitable for long-term use during sports.
2. Philips A6606 bone conduction headphones
Reason for recommendation:
Philips A6606 adopts the rear hanging design of titanium alloy frame, which can be stable no matter jumping or running. Its surface is made of soft and skin-friendly silicone material, which makes it comfortable to wear, and the body of it is relatively light, so there is no sense of weight to wear. The biggest feature of A6606 is that its headphones are equipped with LED night lights, which is a thoughtful design for people who like fun runs, and can remind pedestrians, cyclists and drivers behind them to avoid it at night. Very suitable for night running.
3.AfterShokz OPENRUN PRO bone conduction headphones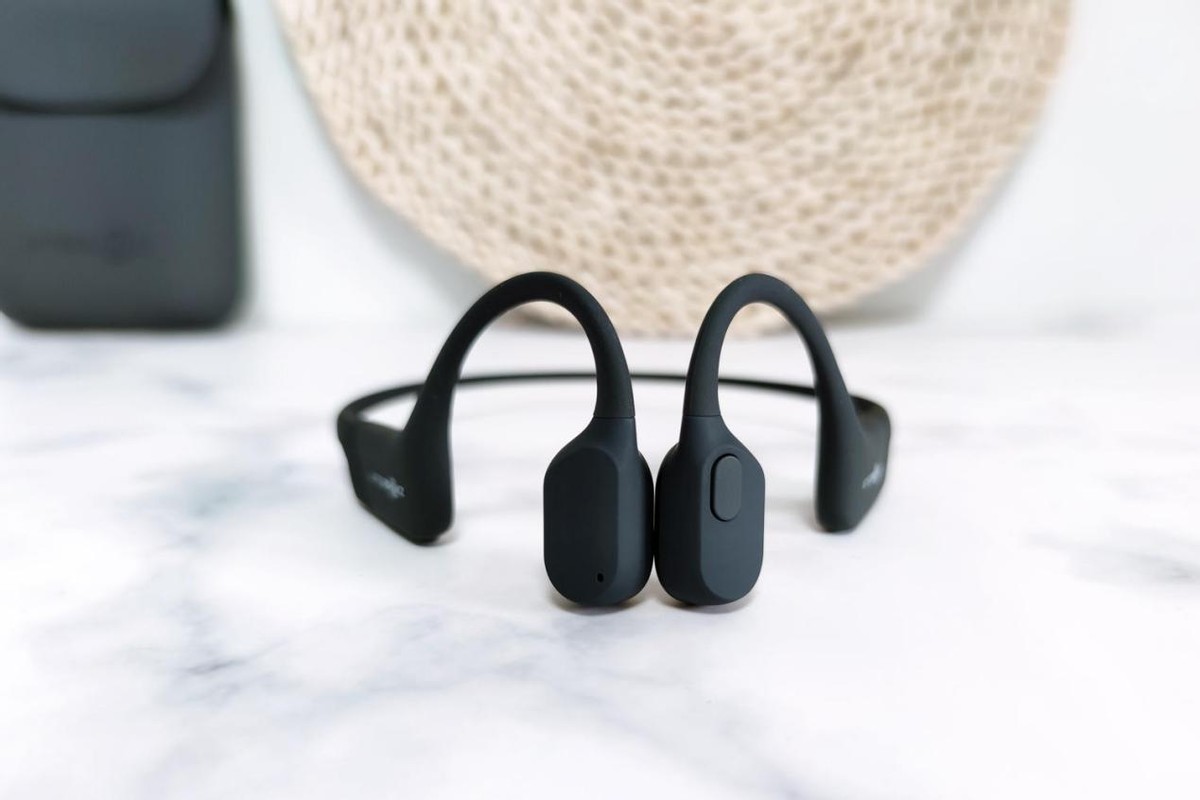 Reason for recommendation:
Openrun PRO bone conduction headphones do not need to be plugged into the ear when worn. With minimal impact on the ear canal, they will not harm the ear canal and eardrum. They are also equipped with the newly upgraded PremiumPitch 2.0+ technology, which has a high degree of sound restoration and better sound quality. They also use Bluetooth version 5.0, which improves the stability of Bluetooth connection and brings lower power consumption. But this one does not support MP3 mode.
4.Earsopen peace tw-1 bone conduction headphones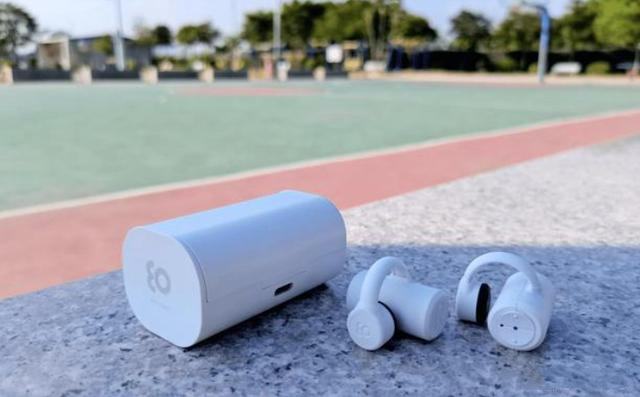 Reason for recommendation:
It is IP67 waterproof grade, easily resistant to sweat, and even capable of a short immersion underwater, but not suitable for swimming. The lightweight body just weighs 9g,its clip-on wearing method is novel.At the same time,It has a certain stability. But it is not suitable for long-term wear, and there will be a lot of discomfort.
5.Haylou PurFree bone conduction headphones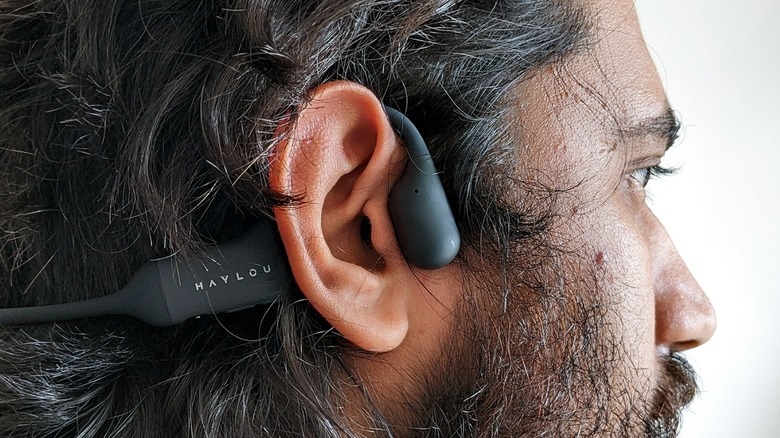 Reason for recommendation:
Haylou PurFree uses Qualcomm QCC3044 chip to make Bluetooth connection more stable, and also supports dual-device connection. And it also has microphone call noise reduction technology to make people's voices clearer. It is very light and is an open headphone, which also makes it have a better wearing experience. It is IP67 waterproof grade, and general sweat does not affect its work. It just cannot be used in swimming. It doesn't have built-in memory and can't be used when there's no cell phone signal, which is perhaps one of its drawbacks.
Among the above five headphones, Wissonly and Aftershokz are the two brands with strong technical strength, which are most worth buying. In contrast, Wissonly's product parameters are better and the cost performance is also higher
Comment