Bone Conduction MP3 player for swimmer:Finis duo underwater MP3 player review
Oct 10,2023 | David
Finis Duo waterproof earphone is undoubtedly the one of most popular waterproof earphone on the market. It is a brand from America, which is famous for its high-quality swimming accessories. As an earphone specially designed for swimmers, Finis Duo plays audio through bone conduction, without using earplugs, so it has excellent waterproof performance. The integrated clip-on design allows Finis Duo to be fixed on goggles, which is easy to use. The simplified interface provides four buttons, including previous song, next song, shuffle and play/pause.So is it worth buying? This article collects some real user reviews for reference.
Product information:
Product Dimensions:2.36 x 5.91 x 8.66 inches
Item Weight:5.3 ounces
Manufacturer:Finis, Inc.
ASIN:B0169RSNPG
Item model number:1.30.058.244
Batteries:1 Lithium Metal batteries required. (included)
Special Feature:Waterproof IPX8
Connectivity Technology:Wired
Memory Storage Capacity:4G
Screen Size:1.77
Compatible Devices:Laptop
Media Type:Micro SDXC
Finis duo underwater mp3 player review from users:
Product name: FINIS Duo MP3 Player Price: $109.18
Rating: 3.7 Where to buy: Amazon or official website.
User review 1:
User:RandomUser841 Nation:United States
"These are a bit odd in how they sort music, but they have great battery life, are very comfortable and work extremely well. The sound quality is very good and they fit well. After first use it's easy to forget you're wearing them. I'm a long distance swimmer and these really help with the monotony of long pool swims."
User review 2:
User: parker Nation:United States
"I swim about four hours per week, and prefer to listen to music while I do. I have been using the Finis Neptune for a couple of years, and I like it. The one flaw with the Neptune is the clunky player that has to be attached to the goggle strap. I was excited to see that the Duo got rid of this. I used the Duo for about three weeks. At first, it was hard to find the right fit, as the new attachment mechanism gives less freedom to the goggle strap. The effect of this is that when you are swimming, the drag on on the "speakers" moves them around, pulling on the goggle strap and letting water in or pinching your nose. But eventually I figured out how to arrange the straps and put them on in a way that fixed this issue.
The biggest problem with the Duo is the docking mechanism. It just doesn't work. It's a good idea, but it was not functional. I don't know if mine was defectively produced or it's the design, but the docking occurs by a magnetic connection between pins on the USB cable and contact points on the player. On mine, the two middle pins were recessed, or about 75% of the length of the two outside pins. I don't know if this is what caused my issues, but it was incredibly difficult to get mine to connect. Maybe one out of every ten times I tried to connect it actually worked. But then when it did work, the slightest nudge disconnected it. On two occasions I had to spend fifteen minutes just getting the player to connect — thirty minutes of precious time that could have been used swimming. It was so bad that if it was sitting on my desk plugged into my computer and I ever so slightly nudged the desk, it would disconnect."
User review 3:
User:Amazzzzon Nation:United States
"The Finis underwater MP3 player is a good option for those swimmers who do not want to use headphones in their ears while swimming. This is good if you would rather use traditional earplugs in order to keep the water out. It works by putting the yellow circles in the space in front or behind your ear.
The unorthodox method to listen to music actually works, somewhat. The sound is a bit muffled, depending on where you put the contacts. Don't expect crystal clear Bose-ish audio quality. I took them out on my first swim outing, and I was pleased.
The buttons are relatively large, easy to handle, and intuitive. I have tried other underwater MP3 devices, and these buttons are the easiest to handle. The battery life so far is good. The included USB charging port is great, and I just leave it plugged in at my desk all day.
On the product page, there is a very helpful and simple 'how to' instruction video. I watched it a couple times, and it was helpful.
Recommended for the $100, especially if you are a lap swimmer."
User review 4:
User:Synchrosillie Nation:United States
"I swim a lot and have been using underwater MP3 players fro probably over 10 years now. All others before this had actual ear buds but I like this design so much better! Great battery life and sound quality and easy and comfortable to attach to goggles and swim. Only complaint is you can't rewind of fast forward thru a song because the skip to next or previous song buttons double as the volume buttons. Probably not an issue for anyone other than fellow synchro/artistic swimmers like myself."
User review 5:
User:J. LaBar Nation:United States
"Another swimmer at the pool I swim at had recommended this music player. I have not been disappointed. After trying several other types, this bone conduction type is the way to go. One thing, purchase a good set of swimming ear plugs. Noise from the water will make it difficult to 'hear' the music through these headphones. They sound best underwater because the water helps conduct the sound to your bones. For ear plugs, I recommend the "WINOMO Ear Plugs 50 Pairs Corded Soft Silicone Reusable for Sleeping Hearing Protection Swimming" ASIN: B072LCHV2S. They are corded so you can tie them to your googles and prevent them from getting lost. Also, the soft silicone really seals out the water and ambient sound making the headphones much easier to hear. Mind you, it's not concert hall quality, but for a swimming workout, the sound is good"
User review 6:
User:Old Geezer Nation:United States
"My main criticism is that the rechargeable battery is not replaceable.
This makes the whole thing a disposable item.
It's not perfect but better than other music players for swimmers that I've tried."
User review 7:
User:Rick Fleeter Nation:United States
"I have owned every generation of finis players and many other brands, being a lifetime swimmer — 60+ years in water. This model works and works great. I wear them behind my ears under a bathing cap to get the best sound. As they don't go in the ear, you can still hear what people say to you and they are not going to stop working just because water gets in — they work when they and you are wet. Easy to upload, charge and you can easily adjust volume and skip tracks while swimming. Sound quality is not like a dry-land mp3 but it is decent with good strong volume. Mainly you can even swim hard, flip turns — no problem. The one swim mp3 that really works and gives you the freedom to do what you want in water."
User review 8:
User:Armando Chilian Nation:Mexico
"For a long time I was looking for headphones for swimming, nothing convinced me, I saw a swimming partner who used them, I tried them, he recommended them to me a lot and now I'm the happiest… The hard part is finding music in MP3"
User review 9:
User:J. Gqiba-Knight Nation:United States
"I purchased the FINIS Duo twice in the last 6 months. While I really really like it when I am swimming, both pairs had (different) problems, and one stopped working after just a couple months.
On my first pair, the connecting wire used a very brittle plastic — clearly a different type of plastic than my second pair. After several swims in a pool, it cracked close to the base on both sides and exposed the interior wires. I tried to fix the issue by applying a drop of super glue to reseal the cracks. After a couple more uses it cracked again in a different spot. I applied more super glue and it kept cracking. I did this repeatedly before it finally broke for good with about 4 or 5 glued separate cracks on each side.
My second pair has a different type of plastic insulating the connecting wire and has not had this problem. However, I cannot for the life of me get it to play the music in the order I added it to the player. It isn't quite permanent shuffle, but rather every time I try to load songs, a couple of them at random wind up in a different order than they should be. This was not an issue with the first pair."
User review 10:
User:Kindle Customer Nation:United States
"I have purchased three pairs of the duo bone conduction headphones. I had the first set for over 3 years and absolutely loved them. I bought a second pair as a gift for my husband. The battery on my original would not hold a charge so I then bought another set for my self. The first set was fantastic. Something must have changed in the manufacturing over the 3 years because the two new sets have had the wire coating crack and break very quickly after starting use. My husband has replaced his twice in two years. I now need to replace mine. I love the bone conduction I love the product. I am very disappointed that we have had to replace them so many times for an issue i believe you did not have originally. This technology is absolutely the best for swimming as it is no muss, no fuss with earpieces. Can you all PLEASE reengineer the wire connections so you have a stellar product again????"
According to the user review of Finis duo underwater mp3 player, it is a good product that can satisfy swimmers. But at the same time, it also has some problems: Its MP3 capacity is not enough, only 4G.And it is only suitable for swimming with goggles, which means you can't use it in your daily life.If you want to find a multi-functional swimming audio device suitable for various scenes, the Wissonly Hi Runner bone conduction headphone with both Bluetooth mode and MP3 mode is a good substitute.
Surprisingly, although the name of Wissonly Hi Runner is Hi Runner, it has an IPX8 waterproof rating higher than the industry standard, which allows it to work normally during swimming and diving,which it is a swimming headphone that deserves its name.
When you use Bluetooth mode while swimming, the connection may be poor and the sound will be intermittent.Don't worry,Hi Runner equipped with 32G built-in storage, which can store 5000 songs, and supports two working modes of Bluetooth and MP3. In the scene of underwater sports or without a mobile phone, you can completely use it as a Bluetooth MP3 player.In addition,its battery life is very strong, it can be used continuously for 10 hours, and it supports magnetic fast charging,which takes only 2 hours to fully charge.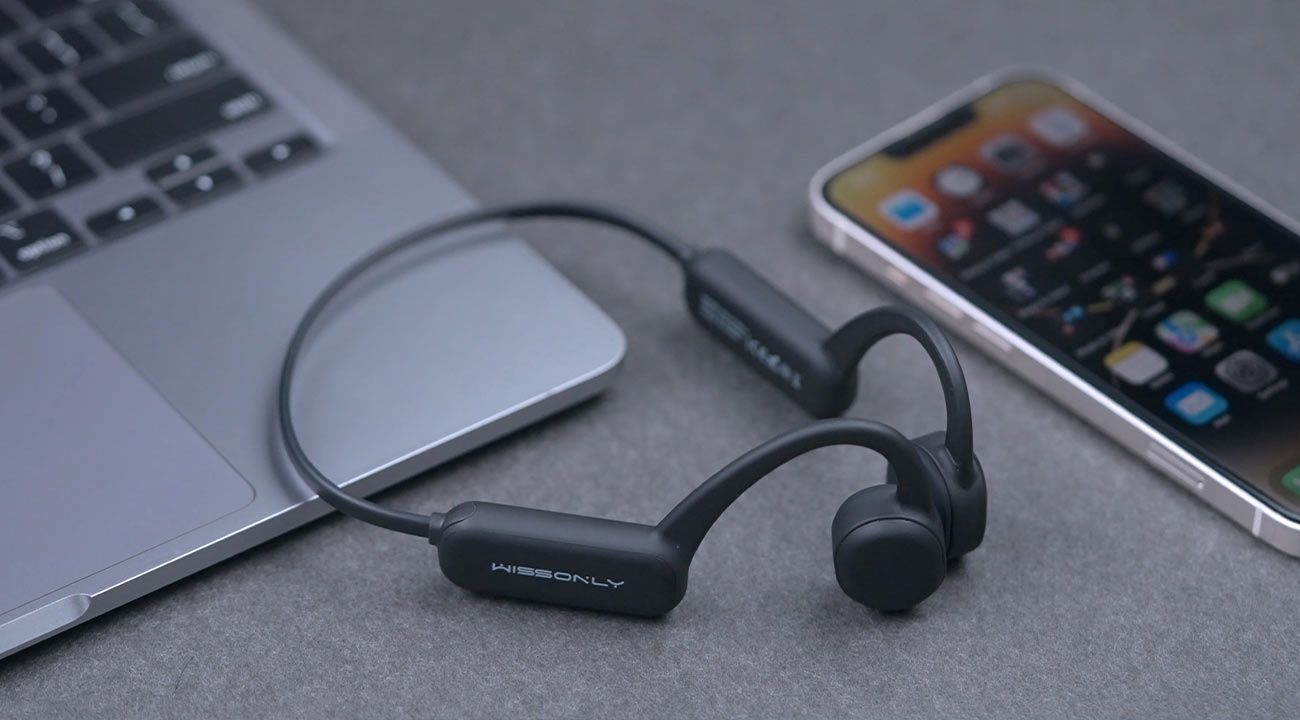 In terms of durability and comfort, you also have nothing to worry about.The whole frame of Wissonly Hi Runner is made of adjustable aviation grade titanium steel, which can adapt to different sizes of head circumference and ensure the stability of wearing.So you don't have to worry about the size of the headphones that don't fit your head or the ears that make the headphones unstable when wearing.Its headphone surface is made of high-tech low-sensitivity silicone material, which contains no chemical components to avoid allergic phenomena. The overall touch of the headphone is as silky as baby's skin, avoiding uncomfortable situations when worn for a long time. Moreover, its weight is very light, less than 30g, and it will not feel heavy when worn.So you also don't have to worry about uncomfortable wearing because of the material and heavy weight of the headphone.
Due to the special technical principle of bone conduction headphones, it is more difficult to improve the sound quality. For this reason, Wissonly Hi Runner subverts the traditional sound quality improvement scheme. They use a breakthrough large-size bone conduction vibrator, and through structural optimization, the effective vibration area of the vibrator is increased by 35%, thereby improving the sound efficiency of the vibrator and making the sound more shocking and powerful. Moreover, they also optimize the transmission direction of the sound, reduce sound loss during the sound transmission process, and make the sound more concentrated.
Its overall practicality and durability are very high,which is well worth trying.
Comment