Are Bone Conduction Headphones Safer and Do They damage Hearing?
Jan 13,2023 | Sylvia
In recent years, you may find that more and more people around you are wearing a kind of earphone clipped to the edge of the temple. Most of these headphones are bone conduction headphones.
Bone conduction headphones are sound transmission devices that transmits sound through the vibration of the skull so that people can perceive speech.They are safer then common headphones,they don't damage hearing.
Are bone conduction headphones safer?
Conclusion first, bone conduction headphones are almost harmless, they are one of the healthiest headphones. I analyze the impact of bone conduction on hearing, the brain, bones, and other aspects.
The harm of bone conduction headphones 1: damage to hearing? rumor!
Bone conduction headphones damage hearing, this is a complete rumor! In fact, they can be said to be the headphones with the lowest hearing loss. They do not need to pass through the eardrum to transmit sound, and there is no damage to the eardrum. Their vibration waves are gentle and stable, and will not harm the cochlea.
The harm of bone conduction headphones 2: damage the brain? rumor!
Bone conduction headphones can damage the brain, another big rumor. It is believed that there are electromagnetic waves in the headphones, and electromagnetic waves will inevitably cause damage to the brain nerves. In fact, electromagnetic waves are ubiquitous in nature. Any electronic product has electromagnetic waves, and high-intensity electromagnetic waves will indeed cause damage to the auditory nerve and brain nerves. However, the electromagnetic waves of bone conduction headphones are very weak, which is comparable to the strength of electromagnetic waves that exist in nature, so they will not damage the brain.
The harm of bone conduction headphones 3: damage to bones? rumor!
They transmit sound by bone vibration, but the vibration intensity is so small that it will not damage the bone at all. At present, there is no record of any bone conduction headphones damaging bones.
The harm of bone conduction headphones 4: lead to temple pain? there are individual differences
Some people have mentioned that their temples are sore after wearing bone conduction headphones for a long time. This situation has a lot to do with the wearer's physique, mainly trigeminal neuralgia caused by the individual's physique.
Therefore, bone conduction headphones are not damage to health, on the contrary, they are the healthiest headphones.They are safer than common headphones,They is very healthy and will not cause safety problems during use.Moreover, they are open-ear wearing style, so the wearer can always keep a sense on the surrounding sound, avoid danger and ensure safety.
So,we can say that they are safer and more hygienic to use and more comfortable to wear, which is why they have become more and more popular in recent years.
So why are they so healthy and safe? This is determined by their working principle
How do bone conduction headphones work?
Let's start with a story. Beethoven was a great composer, and he is still loved by many people with representatives such as "Fate Symphony", "Eroica Symphony ", "Ode of Joy Symphony " and so on. In fact, Beethoven suffered from hearing impairment in his later years. Even in this state, he continued to compose, which is a bit bizarre. How did he do it? When playing, Beethoven held his baton in his mouth and put the other side on the piano,and then hear the sound.. This was the earliest application case of bone conduction.
In Beethoven's case, the vibrations caused by the piano as a source of sound are transmitted through the baton to the jawbone on the side of the mouth, and then from the frontal bone to the inner ear, which eventually formed hearing.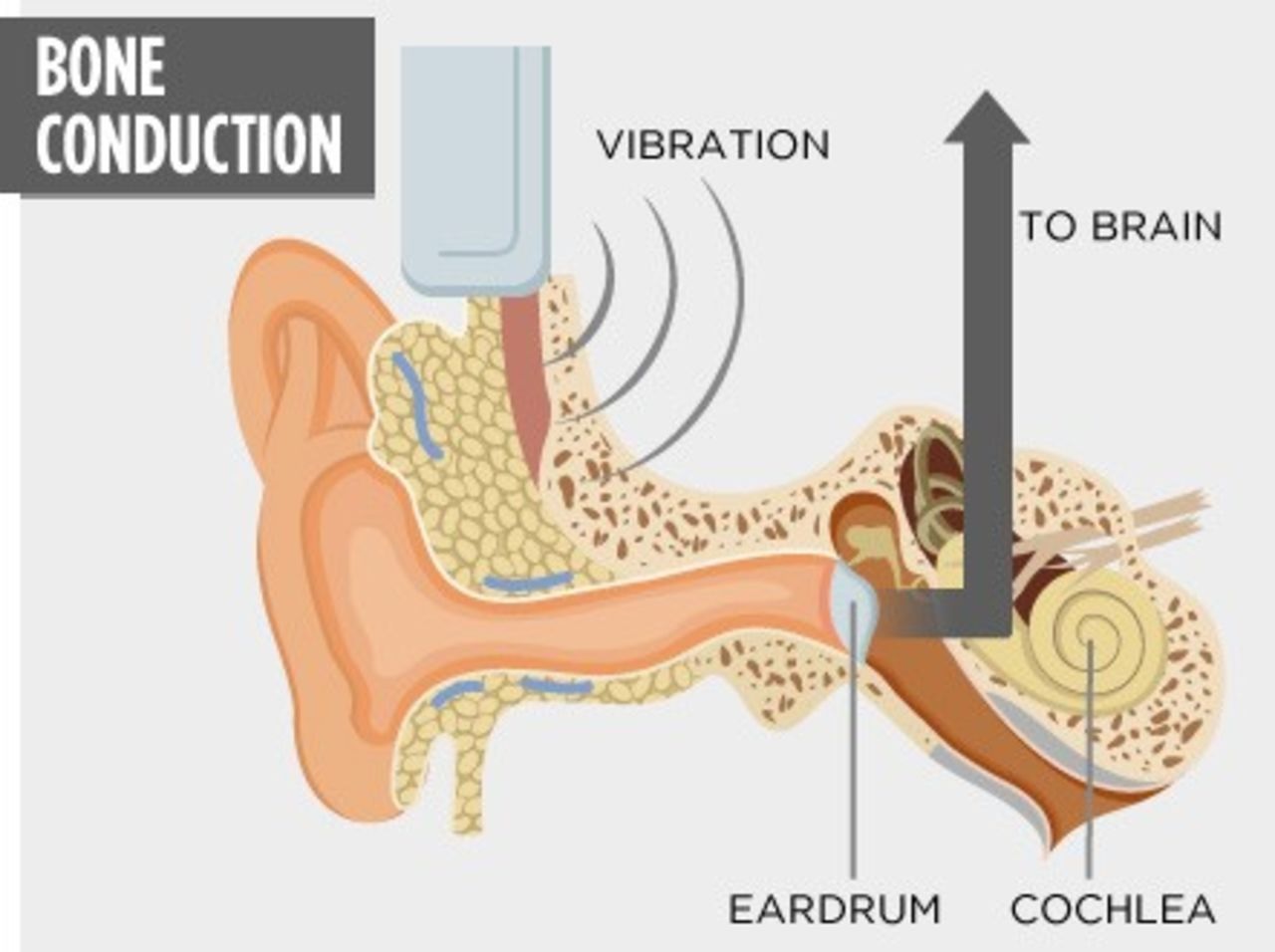 You may have found that the entire sound transmission process was the participation of solids such as batons and bones, without the participation of air and the eardrum. This seems to be a little deviated from our daily cognition. If we look through the physics books in middle school, we could know that there are three mediums for sound transmission: namely air, liquid and solid. Human bones are solids, and of course, they can also act as a medium for transmitting sound.
With the above knowledge, it would be easy for us to understand how bone conduction headphones work.
Bone conduction headphones are a type of headphones manufactured by using bone conduction technology. Bone conduction is a sound conduction method with bones as the medium. It converts sound into mechanical vibrations of different frequencies to transmit sound waves through the human skull, bone labyrinth, inner ear lymph, spiral organ, and auditory center.
When they work, you only need to put the sound unit close to the temple, do not need to stuff them into the ear canal. They are good to the cleaning of the ear canal, and cause no harm to the eardrum.This why they are so healthy and safe.
The advantages of bone conduction headphones are so obvious that if you are already interested in them, please do not hesitate to buy them.Next, I will recommend some excellent headphones for you.
1. Wissonly Hi Runner bone conduction headphones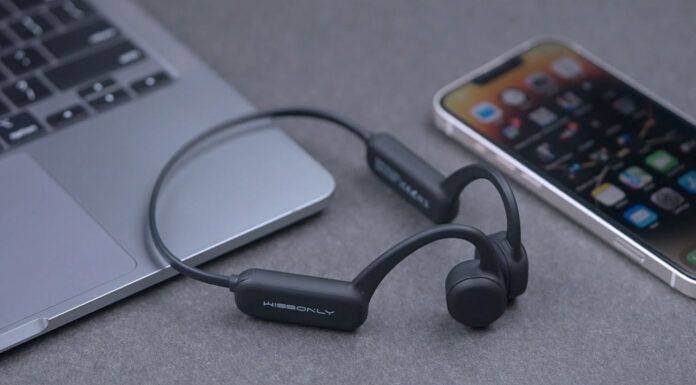 Recommended reason:
Wissonly bone conduction headphones is the first brand I came into contact with. I first found it on the crowdfunding website. Later, I bought it after seeing many people's recommendations in some online running forums. After my long-term comparative test, the overall function of this Hi Runner model product is very powerful, which greatly exceeds my expectations.
Their team is one of the best talents in the field of bone conduction. The product director was once the core engineer of a first-line brand, and has accumulated 10 years' experience in the field of bone conduction technology. Wissonly Hi Runner increases the vibration area of the sound source vibrator by 35% through excellent structural design, which makes the music feel more spatial and immersive. It is also excellent in sound leakage reduction. The fully wrapped design reduces the vibration of the shell, and the structural optimization makes the sound leakage wave be offset, thus avoiding 90% sound leakage, which is much better than the bone conduction headphones of the same price on the market.
The fully-enclosed design of Wissonly Hi Runner bone conduction headphones makes its waterproof grade to IPX8, which means that you can wear it for bathing, swimming and even diving within 20 meters. Even better, the Hi Runner headphones has a built-in storage of 32GB, which can store 5,000 songs. It can still be used without the mobile phone. It supports both MP3 mode and Bluetooth mode. It is equipped with Bluetooth 5.0 chip, which makes it superior to most bone conduction headphones in transmission distance, connection stability and power consumption.
2.Philips A6606 bone conduction headphones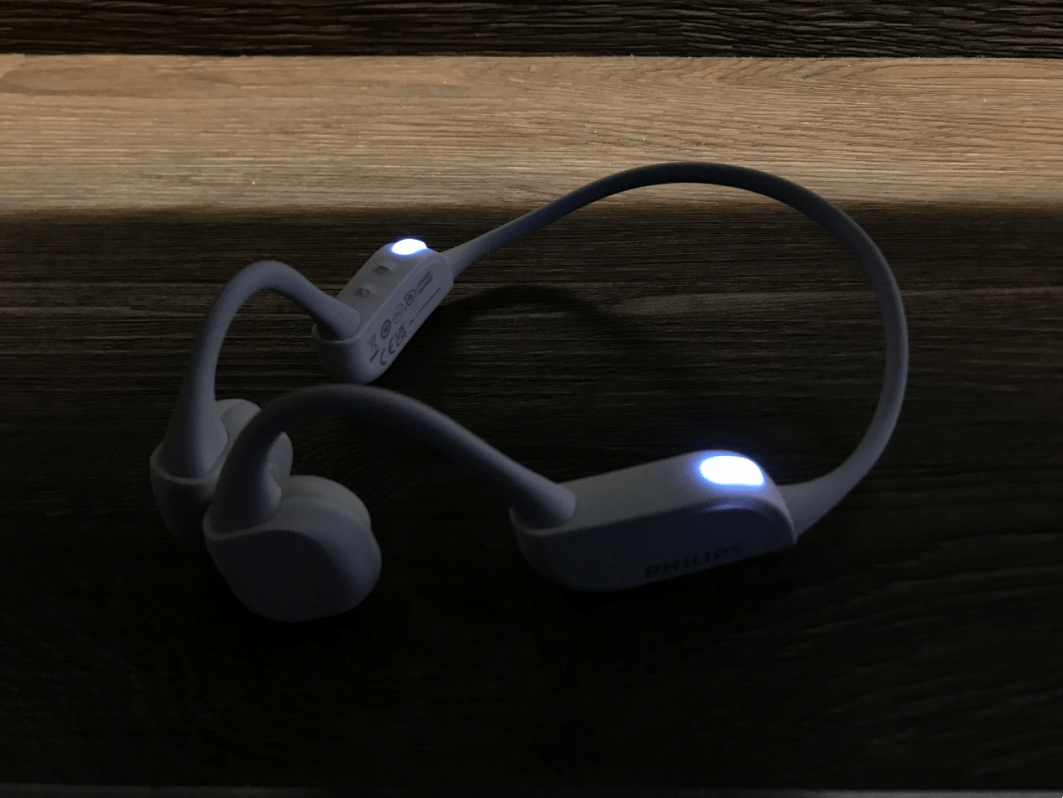 Recommended reason:
With IPX7 waterproof property, Philips A6606 can be soaked in water for a short time, and has good waterproof performance. At the same time, surprisingly, LED night run lamps are arranged at both ends of the fuselage, which can light up the rear road at night, thus ensuring its own safety factor. The unique bone conduction vibrator makes its sound quality good, and the double shrapnel structure can reduce the distortion. However, when playing high-frequency sound, there will be obvious vibration. If you can accept the vibration of medium and high frequency, it is also good.
3 AfterShokz OPENRUN PRO bone conduction headphones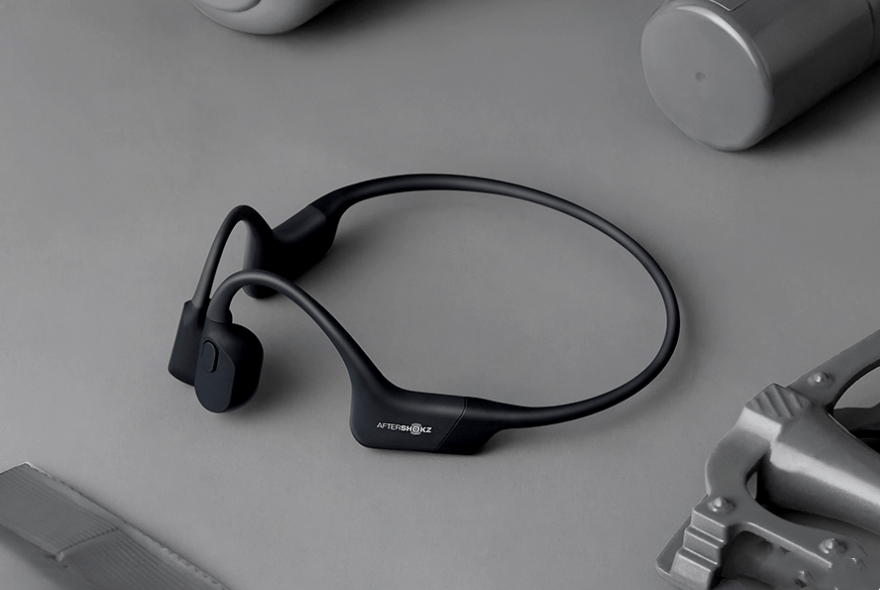 Recommended reason:
Openrun Pro are ear mounted style headphones. But thanks to the lightweight materials such as titanium alloy used in the basic frame of the headphones, the overall weight of the headphones is only 26g, and there is no feeling of weight when worn. It is worth mentioning that the headphones have an IP67 waterproof and dustproof grade, and that they can be washed and rinsed with water. In addition to benefiting from the plating process on its surface, of course, also because of the overall body design, Openrun Pro have better waterproof characteristics. In addition, they also uses dual silicon microphones. In the right side of the headphones, you can see the microphone cut-out reserved for the microphone. With CVC's noise reduction algorithm, they can effectively eliminate the impact to calls in complex environments.
4. Earsopen SS900 bone conduction headphones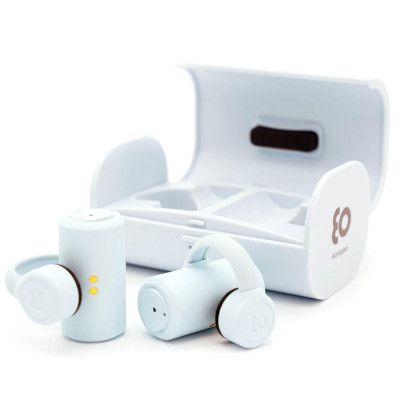 Recommended reason
Earsopen SS900 is different from other bone conduction headphones in that its appearance is a unique "T"-shaped structure, which can be clipped on the ear. It has high waterproof performance, its IPX7 waterproof grade can be fully qualified for wearing in any scene except swimming, and there is no problem if it is soaked in water for a short time. The battery life is 8 hours, and it is also equipped with a fast charging mode, which can achieve the effect of charging for ten minutes and listening to songs for two hours.
5.Nank Runner CC3 bone conduction headphones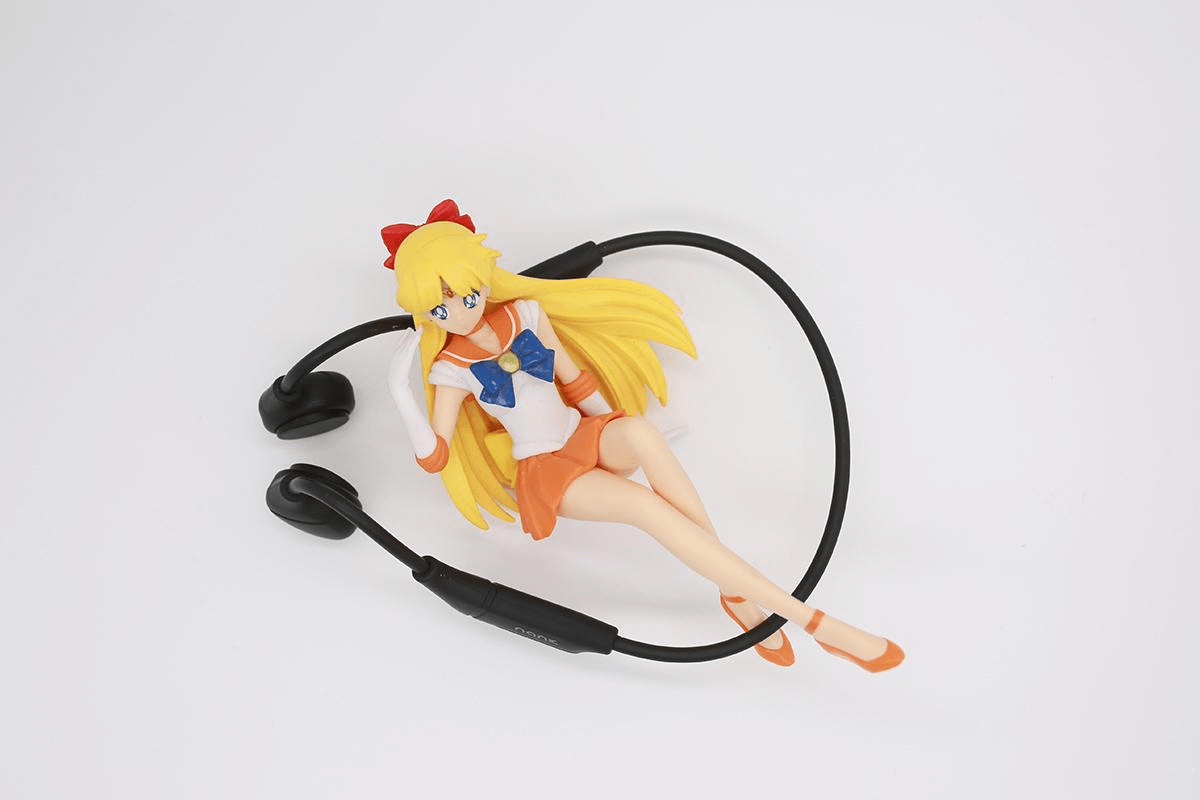 Recommended reason
The titanium alloy body of the Runner cc2 bone conduction headphones is more flexible and durable, and there is no need to worry that the paint of wearing the headphones for a long time. Their weight is so light that you don't even feel their presence while wearing them. The headphones are equipped with a Bluetooth 5.0 chip, which makes the Bluetooth connection more stable. The sound quality and sound leakage reduction performance are also very good. The Runner cc2 also reach the IPX6 waterproof rating, so there is no problem with rain and sweat.
Comment