A Useful Exercise Headphones - Jlab Go Air Sport
Oct 19,2023 | David
JLab Go Air Sport is a true wireless earbud designed for those who seek enhanced audio performance during exercise or outdoor running, without the need to spend a lot of money on models like Beats, Bose, Jaybird, or Jabra. JLab's product designs are well-suited for exercise activities, and the ear hook style adds stability. As a result, Go Air Sport has been highly favored by users and has received good ratings on Amazon. Let's take a look at some user reviews to see if it is indeed a worthwhile purchase.
Product Parameter

SPEAKER Φ6mm Dynamic driver
OUTPUT 103±3db
MICROPHONE MEMS -42dB+/-3dB
BLUETOOTH VERSION 5.1
RANGE 30+ ft.
BATTERY LIFE 8+ hours in each earbud
TOTAL PLAYTIME 32+ hours total
STANDBY 60+ hours
EARBUD BATTERY 43mAh lithium polymer
EARBUD CHARGE TIME 2.2 hours (in case)
CHARGING CASE BATTERY 350mAh lithium polymer rechargeable
CASE CHARGE TIME 2 Hours
IP RATING IP55 (Earbuds only)
QUICK CHARGE 15 mins of charging = 1 hour battery life
EARBUD DIMENSIONS & WEIGHT (Individual Earbud Dimensions) 1.38in x 1.00in x 2.00in, 6.6g
CASE DIMENSION & WIEGHT 3.24in x 2.33in x 1.20in, 46.40g
Jlab Go Air Sport Review
Product name: Jlab Go Air Sport
Price: $29.88
Rating: 4.1
Where to buy: Amazon
User review 1: ★★★★★
Users: Stephanie's Tunes
Countries: United States
Content of comments:
They connected immediately to my iPhone. I bought them specifically to wear while exercising in the pool. I do water exercising when no children are allowed in the pool. So there is very little splashing going on. Very happy with the sound quality and of these headphones for pool use.
User review 2: ★★★★★
Users: Michael-McCloud
Countries: United States
Content of comments:
Comfortable, great fit, good sound, very good quality for a low price, easy to use, easily pairs with my iPhone 13 and my Lenovo laptop (Windows). The design ensures a secure fit, which makes them really good to use while exercising. I had a pair of AirPods: one stopped working and I bought these Jlab Go Air Sports as a temporary replacement. For an economy product, I like them enough to hold off buying new AirPods until after the holidays!
User review 3: ★★★☆☆
Users: Martin Dennis
Countries: United Kingdom
Content of comments:
When I first got these, I tried them out at home first. Initially I had a problem with the Volume in the right headphone but after turning them off and on again, the problem went. The sound quality is good and the connectivity between the left and right is great. My only gripe is the way they sit in my ears. No matter which of the 3 different sized silicone heads I used, the headphones would start to slip out during exercise. Sometime, I would also notice they would fall out slightly when turning my head. I find myself spending a lot of the time pushing them back into my ear which is quite annoying when I am concentrating on my exercise and work outs.
User review 4: ★★★★★
Users: Beka
Countries: United States
Content of comments:
It cancels noise very well!! I use them for my boxing training (running, jumping, and other exercises with a lot of movement) and the headphones do not fall off, they are also very light that you do not feel them.
I bought another pair for my boyfriend and he loves them too.
User review 5: ★★★★★
Users: Michael R
Countries: United States
Content of comments:
I was skeptical because of the low price of these headphones. I've had these for 5 months already and they work flawlessly. They are comfortable and stay in your ear to deliver tunes. Great alternative to the more expensive name brands.
User review 6: ★★★★★
Users: elizabeth amplo
Countries: United States
Content of comments:
Portable and comfortable to wear. They charge quickly and hold a charge for a long time; I charge mine after every use but have been able to wear them for 6+ hours straight without issue. Occasionally one of the two headphones disconnects for a few seconds mid-exercise but quickly reconnects. Audio quality is above average and well worth the price.
User review 7: ★★★☆☆
Users: Tina M. Meeker
Countries: United States
Content of comments:
I've enjoyed these earphones for 7 months. They were comfortable, stayed put in my ears, and sounded good. I never did figure out how to control them from the earbuds themselves. I couldn't find the instructions. Occasionally I'd turn the volume down when I did exercises where I reached over my ears. But I would just turn it up manually. Today one slipped off my table onto the porch deck and the part that goes over my ear broke off. It actually looks like the plastic dowell that holds the two halves together broke. I assume it was failing unnoticed because that fall shouldn't have broken it.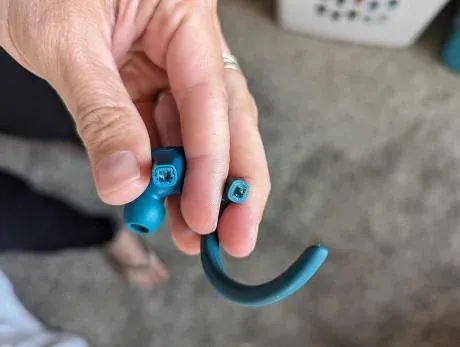 User review 8: ★★★★★
Users: Amazon Customer
Countries: United States
Content of comments:
I bought 2 different sets for convenience and if I washed a set with my clothes by accident. This set is the best. They stay in my ears while exercising and while cleaning the house. They do pinch my ears and I switch out after wearing them a while, but they are hands down my favorite. Long battery life and so convenient with the charger being connected. Makes them even more awesome when traveling(:
User review 9: ★★★★★
Users: Rita
Countries: United States
Content of comments:
Great quality earbuds for an affordable price. The call quality is clear. They're worn from anything from business meetings, to listening to music while fishing at the lake. They feel relatively comfortable in the ear, though people who wear glasses will have to adjust for comfort. Love wearing these during exercise workouts, they stay in place well.
User review 10: ★★★★★
Users: CB1982
Countries: United Kingdom
Content of comments:
Beeter quality and fit than expected at the price point. No problems exercising with the headphones securely in place and the selection of earbud sizes to ensure a comfortable fit an added bonus.
Quality of sound as good as I need (expect) although remote volume control and track skipping etc takes some getting used to. Overall they exceed my expectations.
Based on the 10 user reviews, the JLab Go Air Sport earbuds have received a mix of positive and negative feedback. Here's an overall evaluation:
Positive feedback:
Users appreciate the sound quality and connectivity with their devices. They find them comfortable and well-fitting for exercising and other activities.
And some user praise the noise-canceling ability, comfort, battery life, and value for money.
Negative feedback:
The headphone experienced an initial volume issue, and despite the good sound quality, he faced difficulties with the earbuds slipping out during exercise, which was quite frustrating.
Some user enjoyed the earphones for 7 months until an accident resulted in a broken part, suggesting that the durability may be a concern.
The headphone have a learning curve for remote volume control and track skipping.
Overall, the JLab Go Air Sport earbuds appear to be a cost-effective option with decent sound quality and good fit for many users. However, some users faced issues with stability during exercise, and there have been isolated reports of potential durability concerns. Nevertheless, they are still recommended by many users as a great alternative to more expensive brands for fitness and everyday use.
Sure, based on the user reviews and feedback provided earlier, it seems that the JLab Go Air Sport earbuds received some mixed reviews regarding stability during exercise and potential durability concerns. As an alternative, I can recommend the Wissonly Hi Runner bone conduction headphones, which are known for their stability and durability during physical activities.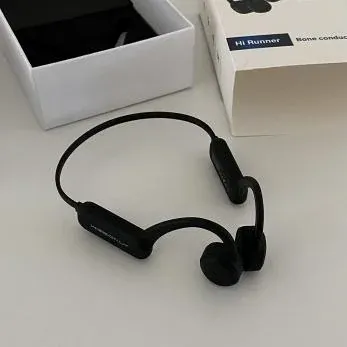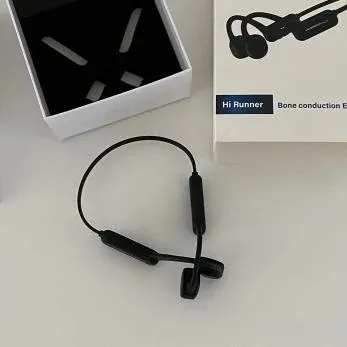 Bone conduction headphones work by transmitting sound through vibrations that bypass the eardrums and directly stimulate the inner ear, allowing users to hear sounds while keeping their ears open to ambient sounds. This design can be advantageous for those who prioritize stability during activities like running, cycling, or other forms of exercise.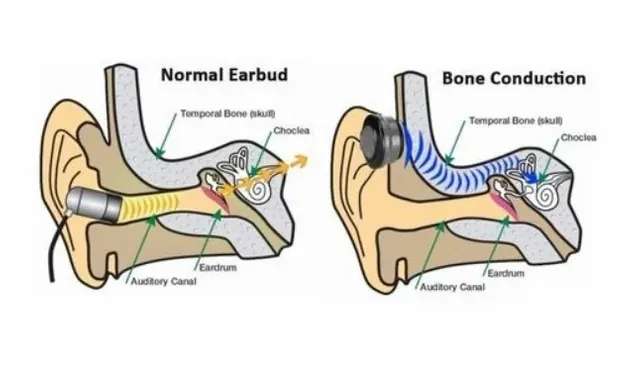 The Wissonly Hi Runner bone conduction headphones have received positive user feedback, and they may be a suitable choice for those who experience issues with earbuds slipping out or causing discomfort during workouts. Bone conduction technology also reduces the risk of earphone damage caused by sweat and moisture, making them more durable for exercise-related activities.
Wissonly Hi Runneris an ear-hook bone conduction headphone, with three support points that conform to the skull - the temples, auricles, and occiput - making it very stable ensuring it won't easily come off.
Wissonly Hi Runner is certified with IPx8 waterproof rating. It can work under 20 metres of water. Its excellent water and sweat resistance makes it suitable for swimming, running, exercising, cycling, hiking, diving and other outdoor exercise.
Wissonly Hi Runner comes with Bluetooth 5.0 and the effective distance of Bluetooth connection is 15 metres. We all know that underwater Bluetooth signals are unstable, and the Bluetooth connection may be interrupted as you swim away from the place where you put the connected device. This is where the MP3 mode comes in handy, so you can listen to music downloaded from your headphone library without being affected by the distance, and the sound is stable. 32G of memory can store more than 5,000 songs, which is more than enough to hold all your favourite songs!
Before purchasing any product, it's always a good idea to read more reviews and conduct further research to ensure that the product aligns with your specific needs and preferences.
Comment